Upper Perkiomen spread all over Top 10 stories of the past decade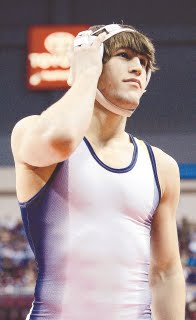 There wasn't a whole heck of a lot to talk about when wrestling – area wrestling, that is – entered the new millennium.
Spring-Ford had won or shared eight of the previous 10 Pioneer Athletic Conference titles; Methacton had won six of the previous 10 Suburban One Freedom Division titles and was right near the top in the other four; and The Hill School was beating up nearly everyone except for Blair. And just three lightweights – Hill's David Hoffman, Upper Perkiomen's Brad Rozanski and Methacton's Dan Covatta – managed to pin down a gold medal in March.
In other words, there wasn't all that much drama or that many notable individual achievements in and around the area's wrestling neighborhoods … just not a lot to hoot and holler about.
But that all changed, and changed in a hurry, too.
So much so that today – or three days before the clock runs out on the first decade of the new century – is as good a time as any to look back at some of the most memorable moments, or the big stories, of the past 10 years.
No program was as successful – or jeered – as Upper Perkiomen's, of course. The Indians, except for their annual scraps with Spring-Ford and the more recent brawls with Boyertown, were rarely ever challenged. They swept their first 60 league matches and the first seven PAC-10 championships of the decade. It would've been 68 in a row and an eighth straight league title, but months after the 2007 season had been completed Upper Perkiomen officials revealed a wrestler had resided illegally in the school district. The Indians forfeited all but two of their PAC-10 wins, and relinquished what would have been a record fourth straight (and sixth overall) District 1-AAA Team Duals title.
Despite the controversy, there was no overlooking Upper Perkiomen's run. Head coach Tom Hontz produced 16 Southeast Regional champions – which we prefer to call genuine District 1 champions (not those North, Central or South champions) – four state champions, and 19 state medalists overall during the decade. The 16 regional champions are more than twice the total of their nearest rival (Boyertown); only one other team – (Boyertown) had a state champion; and the 19 state medalists are just one shy of doubling the total of, you guessed it, Boyertown.
But the Bears have had the upper hand the past three years. And, if not for coming up short against Spring-Ford – who they shared the 2008 title with – the Bears would have owned a spotless league mark the last three seasons.
Upper Perkiomen's and Boyertown's respective runs aside, here's just one opinion of the decade's Top 10 area wrestling stories:
1. Upper Perkiomen wins duals title: Upper Perkiomen won the 2006 PIAA-Class AAA Team Duals title by defeating Easton, 46-19, at the Giant Center in Hershey. Despite splitting the first 10 individual bouts, the Indians owned a 27-19 lead on the strength of four pins. They put the match out of reach when Shane Smith and Chris Sheetz recorded back-to-back pins at 112 and 119 pounds, respectively. The Indians also set a district record for total wins in a season after finishing 29-1 overall.
2. Spaid pins way to state title: Mike Spaid became Boyertown's first state champion and the first District 1 wrestler to record a pin in every one of his postseason bouts en route to the PIAA-Class AAA gold medal in 2004. The 285-pound Spaid had two falls and a medical forfeit at the Section Four Tournament; three each at the District 1-South and Southeast Regional tournaments, and four more at the PIAA championships.
3. Kemmerer's perfect season: Upper Perkiomen junior Zack Kemmerer set the standard for excellence in 2005-06. He won gold medals at both the nationally recognized Ironman and Beast of the East tournaments, the first District 1 wrestler to achieve the double; won the first of his two PIAA-Class AAA state titles; and set both Mercury area and district records for the most wins without a loss in a season (54). Kemmerer added his second state title the following year and graduated with the area, district and state records for career wins (199).
4. Jeff Green dies: Pottstown graduate Jeff Green, an outstanding wrestler at Pottstown and Morgan State University – and hailed as a "real American hero" during the 2003 Summit Awards – died three months after receiving his Career Achievement Award at the age of 41. Green was a two-time state runner-up at heavyweight for the Trojans; a two-time NCAA qualifier for Morgan State University; and a member of the U.S. World and Olympic teams, earning a berth on the U.S. Greco-Roman squad as an alternate for the 1996 Summer Olympics in Atlanta. Green was a captain in the Army and fought on the front lines in Kuwait and Iraq during the Gulf War in 1991. John Armato, his former coach at Pottstown: "Jeff Green was an excellent example of what you hope your son grows up to be. He was a good student, a good athlete, a true gentleman and a good citizen. If Pottstown is ever looking for someone from the community to be proud of, then Jeff Green will be the one we should always hold up to our young people as an example of what you can become and what you can do in your life."
5. Smith sets pin record: Upper Perkiomen senior and three-time state medalist Mark Smith closes out the 2002 season with a District 1 and Pennsylvania career record 124 pins. Smith, one of the state's most popular wrestlers for his endless energy on the mats, also broke former teammate Derek Zinck's district record for career wins (161).
6. Hoffman wins national prep title: The Hill School's David Hoffman decisioned Blair Academy's Mark Perry, 10-5, in the 130-pound final of the 2001 National Prep Championships at Lehigh University. It was Hoffman's second national title and the fifth time he finished among the top eight for All-American prep honors. Hoffman also set school and Mercury-area records for career wins (195), the latter of which would be broken six years later by Zack Kemmerer.
7. Upper Perkiomen stripped of titles: In 2006-07, Upper Perkiomen ran the table in the PAC-10 and in the District 1-Class AAA Team Duals. However, soon after the conclusion of the season, school officials revealed a wrestler had resided illegally in the district. The Indians were forced to forfeit all matches he had participated in and surrendered all team championships.
8. Meister a four-time All-American: Baptist Bible College senior Jason Meister, a two-time state medalist before graduating from Phoenixville, became The Mercury area's first four-time college All-American after capturing the 133-pound title during the 2003 National Collegiate Wrestling Association Championships at Lafayette College. Meister, who won his first national title as a freshman and was third as both a sophomore and junior, rolled up a 17-7 major decision over defending national champion Camilo Gonzales of Nevada-Reno to close out his senior year at 32-0.
9. Perkiomen Valley stuns Spring-Ford: In 2008, a win by injury default helped Perkiomen Valley defeat Spring-Ford, 30-26 – the first time the Vikings had ever defeated their neighboring rivals. The Rams later made up for the loss with a narrow decision of Boyertown, which left both teams tied for the PAC-10 title.
10. Racich reaches milestone: Ursinus head coach Bill Racich, a graduate of Plymouth-Whitemarsh and longtime teacher in the Spring-Ford School District, went over the 400 career win mark a couple of years ago and ranks among the Top 10 of winningest coaches in all of college wrestling. Racich guided the Bears to a record four straight Centennial Conference championships from 2003 through 2006.
*
Falling into the honorable mention category would be Upper Perkiomen's Derek Zinck, the area's first four-time sectional champion who would finish second in the state and own a District 1-record 158 career wins before graduating in 2001; the addition of a 14th weight class (215 pounds) in 2003; Zack Kemmerer and Brent Fiorito becoming the first teammates from an area team to win state titles in the same year when both were golden in 2006; Hontz being named the Pennsylvania Class AAA Coach of the Year in 2006; and Racich and Pottstown's Jim Tsakonas (2003), Phoenixville's Lonny Moore (2005) and Boyertown's Bruce Hallman (2006) being inducted.into the Pennsylvania Wrestling Coaches Association's Hall of Fame.
* * *
Did someone mention an All-Decade Team? Despite the recent holiday frenzy and not a whole lot of time to research the who's who of the soon-to-be past decade, I'll take these 14 fellas (and will gladly accept any constructive criticism, too):
103: Seth Ecker (Pottstown) – three-time state medalist and 1321 career wins; 112: Aaron Brown (Owen J. Roberts) – state medalist and 134 career wins; 119: Chris Sheetz (Upper Perkiomen) – state champion, four-time state medalist and 189 career wins; 125: Matt Moley (Spring-Ford) – two-time state runner-up, three-time state medalist and 131 career wins; 130: David Hoffman (Hill School) – two-time national prep champion, five-time national prep medalist and 195 career wins; 135: Mark Smith (Upper Perkiomen) – three-time state medalist, 124 career pins and 161 career wins; 140: Zack Kemmerer (Upper Perkiomen) – two-time state champion, four-time state medalist and 199 career wins; 145: Derek Zinck (Upper Perkiomen) – three-time state medalist and 159 career wins; 152: Brent Fiorito (Upper Perkiomen) – state champion, two-time state medalist and 176 career wins; 160: Zach Doll (Hill School) – three-time national prep medalist and 142 career wins; 171: Jason Shivak (Spring-Ford) – state runner-up and 134 career wins; 189: Orion Doll (Hill School) – two-time national prep medalist and 130 career wins; 215: Josh White (Boyertown) – state runner-up and 112 career wins; 285: Mike Spaid (Boyertown) – state champion, two-time state medalist and 116 career wins.
Backups? The welcome mat is out for Boyertown's Fred Rodgers, Jesse DeWan, Alex Pellicciotti (who is still on the mats for the Bears) and 2009 graduate Ryan Kemmerer; Methacton's Brad Clark; Owen J. Roberts' Nick Fuschino and Scott Syrek (just a junior this year); Spring-Ford's Mike Moley; and Upper Perkiomen's Darren Kern and Derek Bennett.
Labels: decade in review, wrestling