Vikings' mission: Stop Brumfield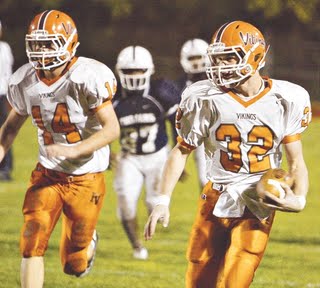 This column was originally published in the Nov. 6 edition of The Mercury.
BUCKTOWN – Tonight is Perkiomen Valley's turn to try and stop Ryan Brumfield. Then again, just slowing down the young fella, as well as the rest of the Owen J. Roberts offense, may not be all that bad, either.
The Vikings, arguably the surprise team in the Pioneer Athletic Conference this fall – thanks in part to being the most improved team since the season kicked off two months ago – visit the Wildcats this evening with a lot on the line.
Like a berth in the District 1-Class AAAA playoffs.
To get an invite into the postseason, though, the Vikings (5-2, 6-3 overall) will have to find a way – albeit over, under, around and through a very good offensive line – to get after Brumfield before Brumfield gets going. The junior tailback has averaged 228 yards and three touchdowns in the Wildcats' six league wins, but managed just 113 yards and two scores in the lone loss (to unbeaten Pottsgrove).
Mind you, the Wildcats have some additional offensive weaponry, namely quarterback Nate Walters and wing Sam Funk, who has a thing for big plays himself. But so far it's almost been as Brumfield goes so goes OJR.
And with that impressive 6-1 record (8-1 overall) and a spot in the District 1-Class AAA playoffs already secured, who's to argue.
"This game is definitely one of the biggest tests of the year for us," said PV head coach Scott Reed. "We are playing a top-ranked, playoff-caliber team.
"I don't know if there is any way to shut down Brumfield, so we're going to have to make him earn his way down the field. We'll be in trouble if we give him those long touchdown runs."
Brumfield has dialed up a good number of his 30 touchdowns – one on a pass reception – via long distance. And when opponents have ganged up and gotten a little rambunctious up front, Walters has flipped 10 passes over them to Funk, who has taken the tosses 412 yards and into the end zone four times.
But one thing the Wildcats haven't seen is the 3-5 defense Reed installed this season. Lou Fioravanti sits in the middle at nose guard with Chris Stewart and Kayo Bakare in the tackle slots. Bobby Strickland is the middle linebacker in between Brendan Murray and Joe Scenna, and Sean Conners and Justin Morgan are on the outside. The secondary features Jo and Gio Waters on the corners and Kyle Williams at safety. It isn't a generous group, either. The PV defense is allowing an average of only 105 yards a game on the ground 177 yards overall.
"We know (the Vikings) like to put eight guys in the box and have seven or eight of them hitting the gaps," said OJR head coach Tom Barr. "Our offensive line has to improve on picking up the blitzing linebackers, and improve on blocking those linebackers."
Those blocking responsibilities will fall on center Mike Nowak, guards Jesse Dugan and Sean Moloney, tackles Andrew Garson and Kyle Moore, and tight end Mike Moran. Funk, as well as fullback Rich Zazo, will need to throw their weight around some more, too. All of them have for the most part, and an area-high average of 349 yards a game is evidence of the collective effort.
But one way of slowing down Brumfield and everyone else is to limit their touches and possessions.
"We definitely have to take care of the football when we have possession," Reed said. "There's no way we can afford to just keep giving the football to (OJR)."
The Vikings have been quite productive except in their three losses. Six fumbles, actually nine turnovers overall, cost them a 32-7 confrontation with Coatesville; the inability to close out drives left them on the short end of a 28-7 meeting with Pottsgrove; and five turnovers helped keep them off the board in a disappointing 6-0 loss to Phoenixville.
"But they can explode anytime with that 'pistol offense' they're running now," Barr said. "We haven't seen an offense like that all season. So, yes, we're concerned."
The Vikings have just one lettermen – wideout Ben Carbutt – from last year's team. But Kevin Krasley (center), Ryan Krasley and Scenna (guards), Fioravanti and Stewart (tackles), and Murray (tight end) have almost made Reed forget the Vikings graduated their entire offensive line of a year ago. Quarterback Pat Catagnus has benefited from their labor up front, throwing for 723 yards. And the running tandem of fullback John Schmidt and tailback Steve Morrow – with help from Conners and Matt Kline in certain formations – have accumulated most of the team's 1,439 yards on the ground.
"Perkiomen Valley can move the ball," Barr said. "We know we have to play well defensively."
The Wildcats have, and their defensive numbers are very close to the Vikings. That's because of Kyle Moore and Steve Lawless, their sack leader, on the ends; Nowak and Moloney at the tackles; Zazo at middle linebacker, in between Funk and Moran; and corners Brendon Shoemaker and Sean Yeager, with three picks, teaming up with safeties Francis Polignano and Brumfield in the secondary.
"Perkiomen Valley has always played us tough, and this game will be especially tough for us because they're trying to get into the playoffs," Barr said, fully aware that last year's game wasn't decided until the Vikings were stopped a yard short of the goal line with one second remaining in the 27-26 thriller.
"Both teams have a lot on the line," Reed added. "This is going to be another hard-fought, physical football game."
* * *
Owen J. Roberts leads both the PAC-10 and overall series, 12-9. … Perkiomen Valley won three in a row over OJR before the Wildcats hung on in last year's meeting. … Three of the last six games have been decided by a touchdown or less. … If there is one glaring difference between the two teams it's turnovers. The Wildcats are plus-11 in takeaways, while the Vikings are minus-11. … Two teams that can pass Perkiomen Valley and get the 16th and final spot in the AAAA bracket with wins are Conestoga (6-3), which hosts Haverford (3-5), and Unionville (6-3), which entertains winless Sun Valley (0-8). … Morrow needs 90 yards to join Brumfield and Hill School post-grad Dante Astheimer in this season's 1,000-yard rushing club.
POINTS AND PLAYOFFS
Pottsgrove and Owen J. Roberts are already in the District 1-AAA playoffs. Unofficially, Upper Perkiomen should hold onto its spot, too, win or lose tonight's game with St. Pius X tonight. A loss, though, could drop the Indians down as far as No. 8, and a rematch with Pottsgove in the opening round. … St. Pius X is also in the Class A Sub-Regional and could very well host a first-round game. … Daniel Boone is in the District 3-AAA postseason, and a win tonight at Exeter, combined with other favorable results around the district, could improve the Blazers' standings enough to earn a first-round home game.
* * *
Something to think about: The postseason kicks off tonight out in District 7 (WPIAL), and the 16-team brackets in all four classifications mean that 52 percent – or 64 of the 123 teams in the district – get an opportunity to participate in at least one playoff game. Considering 11 of the teams lining up tonight have losing records (a lot of 2-7 and 3-6 records, that is), one-and-done is the likely scenario for most if not all. … District 3 has 96 schools, and exactly 50 percent, or 48 of them, qualify for playoffs – including half of the AAAA schools and eight of the dozen Class A schools. … In District 1, only 36 percent, or 26 of its 72 schools are assured playoff berths.
CLINCHING TIMES
Two area teams can clinch no worse than ties for league titles today.
This afternoon, Hill School (3-0, 6-1) entertains Hun School (4-0, 4-3) needing a win to take sole possession of first place in the Mid-Atlantic Prep League. Hun closes it season today, so if the Rams do win they can capture the title outright with a victory at Lawrenceville next weekend.
Tonight, Pottsgrove (7-0, 9-0) can clinch no worse than a tie for its second straight PAC-10 title with a win at Phoenixville. The Falcons still have a Thanksgiving date with St. Pius X.
Labels: Owen J. Roberts, Perkiomen Valley, Ryan Brumfield