2nd half has plenty of promise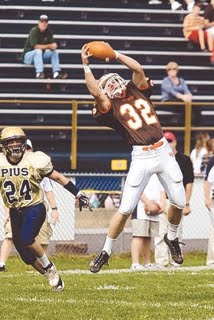 This column originally ran in the Oct. 13 edition of The Mercury.
It's halftime for high school football. Or shall we say the season is at the halfway mark, at least for most of the area teams that are scheduled to play through Thanksgiving (with perhaps a playoff game, two or even more before and after the holiday).
And after last weekend, when it seemed as though everyone was dialing long distance to reach the end zone and calling in one record after another, it's kind of hard to imagine what may be in store for the fanatics in the second half of the season.
But the first six weeks sure provided everyone a handful or so of surprises.
What doesn't qualify as one is Pottsgrove's unbeaten run through the preseason and four Pioneer Athletic Conference games. With a minimum of three legitimate Division I-A players in their lineup (and if you don't know who they are by now you should turn off the televisions and computers and get out to a game), the Falcons' defense has put up a pair of shutouts and limited three other opponents to just one score since the opening-night, 34-21 rout of Pennridge (which scored twice in the fourth quarter with the Pottsgrove starters resting on the bench).
What doesn't qualify as one is Owen J. Roberts' Ryan Brumfield running up big numbers. Just a junior, Brumfield has already gone over 200 yards in three games (and missed a fourth by two mere yards); has more than doubled the yardage of all but one other area running back; has
more than double the total points scored of all but one other area player; and has erased a slew of school records, including the career rushing yardage mark set 30 years ago by his head coach (Tom Barr).
What doesn't qualify as one is Daniel Boone's Jon Monteiro continuing to throw up big numbers. A senior who missed his entire sophomore season due to a knee injury, Monteiro is averaging 203 yards passing; tossed at least two touchdowns a game (four in one and five in another) and 17 overall, which keeps him on pace to match or break his own area record of 34 from a year ago; and continues to erase mark after mark after mark in the Blazers' record book.
Now, what we didn't expect through the first six weeks of the high school football season, or our Top Five Surprises of the first half…
Surprise No. 1: Perkiomen Valley being 3-1 in the PAC-10 and 4-2 overall. Head coach Scott Reed couldn't believe his opening-day turnout of 82 players, and he could've used name tags for most of them considering graduation took almost his entire starting lineup from a year ago. But the Vikings, who turned it over nine times in a loss to Coatesville and gave Pottsgrove as much as it could handle before falling, are now in the District 1-AAAA playoff mix. If the season ended today, Reed would be The Mercury's Coach of the Year.
Surprise No. 2: St. Pius X is 4-2 overall. Yes, those four wins are over opponents who currently own a combined 5-19 record. But rebuilding a program sacked by a since-departed administrator's narrow mind and inability to communicate eight years ago and kept down by a seemingly endless stream of changes on the sidelines (four head coaches and two interim head coaches those eight years) is far more difficult than most can possibly imagine. The smallest step forward is a giant leap under such circumstances, and George Parkinson as well as the Lions have made their share thus far this season. They have ended a PAC-10 losing streak that dated back to 2006; won as many PAC-10 games this season as they owned in the previous five combined; and just last Friday night scored more points in a league game than they had in seven long years.
Surprise No. 3: Turnovers … way too many of them. Keeping Hill School and Perkiomen School out of the equation (they deserve to be omitted because they have only a combined four so far), the 10 Pioneer Athletic Conference teams and Daniel Boone have fumbled the ball over 200 times already and lost 88. Throw in (pardon the pun) another 48 interceptions and that adds up to 136 turnovers in 46 games. Week Two alone was a fumblathon – Owen J. Roberts set a school record with 12 fumbles (six lost) against W.C. East, and Perkiomen Valley set a school record with nine turnovers (six fumbles and three interceptions).
Surprise No. 4 and 4A: Perkiomen School's Julian Gentile. The little fella – and the 5-foot-5, 140-pound listing in the program may be a stretch – moved into the quarterback slot for the first time this season. After three games, he owns an area-best 184.1 passing rating. He's completed 54.5 percent of his attempts with eight touchdowns against just two picks. … Perkiomen Valley quarterback Pat Catagnus, another rookie who caught three times as many passes as he threw last year behind Zach Zulli, has bounced back from a shaky start (four of his six interceptions in the first two games) and has completed 56 percent of his attempts for 580 yards – a big part of the Vikings' surge this fall.
Surprise No. 5: The number of good, make that very good, linebackers. Good luck to the PAC-10 coaches when they vote on their all-league teams. Let's see, and this is an abbreviated list, too, there is Boyertown's Kyle Fultz and Jared Giles; Methacton's Michael He; Owen J. Roberts' Rich Zazo; Perkiomen Valley's Joe Scenna and Bob Strickland; Phoenixville's Vince Ciaverelli (when healthy); Pottsgrove's Preston Hamlette; Pottstown's Tommy Santos; Spring-Ford's James Hoff; St. Pius' George Lockbaum; and Upper Perkiomen's Cody Fleming. That isn't everyone now (so no pouting), plus throw in Daniel Boone's Dave Morta and Josh Ortiz, and Hill School's Kyle Regensburg.
*
Honorable Mention Surprises: The number of quarterbacks sacked with injuries. Boyertown's Dylan Pasik, Hill School's Jack Detmer, Methacton's James McHugh and Phoenixville's Tom Romano have all been sidelined for at least one game thus far. As a matter of fact, when Pasik called the signals for the Bears last Friday night and both McHugh and Romano lined up against one another last Saturday afternoon, it was the first time this season the three had been behind center on the same weekend for their respective Pioneer Athletic Conference games. Detmer has been out since breaking two bones in his left wrist during the Rams' second possession against Chestnut Hill Academy two weeks ago, and he could be lost for the season. … Pottstown is averaging 242 yards rushing and is one point out of fifth place in points scored per game. But 15 turnovers (minus-eight in takeaways) have hurt, as has a defense that is allowing 368 yards a game. … Attendances, for the most part, have been pathetic. Some don't even seem to add up to the number least expected (multiply the total number of football players, cheerleaders and band members by two) – because everyone has to have that many family and/or friends interested in watching.
RECORD WEEKEND
Brumfield's six touchdowns last Friday night tied the PAC-10 record originally set by Pottsgrove's Tim O'Neil and later equaled by the Falcons' Brent Steinmetz and Owen J. Roberts' David Frame. Brumfield also went over the 200-yard mark for the seventh time in a PAC-10 game (not sixth as previously reported), which ties him with Steinmetz – just one back of the league mark of eight set by St. Pius X graduate Zack Pierce.
OJR and Upper Perkiomen also produced three other PAC-10 single-game records: most combined yards in a half (651); most combined points in a half (63); and most touchdowns of 50 or more yards in a game (7). Also, Upper Perkiomen punter Matt Kirkpatrick set two individual records – longest punt (67 yards) and highest average punting (minimum of five kicks) by finishing with a 44.6 average on seven boots.
St. Pius X got whistled for 15 penalties last Friday night, breaking the league mark of 14 set by Spring-Ford in its 2000 game with Upper Perkiomen.
SHOWDOWNS
No, we didn't forget – Owen J. Roberts visits Pottsgrove this Friday night. Yes, both are 4-0 in the league, 6-0 overall. Yes, the survivor will sure be a step ahead of the rest in the championship chase. No, a win will not guarantee the Wildcats or the Falcons anything … not quite yet.
Daniel Boone returns home to entertain Governor Mifflin on Friday night in another pivotal Inter-County League Section One game. Head coach Dave Bodolus' big challenge will be getting the Blazers to regroup mentally from last week's humbling 47-26 loss to Conrad Weiser, and realigning a defense that yielded 507 yards to the Scouts – almost the total they surrendered in their first five games (593) combined.
The Hill School continues its Mid-Atlantic Prep League schedule and hopes to keep pace with defending champion Blair Academy with a long bus ride to Mercersburg Academy. The Blue Storm were bumped by Blair last week, 38-10. And Perkiomen School comes off its rout of non-sanctioned Oley Valley and a bye the week to entertain New Hope-Solebury, which may be 0-5 but has lost three of those five games by a combined eight points.
Labels: football halftime