After two weeks of waiting, this year's battle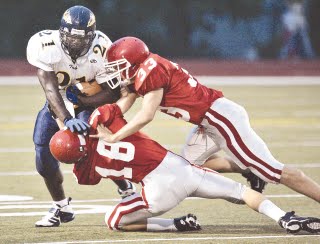 All summer long, a handful of teams – Boyertown, Owen J. Roberts, Phoenixville, Pottsgrove and Upper Perkiomen (listed alphabetically to hush all the nitpickers) – were mentioned over and over again as the favorites, frontrunners and forces-to-be-reckoned-with in the Pioneer Athletic Conference this season.
After the two-week preseason grind, which revealed a thriller here and there but mostly more mismatches than anything else, those five teams are still being mentioned over and over again as the favorites, etc., etc., etc.
Well, the PAC-10 kicks off its 24th season tonight, and there just so happens to be five other teams – Methacton, Perkiomen Valley, Pottstown, Spring-Ford and St. Pius X – that would like nothing more than to get a share of the early season spotlight.
Most will get that opportunity.
The big one, or the game that will attract a lot of fans tonight (and readers in Saturday's newspapers and on their various websites) is Boyertown's visit to Pottsgrove. Then there's Owen J. Roberts entertaining Spring-Ford, and Perkiomen Valley visiting Upper Perkiomen. Finishing up Saturday is Pottstown's game at Methacton, and Phoenixville's visit to St. Pius X.
Mind you, it's only Week One in the Pioneer Athletic Conference. Everyone has eight more games on their respective schedules. Statements can and will be made tonight and Saturday afternoon.
But don't forget that no one has ever lost its first PAC-10 game and won an outright league championship, and only once has a team lost its PAC-10 opener and managed to finish with a share of the league championship.
"The first game of the season is always a big game," said Pottsgrove head coach Rick Pennypacker. "But your first league game, your first PAC-10 game, is even bigger because your first goal is to win your league championship. You want to get off to a good start."
No one has gotten off to a better start, perhaps, than the defending champion Falcons. They defeated Pennridge (34-21) and Wissahickon (45-0), but will open their first PAC-10 season in three years without all-state linebacker Preston Hamlette, who went down with an ankle injury on the sixth play of last Friday evening's game and is unlikely to be uniform tonight.
"And on top of that Boyertown is a very good football team," Pennypacker added.
The Bears are big up front. Make that very, very big up front. They also have a new quarterback in Dylan Pasik who, given time and space, can throw the ball, as well as a few fellas who can get to the end zone in a hurry, especially Ryan Schwager. But it's an offense that, thanks in part to turnovers and penalties, left them stuttering and stumbling after Schwager's 78-yard touchdown dash in the first quarter last week. Tonight, they'll have to deal with a defense that may prove it gets to the football north and south as well as east and west better than any PAC-10 team – past or present.
Owen J. Roberts had an equally impressive preseason with wins over Conestoga (13-3) and West Chester East (31-6), and head coach Tom Barr's defense may not be getting the attention – or props – it's earned thus far. That's not easy to get when you have Ryan Brumfield piling up the yardage and touchdowns on the other side of the ball. But Barr will be focused on shutting down Spring-Ford, which has helped make this one of the area's most unpredictable series over the past two decades. The Rams have had to deal with way too many off-field distractions – from transfers and disgruntled fans who only build the dissention and tear down the rebuilding hopes.
Upper Perkiomen proved it earned a contender tag, too, with preseason wins over Muhlenberg (20-13) and Upper Dubin (34-0). The Indians have some size, a lot of aggressive individuals on both sides of the line, and a couple of motivating factors like ending back-to-back losing seasons in the PAC-10 (their first since 2000-01) and rebounding from their first losing season overall in nine years. And don't think they're not aware of how Perkiomen Valley opened with a win over that same Upper Dublin team and how it went toe-to-toe with heavily favored Coatesville before six turnovers tripped them up.
But if there is one of those preseason favorites (as well as a none-favorite) lining up on a mission, or looking to send a message, it's Phoenixville and St. Pius X – and they're getting together Saturday to kick off the final PAC-10 season at Mich Stadium. The Phantoms are 0-2 for the first time head coach Bill Furlong's seven years guiding the program, and that has a lot of people – including Furlong himself – scratching his head. Meanwhile, the Lions are 2-0 for the first time in six years and rather determined to double, triple or more their total of league wins (two) over the past five seasons.
And don't think anyone is overlooking Saturday's other matinee – Pottstown and Methacton down in Fairview Village. Yes, both are 0-2. But, as more than a few coaches around the PAC-10 have said, both have the size and speed to get the best of anyone of any given weekend. No one, perhaps, has pulled off as many legitimate PAC-10 upsets through the years as Pottstown. Methacton, a bit more comfortable now in its new surroundings, would also like to avoid an 0-3 start and put together the program's first winning season in nine years.
* * *
The only time a PAC-10 team lost its opener and won or shared the league championship was in 2007. Perkiomen Valley dropped its opener to Lansdale Catholic, 41-20, before running off eight straight wins. Lansdale Catholic was forced to share the title because in Week Five, with a then spotless 4-0 (5-0 overall) record, was stunned 28-27 in overtime at Pottstown. … The only time a team has had more than one loss and still won a PAC-10 championship was in 1991, when Owen J. Roberts and Pottsgrove finished alongside one another at 7-2.
MILESTONE TIME
The Hill School kicks off its 133rd season of football this afternoon at Germantown Academy … and kicks it off looking for the 500th win in the history of its storied program. Hill won the inaugural meeting between the two schools, 26-0 in 1945, but didn't see Germantown Academy again until 1970, when the two schools became annual rivals through 1994. There was one more game – Germantown Academy's 56-0 rout in 1999 – between the two before the series resumed last year (Hill's 32-8 romp).
Hill School, which leads the overall series, 18-10, is attempting to join Phoenixville as the only area programs with 500 or more wins.
Head coach Marty Vollmuth and the Rams are on the road again next week (at Episcopal Academy) before their home-opener Saturday, Oct. 3 against Chestnut Hill Academy. They begin their Mid-Atlantic Prep League schedule the following Saturday against visiting Peddie School.
MOVING UP
Brumfield moved up to 12th place on The Mercury's career rushing chart last week. The OJR junior has 3,366 yards, needing just 143 more yards to get into the Top 10 and 268 more yards to run by head coach Tom Barr, who had 3,633 yards carrying the football for Henry Bernat at Owen J. Roberts. … Daniel Boone's Jon Monteiro, only the ninth area quarterback to throw for more than 3,000 career yards, needs 290 to move into eighth place. Teammate Kelly Saylor – like Monteiro with only one season behind him – needs 38 catches and 207 yards to become just the fifth area receiver with 100 receptions and 1,000 yards.
Labels: high school football