Pottsgrove Payback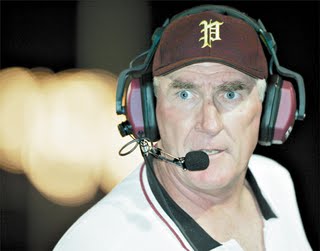 LOWER POTTSGROVE – Bus rides can be long and, well, rather boring.
After last year's 31-22 loss at Wissahickon during Week Two of the football season, Pottsgrove realized just how long and absolutely how depressing those trips can be, too.
"It was one of the worst rides home I ever had … I'd rank it right up there among the top three," head coach Rick Pennypacker recalled. "(The coaches) weren't the only ones upset, either, because the kids were, too.
"We didn't block, we didn't tackle, and we gave up 17 points on special teams. It was one of the worst games for us that I can remember."
The Falcons sure would like to give Wissahickon a ticket to ride – similar to their own a year ago – after the two get done tonight (7:00) in the rubber match of two very, very good teams who have split their first two meetings the last two seasons.
Pottsgrove opened last week with a 34-21 win at Pennridge, while Wissahickon debuted with a 35-14 rout of William Tennent. Both, of course, would like to close out the long summer grind and preseason at 2-0 before kicking off their respective league schedules next weekend.
But it won't be easy, for either one of them.
Wissahickon has some size, a little bit of speed, a whole heck of a lot of talent back from last year's up-and-down team that finished 5-5 overall. That was evident in the rout of Tennent, when quarterback Brandon Gunn ran for 180 yards and three touchdowns and was 3-for-4 throwing it for another 58 yards and an additional score. And all Vanderbilt-bound running back Myron Ross did was run up an additional 125 yards.
Pottsgrove has even more size, a lot of team speed and, yes, a roster full of talent, too.
There are some holes to fill up front, but the growing and grooming process still has the gifted Terrell Chestnut, Preston Hamlette and Maika Polamalu behind it. Chestnut and Polamalu are coming off 1,000-yard seasons, and Hamlette – an all-state linebacker a year ago – is just as valuable blocking or carrying the football out of the fullback spot.
"Wissahickon is big, physical and strong," Pennypacker said. "They match up with us size-wise, and they have some very fast kids. They try to pound the ball on you. So it's going to be a challenge."
Especially so, Pennypacker added, in light of last Friday's disappointing debut over at Pennridge.
"We didn't play well," he explained. "I mean we played all right, but our offensive line has to get better. We start two sophomores and a freshman up there, and I think they may have been a little overwhelmed. We feel they'll pick it up, but fundamentally we need tremendous improvement on the line."
The Falcons actually need that fundamental improvement across the board tonight. Last week, despite the win, they were hit with 10 penalties – about seven more than they've averaged in Pennypacker's previous 21 seasons guiding the program.
Mistakes, which undermined the effort against the Trojans last year, are what Pennypacker and the Falcons could do without this evening.
"Wissahickon got after us last year, and our kids remember that," he said. "It was definitely one of our worst games, and our kids don't want that to happen again. This is a big game of us. The kids know it, and they're excited about it. It's going to be a challenge, but a challenge we hope our kids are up for."
* * *

Pottsgrove's win last Friday was its 81st this decade, far and above more than any other area team. The Falcons' closest rivals on the win chart since 2000 are Owen J. Roberts (60), Upper Perkiomen (59), Boyertown (58) and Daniel Boone (57).
SPECIAL TRIBUTE
Today marks the eighth anniversary of the terrorist attack on the World Trade Center in New York, the Pentagon in Washington, D.C., and another plane that crashed in western Pennsylvania. Pottsgrove High School, in honor of the victims, will have Wissahickon track and field coach Don Betterly take part in the coin flip prior to the game. Betterly's brother, Tim Betterly – the starting quarterback for Wissahickon before graduating in 1975 – was killed in the attacks.
OPENING UP
Perkiomen School opens its season Saturday afternoon at the Academy of the New Church over in Bryn Athyn. ... The Hill School, the area's oldest program, kicks off its 123rd season of football next Friday afternoon (3 p.m.) at Germantown Academy. Head coach Marty Vollmuth and the Rams need one win to join Phoenixville as the only area program's with 500 or more wins.
MOVING UP
Daniel Boone's Jon Monteiro became the ninth area quarterback to go over the 3,000-yard career passing mark last week. Up next for Monteiro (3,227 yards) is former St. Pius X standout Matt Troutman (3,671). … Owen J. Roberts' Ryan Brumfield moved up from No. 25 to No. 22 on The Mercury's career rushing chart when he ran for 81 yards in the win over Conestoga. Brumfield now has 3,107 and needs 36 more yards to scoot into the Top 20.
Labels: football preview