What it took to be Berks' best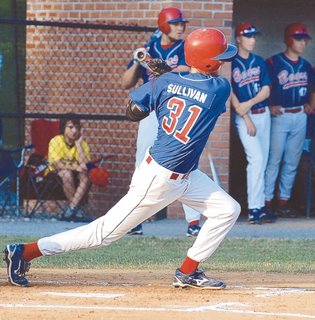 A quick glance at Boyertown's opening-day roster would've revealed some slim pickings.
The only everyday starters returning from a year ago — when the Bears won a record 21st state championship, finished third at the Mid-Atlantic Regional and 53-3 overall — were catcher Ryan Zakszeski and shortstop Brandon Sullivan. A couple of pitchers, Nate Schnell and Aaron Wilkins, who provided some valuable innings and more than a few wins, along with the versatile Ethan Moser, were also back.
That was pretty much it, too.
But the no-name lineup wasn't exactly easy pickings, not at first, mind you.
The Bears won 21 of their first 22 games this summer, and sure looked like they were well on their way to another Berks County League title.
Then they hit the skids ... or slid into a very, very uncharacteristic slump — losing three straight league games for the first time in at least 40 years — and five of six heading into the playoffs. And there wasn't any one particular aspect manager Rick Moatz could put his baseball finger on, either. The Bears simply weren't getting the pitching they're accustomed to, weren't playing the kind of fundamental defense they're accustomed to, and they sure weren't putting the ball in play enough or producing the offense they're accustomed to.
"That was surely one of the longest streaks we've ever gone through," Moatz said Friday.
It didn't last beyond the week most prefer to forget about, because the Bears snapped out of their funk and back to their customary ways by running the table in the Berks County League playoffs — five straight wins to earn a trip into this morning's (9:30) opening round of the Pennsylvania Region Two Tournament at Hostelley Field in Upper Gwynedd Township.
"We just noticed the kids were not playing aggressively," Moatz said of the woeful week. "Maybe they were thinking too much. But they weren't laying it on the line.
"So we talked to them about their attitude, about knowing where they were from, about our expectations. We talked, because we wanted to ingrain that into their psyche. We had a few tough practices, too. I think they responded in a very positive manner, too."
Moatz admitted their response wasn't perfect, and recalling those six errors in a 6-5 win over Muhlenberg would attest to that.
"But they battled through it, played through it," Moatz explained. "They really showed some mental toughness."
And won a 30th league title in the process, something neither Moatz nor anyone else on his staff may have thought was possible when pulling the gear out of Bear Den 2 and swinging into the season less than eight weeks ago.
"I know we got out to 20-1 or 21-1," Moatz said, who won his 1,000th career game during that early stretch. "But I don't know if we were playing well or the other teams were getting off to a slow start. Because of the new (league format, or reduced schedule), we didn't get a lot of non-league games in. And there were a lot of rainouts, too. It was tough finding out exactly where we were."
One of the reasons was because of the lack of experience. The coaching staff knew Sullivan and Zakszeski, were well aware of what Schnell, Wilkins, and Moser could bring to their team.
"But there was that inexperience," Moatz said. "Even for Moser, who came back from college this year after pitching and playing a little outfield and first base for us last year. He never really developed into what he is now. It was a maturing process for most of our kids. It took time for a lot of them to understand what they had to do, too."
Whatever they may not have understood before the early July skid, they sure understood after.
"Our pitching up to that point was very inconsistent," Moatz explained. "We get a good game or two, then we'd throw a klunker. We just couldn't put together a lot of good games."
Couldn't because of a defense that self-destructed at times, and an offense that didn't bunt the ball well and put up an unusual amount of strikeouts — many of which came with runners in scoring position.
"We just lacked that ability to execute Boyertown baseball," Moatz said. "We had to adjust. We had to work harder to get where I wanted them to be."
For the record, the Bears did adjust ... and now they're not only where Moatz wanted them to be, but where most Boyertown teams are at this juncture of the season -- at the state regional.
"In the beginning of the season, I was hoping we'd be where we are right now," Moatz said. "I just didn't want to go two weeks or so of not playing (until the state tournament at Bear Stadium on July 28). But I feel they're ready to go now. We've had some good practices, and they're focused on going out there to win."
Boyertown (28-6) will likely go with Schnell (5-1) in this morning's opener against Hatfield (23-4), which is expected to throw Eric Ruth, who may only be 4-0 this summer but was 12-1 and the ace of the North Penn High School team that won the PIAA-Class AAAA state title last spring. ... The Bears have won three straight Region Two titles and five of the last six.
REGION THREE
NorChester is the Region Three Tournament's three-time defending champion and will take a swing at four in a row when it debuts in today's opening round against Narberth at Spring-Ford High School's Ram Stadium.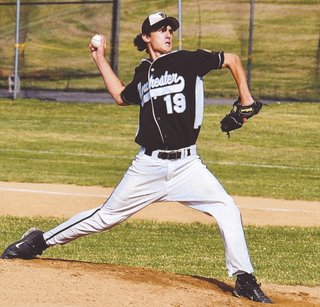 The Bulldogs are unquestionably the area's hottest team. They have won 23 games in a row — including fives straight en route to the Chester County League championship last week — and own an eye-opening 29-2 overall record.
"There was a time when NorChester would be happy just to make the playoffs," said manager Corbin Stoltzfus. "But this is something we expect out of our kids now.
"We start every season with the intention of winning our league. We've won a few league titles, a few (Region Three) titles, so we certainly can't hide from anyone anymore. The kids know that now."
They've responded quite well, too.
Stoltzfus has a very good, and very deep, pitching staff with Jeff Kelly (8-0), David Vining (3-2), Tyler Setzler (5-0), Jeff Wiand (5-0) and unsung Tim Ponto. The Bulldogs can play defense behind every one of them. And they can hit ... boy, can they hit.
From one through nine, there just isn't a weak spot. Brandon Engelhardt, who leads off and plays second base, may well be the MVP of this area's summer baseball season. Catcher Ryan Chesler is an excellent leader behind the plate, and combined with designated-hitter Ryan Deitrich and Jeff Wiand, gives the Bulldogs quite an offensive punch from the third through fifth spots in the order.
"These guys have been through a lot with us, so they know what we expect from them and they never seem to be bothered by the pressure," Stoltzfus said. "They've been through this, through the playoffs ... a lot of tough games. None of this is new to them."
Spring City is serving as the Region Three host for the third time in 10 years. Manager Jamie Scheck's ballclub is 27-7, well-rested and definitely a contender, too.
"You don't want to look past that team," Stoltzfus said last week. "I know we won't."
Scheck has a very respectable rotation that features Mike Haslam (8-1), Sean Larkin (7-0) and Matt Hamilton (4-0).
Also worth keeping an eye on is J.P. Mascaro, which features most of the players from the Methacton High School team that finished second to Owen J. Roberts -- or most of the NorChester players -- in the Pioneer Athletic Conference Final Four championship last May. The Haulers are coming off their seventh straight Greater Norristown League title run.
Labels: American Legion baseball, Berks Legion baseball, Boyertown Bears