Friends team up to make Disney wishes come true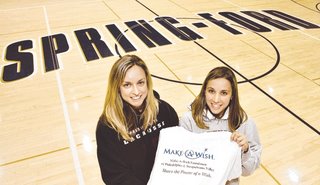 ROYERSFORD — Kelli Kurtz and Kori McDaniel teamed up for a lot of goals on the hockey and lacrosse fields, even for a good number of points on the basketball court, when they were teammates at Spring-Ford High School.
Oh, they were good … all-league, all-area, all-this, all-that. And pretty darn good in the classroom, too, where both were honor students.
After graduation, they went their separate ways. Kurtz headed north to the University of Massachusetts, where she was All-Atlantic 10 Conference in lacrosse before earning her degree in exercise science and sports management. A year later, McDaniel headed west to Shippensburg University, where she was All-Pennsylvania State Athletic Conference in field hockey and lacrosse before earning her degree in marketing and sports psychology.
Today, almost 10 years since they shared the spotlight at Spring-Ford, Kurtz and McDaniel are teammates again.
This time for their very own "If I Had 3 Wishes" Charity Ball.
And looking back into their distinguished pasts, no game or season was anywhere near as big, and no victory, championship or individual honor was anywhere near as gratifying … all their athletic and academic achievements simply pale in comparison.
The game plan is simple enough — raise enough money to grant three Disney wishes each for three children battling life-
threatening diseases. And, with the cooperation of the Make A Wish Foundation and the support of family as well as old and new friends, Kurtz and McDaniel are not only excited but confident they'll execute that game plan.
"Everything we've been doing, and things we still have to do, feels so good," said Kurtz, now 28 and the manager of her family's Achin' Back Garden Center in Limerick Township. "I'm just so thankful for everything I've been given.
"I've definitely been dealt all the right cards in my life — my health, a great family, so many great friends. I think how my parents always taught me to give back, how my coaches and others influenced me to give back and get involved in the community… doing this just seemed perfect."
"Sometimes we take everyday life for granted," added McDaniel, now 27 and working in the insurance industry as well as coaching two sports at her alma mater. "But there are so many important moments in life … moments like this.
"This is so rewarding for us. To think we're part of something that may help three unfortunate children see their dreams come true … it's just an incredible feeling."
What led the close friends and now roommates to get involved with the Make A Wish organization was a setback of their own.
Kurtz was supposed to get married last fall. As the date neared, though, she and her fiancé decided it would be best not to exchange vows and called off the wedding. The decision was mutual, Kurtz said, and there were no ill feelings toward one another.
"Everything was and still is fine between us," Kurtz explained. "But then I realized I was going to lose my deposit (for the reception at RiverCrest Golf and Preserve in Oaks). We still had the place, so Kori and I threw some ideas around. We always had thoughts of helping others, but we just didn't know where to start."
"We both knew a few families who had their share of problems, including very ill children, and we knew Make A Wish was so reputable, so we asked (the organization) for some suggestions," McDaniel said. "Well, Make A Wish asked us to send them what we wanted to do, just to make sure we were following certain guidelines and to assure us everything was OK."
Everything was. And the inaugural "If I Had 3 Wishes" Charity Ball was put on the calendar for Friday, April 10.
To say Kurtz and McDaniel had their work cut out for them would be an understatement.
"We both thrive on being busy," Kurtz said. "But putting this together has been like playing together (in sports). You work together. There's the team aspect of giving a little and taking a little."
Kurtz and McDaniel have graciously accepted the help of Todd and Suzanne MacFarland, Mia Todor, Lisa Cagliola, Bill MacFarland, Buddy Martin, Kristin Landis and Saranae Kurtz, their official "If I Had 3 Wishes" Charity Ball Committee. They've welcomed the support of area businesses like Achin' Back Garden Center, ADT Security, Chesco Landscaping, Rascals Fitness, Security V and Sweet Ashley's Chocolate, a list they hope, by next week, grows longer and longer.
"Kelli and I, like a lot of people, are so busy in our own lives," McDaniel said. "I don't think we realized how much work was going to have to be done on this, either. But we realized we were used to it as students and athletes.
"It's been a huge undertaking, but because of our friendship and our determination it's been fun. And if we ever get tired, or something doesn't go our way, we just think of those kids … they're our motivation."
Oh yes, those kids.
The beneficiaries of Kurtz's and McDaniel's "If I Had 3 Wishes" Charity Ball are Liliana, a 3-year-old fighting retinoblastoma, a rapidly developing cancer in the cells of the retina; Zyeir, a 5-year-old suffering from nephroblastoma, a tumor in the kidneys; and Sebastian, a 7-year-old batting neuroblastoma, a cancer in infants that affects the nervous system.
Liliana loves Mickey Mouse and can't wait to meet him when she travels to Disney World. Zyeir shares a similar passion for Mickey, and for the rides at the Florida resort. Sebastian has been beside himself thinking of his first airplane ride and, of course, the opportunity to meet Mickey.
For most people, flying to Florida, meeting Mickey Mouse and enjoying a few rides may seem simple enough. But for Lilian, Zyeir and Sebastian…
"It just could be one of the last things they get to do," McDaniel said.
That thought, from the very beginning of their admirable venture, has overwhelmed both Kurtz and McDaniel.
"All of us can give back in so many ways," McDaniel said.
"I just know there's definitely no better feeling than what Kori and I have felt in doing this," Kurtz added. "We just can't wait to write that check out after the charity ball."
* * *
The "If I Had 3 Wishes" Charity Ball rolls out the red carpet at 6:30 p.m. with hors d'oeuvres and a silent auction. Dinner is set for 8 p.m. A mother whose child was the beneficiary of the Make A Wish foundation will speak and show a video of her son's visit to Disney World. A raffle, live entertainment and dancing will close out the evening's festivities.
"We welcome anyone who wants to participate, regardless if it's volunteering their time, sponsoring a table for the night, donating items for the silent auction or just attending the event," McDaniel said, adding that the Collegeville Courtyard Marriott has set aside a number of rooms at discounted rates for the event and is providing free transportation to and from RiverCrest.
For more information, as well as ticket availability, visit www.threewishescharity.com and threewishes09@gmail.com
Labels: Disney wishes, Kurtz, McDaniel