Great Valley has a point to prove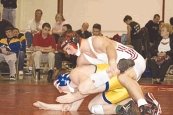 BOYERTOWN – The second season, the postseason that is, has arrived … individual sport at its very best. And it isn't just who does this and who does that. It's who wins, or who wins often enough to survive the first week of a month-long grind that eventually separates the good from the not-as-good in a state with as storied a wrestling history as any anywhere.
In other words, there are usually no remaining team goals to pin down.
Usually, that is.
But you can bet your headgear, singlet and shoes – and a don't-count-the-calories-lunch – that Great Valley has a team title on its mind going into today's District 1-Class AAA Section Four Tournament.
The Patriots, considered one of the district's premier teams from the very beginning of the season, and arguably one of the top three, didn't get the opportunity to prove it. Great Valley officials had to shut down the program because of a skin infection that affected a number of the Patriots.
Because of the outbreak, Great Valley was forced to withdraw from the district duals, and because of the accompanying panic from around the district, saw its bid for an outright – and undisputed – Ches-Mont League championship get erased. The Patriots didn't get to strut their collective stuff for 23 days, or until they finally returned to the mats for the Pequea Valley Duals last weekend and a non-league match with Brandywine Heights on Wednesday.
"The kids feel like they need to go out and prove themselves," said head coach Joe Tornetta, a Phoenixville graduate who at the end of the season is stepping down after a long and very successful career at Great Valley. "They feel there are people out there who still think they are still overrated. They want to prove they are as good as publicized."
Boyertown head coach Pete Ventresca was impressed with the Patriots well over a month ago, when they met up at the Cedar Cliff Duals. The Bears had a five-point lead going into the final bout, but Tornetta
opted to forfeit than send out one of his aces who was nursing an injured shoulder, giving Boyertown a bit of a deceiving 36-25 win.
"(Great Valley) is good, very good," Ventresca said recently. "It's a team that doesn't really have many holes in its lineup."
If the seedings for today's brawl are any indication, yes, the Patriots are indeed good. They picked up 11 top-four seedings. The top draws went to Kyle Liberato (26-2 at 125 pounds), Domenic DeRobertis (27-2 at 145), Justin Schellenger (26-2 at 160), Myles Tornetta (26-3 at 189), and Carl Buchholz (28-2 at 215). Three teammates are No. 2 seeds.
"The kids have worked extremely hard and have had to overcome some serious obstacles in the process of getting here (today)," Tornetta said. "But sectional wrestling, postseason wrestling, is a bit different than dual meet competition. We will have to wrestle our best."
Boyertown has been at its best – or close to it – in recent weeks. The Bears finished second to Quakertown in the district duals, avenged that loss to the Panthers to finish among the top six at the state duals, then capped the regular season with a rout of Phoenixville for its third straight Pioneer Athletic Conference championship.
The Bears have just two No. 1 seeds in Jeremy Minich (31-4 at 112) and Alex Pellicciotti (35-3 at 130). But three others – 2007 section champion Matt Malfaro (119), defending champion Tim Feroe (152) and a healthy Zach Heffner (189) – are situated No. 2 in their respective weight classes, and Trevor MacMinn (125) is a No. 3 seed.
Boyertown also has senior Charles Jones back at 171. Jones won nine of his first 11 bouts – losing just two close decisions – before suffering an injury at the Beast of the East Classic in Delaware..
The area's two other teams in the section – Owen J. Roberts and Spring-Ford – each has a No. 1 seed. For the Wildcats, it's Nick Fuschino (25-1) at 152. For the Rams, it's Justin Franiak (21-8) at 285. Both are defending champions.
If there is one weight class in particular that could be the headliner today, it's 152 – with two returning champions in Fuschino and Feroe (33-5), and very good rivals in Great Valley's Travis Donnor (19-4) and Bishop Shanahan's Evan Duffy (23-5).
If Fuschino and Feroe meet up in the final, Feroe will be looking for a little revenge considering he was 0-4 against Fuschino back in 2006-07, the last time the two met. In their respective high school careers, the pair have wrestled 29 common opponents, and Feroe has gone 30-7 against that group while Fuschino has gone 28-5.
* * *
Boyertown, which returned to District 1 in 2004, has had more champions (22) the past five years than any other team in the Section Four field. Owen J. Roberts (10), Spring-Ford (9), Downingtown West (8) and Great Valley (7) are a distant second through fifth, respectively. … The only teams in all of District 1 with at least one section champion in each of the previous 10 seasons (1999-2008) are Neshaminy (Section One); Upper Perkiomen (Section Two); Methacton and Norristown (Section Three); and Upper Darby (Section Five). Henderson has also accomplished the feat while competing in Sections Four and Six during that span.
SECTION THREE
Phoenixville, back up in the AAA bracket for the first time in six years, picked up a pair of No. 1 seeds in Matt Cermanski (20-10) and Ken Cenci (25-5) for the Section Three Tournament at Methacton. Cermanski will be at 125, while Cenci is at 215 for the Phantoms, who also saw Chris Onder (16-8) draw the No. 2 spot at 112 and teammate Dan Giannone (15-13) get No. 3 at 125.
Perkiomen Valley has six top-three seeds. The Vikings' No. 2 seeds are Gavin Milligan (28-4) at 130 and Jordan Deane (22-9) at 135, while the No. 3 seeds are Justin Beitler (18-8) at 103, Vaughn Gehman (12-13) at 145, Brett Petriello (22-11) at 189, and Chase Godfrey (28-4) at 285.
Host Methacton, meanwhile, didn't get a No. 1 seed for the first time in recent memory. The hosts' favorites are No. 2 seeds Rob D'Annunzio (22-6) at 103 and Brandan Clark (24-4) at 215, and No. 3 seed Kyle Kovalsky (21-7) at 160.
Justin Andrews, a section champion two years ago, is a contender at 119.
* * *
Phoenixville hasn't had a Class AAA section champ since Ed Bearden, the third member of his family – joining Paul (1978) and Tom (1981 and 1982) – to capture a gold medal at sectionals. … Norristown's David Irwin, who wrestled at Upper Perkiomen two years ago and was a Section Two champion, is 21-2 and seeded second at 112 pounds. … The Phantoms' Sam LaPorte (3-23) opens against Plymouth-Whitemarsh's John Staudenmayer (31-0), the only unbeaten wrestler in the entire sectional.
SECTION TWO
Upper Perkiomen drew five No. 1 seeds for the Section Two Tournament in its own gym. The Indians, who will have to deal with District 1-AAA Team Duals champion and defending section champion Quakertown, hope to get a lift from Marty McStravick (23-8) at 119, Garrett Fellman (21-11) at 125, Mike McStravick (27-5) at 140, Nick Edmonson (18-4) at 171, and Jared Bennett (32-2) at 285.
Pottsgrove's Zach Robinson (25-5) is the No. 1 seed at 130. Falcon teammates D.J. Ludy (20-9), Danny Michaels (15-6) and T.J. Demetrio (23-7) all drew No. 3 seeds at 125, 135 and 145, respectively.
Pottstown, back up in the AAA bracket for the first time since 1990, got a No. 3 seed in Will Carter (15-9) at 285.
* * *
Unfortunately, either Pottsgrove's Anthony Martin or Pottstown's Rashaad Lighty will see their season end this morning when the two meet in a pigtail at 152 pounds. … Last season, Robinson became Pottsgrove's first section champion since Brian Shallcross was a gold medalist in 1993. … Because of its long run in AA, Pottstown hasn't had a Class AAA section champion since the memorable 1989 postseason run saw Chris Ruyak, Larry Wallace, Frank Stehman, Tom Medvetz, Brian Campbell and Job Price pin down gold for the Trojans. When the Class AA field expanded and forced officials to go with a two-section format in 1991, Pottstown's Mike Johnson, Ron McCalicher, Shawn Schmidt, Dave McDonnell, Joey Allen and Rich Fagley were all District 1-Class AA Section One champions. The Pioneer Athletic Conference – Pottstown, along with Pottsgrove (three), Perkiomen Valley (one) and St. Pius X (one) – accounted for all but two of the individual gold medals in that sectional. … In the last 10 years, Upper Perkiomen has had a District 1-high 52 section champions – including a district-record eight in 2006.
NOTES
Pellicciotti owns the most wins (35) of anyone in today's six sectionals. Norristown's Marcus Robbins is next with 34, while teammates Brandon Parker and Joe Kent, along with Feroe, are next with 33 apiece. … Feroe, Chichester's Bob Scheivert and Robbins share the District 1 lead in pins with 22 each.
Labels: Great Valley, Patriots, wrestling