Krais, Barnhart headlined a memorable year
It didn't matter what newspaper you picked up, what Web site you picked out, or what television channel you punched up on your remote, it was virtually impossible to ignore the gloom and doom of 2008 … likely to be forever remembered as the year of The Great Recession.
The numbers on Wall Street whittled away to practically nothing, and retirement funds, 401Ks, pensions – whatever you choose to call them – disappeared. Beloved George's "economic stimulus package" was a sizable deposit for some of our checkbooks (until the end-of-the-month utility bills burnt it up), and for others it was the cash needed to go out and buy another useless game or gadget (made in another country, of course).
Businesses, big and small, went out of business. Mortgage companies gave us a song and dance (and Fannie Mae isn't a Disney character, mind you), and the automobile industry executives bragged about getting into their hybrids instead of corporate jets to cut costs. But they all ended up in Washington, D.C., whining (perhaps even dining) long enough to convince our generous politicians to bail them out, again at the little fella's (the taxpayer, that is) expense.
Bailout – unquestionably "the word" of 2008.
But to get away from it all, from the round-the-clock depressing news and all of the negativity, we only had to watch or read about our local athletes and the teams they played for.
From the 11 or 12 seconds it took for them to get to the finish line to the hour or two for them to finish their game, they entertained us. They gave us a reason to cheer, to hoot and holler … to feel good.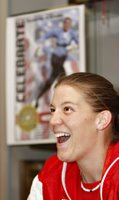 To say they inspired us may be a gross understatement.
None more, perhaps, than Ryan Krais and Nicole Barnhart.
Arguably one of The Mercury area's greatest high school athletes of all time – male or female – Krais literally rewrote track's record book. She took her last victory lap, graduated from Methacton and headed out to UCLA, where she'll pursue her NCAA and Olympic dreams. And Barnhart can attest to Olympic dreams coming true. The Boyertown graduate was a goalie on the U.S. women's soccer team that won the gold medal at the Summer Games in Beijing, China.
There were great runners, like Mark Denim, Elizabeth Simpson and Jimmy Tarsnane; great swimmers, like Mitch Scherer and Patrick Schirk; and teams, like Pottsgrove boys soccer and Spring-Ford baseball, that played well beyond their overachieving tags to reach their respective sport's state finals, as well as the Spring City Junior Legion and Boyertown American Legion ballclubs, who added state titles to their already storied summer programs.
Last spring, Phoenixville graduate Mike Piazza
– the greatest hitting catcher in the history of Major League baseball – bid farewell to the game. But in the fall, the Phillies captured area fans' hearts and souls by winning the World Series. Boyertown's Mike Ondo and Limerick Township's Hank King – an integral part of the ballclub's championship season – paraded down Broad Street, too.
Not a bad year at all.
Great Recession, perhaps. But a lot of athletes, young and not-so-young, left a Great Impression in 2008.
* * *
The following are The Mercury sports staff's Top 10 stories of 2008…
1. Ryan Krais: The Methacton senior set a record (3,823 points) by winning her third straight pentathlon at the Nike Indoor Nationals in Maryland last winter, then in April set the pace in the 400 hurdles at the prestigious Penn Relays in Philadelphia. Before spring ended, she dominated at districts and states – winning the long jump, high jump and 300 hurdles in Shippensburg to give Methacton the PIAA-Class AAA state title – and finished with 12 district and nine state gold medals. After being named The Mercury's Girls Track and Field Athlete of the Year for the fourth straight season, she competed in the U.S. Olympic Trials and at the World Junior Championships in Poland. … "In my opinion, Ryan is the best athlete I've ever seen," said Rob Ronzano, her coach at Methacton.
2. Nicole Barnhart: At Boyertown, she made quite a spectacle of herself, in the classroom (with a 4.2 grade-point average) and on the soccer field (playing on the boys team because there wasn't a girls team yet). She was awarded a full scholarship to Stanford University, where she not only graduated with a double major in studio art and psychology, but set a slew of records as the Cardinal goalie. She played in the World Cup, then grabbed the headlines in the Women's Olympic Qualifying Tournament final when she made a number of outstanding saves – including the stop of a penalty kick – in the shootout victory over Canada. Despite undergoing knee surgery in May, she was on the U.S. Olympic team in China as a backup to Hope Solo. … "People always ask what was it like," Barnhart said. "It's really hard to put into words. It's something you definitely dream about. … something I definitely did. To actually be there was amazing. It's something I'll treasure forever. t still seems a bit surreal at times."
3. Mike Piazza: Despite his explosive bat, he was tagged as weak-arm, too-slow first baseman at Phoenixville back in the mid-80s. Twentysome years later, Piazza retired as professional baseball's greatest hitting catcher. And when he walked away from the game last spring, he was tagged as a first-ballot guarantee for induction into the Hall of Fame in Cooperstown. The National League Rookie of the Year in 1993 and 12-time All-Star, Piazza retired with a .308 career batting average, the most home runs by a catcher (396) and 427 overall, 1,335 RBI. … "I felt it is time to start a new chapter in my life," Piazza said. "It has been an amazing journey."
4. Phillies: It had been 25 years since the City of Philadelphia had celebrated a world championship, and none seemed to tug at the sports-crazed fans' heartstrings more than the Phillies run to the National League pennant and World Series title. Behind the scenes, almost every day on the road, Limerick resident Hank King was the advance scout and providing the Phillies with everything they needed to know about an upcoming opponent. He did it for a long time, and did it well … so well, in fact, that later this month he'll be presented the prestigious George Genovese Lifetime Achievement Award during the Spirit of the Game Dinner in Los Angeles. And Boyertown graduate Mike Ondo, the assistant director of minor league operations in his 11th year with the Phillies. The 33-year-old Ondo handled his responsibilities so well that a couple of months ago was promoted and named the organization's pro scouting director.
5. Mark Dennin: Last winter, the Boyertown senior admitted he wasn't too sure what direction his running career was heading in. It all changed at the Penn Relays, when he shocked the field and ran away from everyone in the 3,000 meters with a personal-best winning time of 8:30.11. Later in the spring, he ran off with a hat trick – winning the 3,200 meters in the Pioneer Athletic Conference, District 1 and PIAA state championships.
6. State Runners-up: Last spring, Spring-Ford's baseball team had more losses and than wins in the early going. But as the season progressed, so did the Rams. After a surprising but nonetheless disappointing third-place finish in the District 1-Class AAA Tournament, they strung together four straight wins to reach the state final, where they lost a rain-delayed, marathon showdown with Canon-McMillan. … And this past fall, the Pottsgrove boys soccer team didn't even survive the Pioneer Athletic Conference's Final Four semifinals. But the Falcons, whose program has had little to shout about in the past, blanked Holy Ghost Prep, 2-0, for the District 1-Class AA title, then went on a run that didn't end until a 1-0 setback to Susquehannock in the state final.
7. Mitch Scherer: It had been a few years since anyone was so dominant in the pool, but the Owen J. Roberts' senior sure made a noticeable splash. Scherer helped the Wildcats to their sixth straight Pioneer Athletic Conference title, was golden at the District 1-Class AAA Championships – and named the district's Swimmer of the Year – before closing out the season with a gold medal in the 100-yard breaststroke at the PIAA Championships.
8. Jimmy Tarsnane: After running in the shadows of some great runners around the Pioneer Athletic Conference and throughout the district and state, the Perkiomen Valley standout stood out and above everyone. This past fall, Tarsnane ran away with the PAC-10 cross country championship and bounced back from a disappointing trot at the districts to win the gold medal at the PIAA Championships.
9. Patrick Schirk: Penn State has had a swimming program for 41 years, but never a swimming champion until Schirk's golden performance at the 2008 NCAA Swimming and Diving Championships in Washington. A graduate of Owen J. Roberts, where he set so many school, district and state records, Schirk won the gold medal in the 200-meter backstroke for the Nittany Lions.
10. A Special Foursome: Bad news, so they say, comes in threes. In 2008, it came in "four" with the passing of Barry Trate, Joe Edwards, Dave Ricketts and Randy Gumpert. Trate was one of baseball's big hitters, not so much as a player back in the 1950s, but as a devoted coach, role model and loyal fan of the game from those days until losing his battle with cancer last February. "What a great man, a genuine gentleman, a man who will be missed by everyone," said Boyertown American Legion baseball chairman Ross Smith. … Edwards was a teacher and coach at Owen J. Roberts, respected in the classroom as much as he was on the football field, loved by all who knew him. "Mr. Edwards was like 5-foot-6 or so … a man of small stature, but a man with such large presence," said Rudy Glocker, a former linebacker-tight end during the Wildcats' incredible run in the 1980s who later played at Penn State. "Joe epitomized what a coach is, or should be," added Pottsgrove head coach Rick Pennypacker. Edwards passed away in May. … There are many who say Ricketts was the greatest athlete to graduate from Pottstown High School. Few could argue. He went on to become an All-American in both baseball and basketball at Duquesne University, playing on the school's 1955 NIT championship team. He also played for the Cardinals' 1967 World Series championship team and worked for the organization for more than 30 years as a coach and instructor. "Sometimes the word great is overused … (there) have been some truly great Cardinals that have come through our organization, but I don't know anybody who was as great or more beloved than Dave Ricketts," said St. Louis manager Tony La Russa. Ricketts lost his battle to cancer in July. … Gumpert, a native of Monocacy, pitched in the major leagues for the Yankees and four other ballclubs for 10 years, won 51 games and owned a career 4.17 earned average. He was an American Legion All-Star in 1951, the season he gave up Mickey Mantle's first home run. A member of the Daniel Boone Wall of Fame, Reading Phillies, Berks and Pennsylvania Sports and Major League Scouting halls of fame, Gumpert was truly one of the beloved ambassadors of the game. He passed away in November.
Honorable Mention
Auto Racing: Jeff Strunk continuing his streak of modified division championships at Grandview Speedway. Baseball: NorChester dominating the Chester County American Legion League and Pennsylvania Region Three Tournament fields for two more championships; and Spring City's Prep (13 year olds) and Junior Legion teams, as well as Boyertown's American Legion team, swinging their way to state titles. Basketball (Boys): Daniel Boone advancing to the PIAA-Class AAA quarterfinals and finishing with a school-record 25 wins. Basketball (Girls): St. Pius X defeated Delco Christian, 60-37, for its sixth straight District 1-Class AA championship; Methacton, behind senior Renee Womack, opening with 28 consecutive wins before a 41-39 setback to Downingtown East in the District 1-AAAA final, then finishing with a school-record 30-2 overall mark; Spring-Ford, with teammates Megan Bedard and Allie Kakareka both topping the 1,000-point career milestone, winning its third straight PAC-10 title and recording its first win in state tournament play. Basketball (Men): Ursinus College, advancing to the NCAA Division III Final Four in Salem, Va. Cross Country: Boyertown's Elizabeth Simpson winning the PAC-10 and District 1-Class AAA titles. Field Hockey (Women): Ursinus capturing its fifth straight Centennial Conference championship. Softball: Owen J. Roberts won the District 1-AAA title. Track and Field: St. Pius X senior Steph Fulmer captures a state title in the 1,600 meters during the PIAA-Class AA.
Labels: memorable year