Boyertown wastes no time proving its worth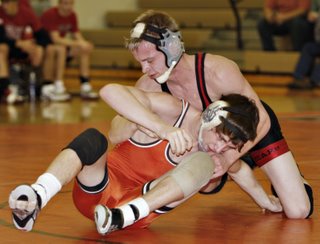 Unless your headgear has been on a bit too long (and snapped up a little too tight), or you have been traipsing through the malls in a week-long trance because of Black Friday's hypnotizing sales pitches and prices, you've likely heard by now that Boyertown will be the class of the Pioneer Athletic Conference this season.
Boyertown … no one else, just Boyertown.
That's a first, too.
The first time there's been no mention of those two others — Upper Perkiomen and Spring-Ford — who along with Boyertown have either won or shared all but three of the league's 22 championships.
And after one week, or shall we say one weekend, it sure does appear as though Boyertown may be the high-and-mighty of the PAC-10 … unquestionably one of the area's best teams, and perhaps even one of the better teams in all of District 1.
The Bears swept four of five matches in their own Bear Duals last Saturday, losing only a nine-point decision to St. Mark's, Del., which was No. 18 in Amateur Wrestling News' preseason national rankings. They got a little bit of a test from Council Rock North, but when they met again in the third-place final, the earlier six-point differential ballooned to 18 points.
Pete Ventresca, who has lost just two league matches (one each to Upper Perkiomen and Spring-Ford, naturally) in his first three seasons as Boyertown's head coach, has heard how the Bears should run the PAC-10 table this winter. He prefers to let all that talk fall on deaf ears, too.
And one weekend a season does not make.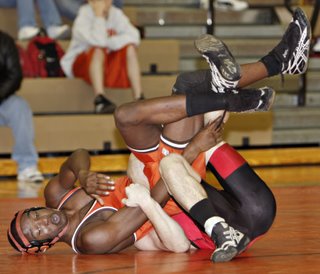 "We've heard it all," Ventresca admitted. "Our goal every year is to win the PAC-10. However, there are still a lot of tough teams again this year, and we will never underestimate anybody.
"(People) can say what they want, but Upper Perkiomen will be tough again; Spring-Ford is always good; Owen J. Roberts looks very good; and a few other teams could present some problems. I do feel good about our team, absolutely. But after last year, with all those twists and turns, you realize nothing is ever written in stone."
The one thing Ventresca does have this season is depth, or flexibility. The inability to move people up, down, and around to get favorable match-ups hurt the Bears since teaming up in the PAC-10 six years ago. It was never more evident than in those showdowns with Upper Perkiomen and Spring-Ford, the only teams to have beaten the Bears — an otherwise impressive 44-5 against league rivals.
"We do have a lot of balance," Ventresca said. "That's something we haven't had in years past. But this year, we seem to have decent kids and decent back-ups, the kind of balance that gives us a lot of options when it comes to moving kids around to get the best match-ups."
Boyertown exposed that last Saturday.
"I definitely think we came out of (the duals) well," Ventresca said. "The kids performed well. I was happy with their performance.
"But what really pleased us was how the team stepped up. If one kid went down, the next kid picked him up. Everyone was just pulling for one another, and that's a good thing to see."
NEW-LOOK DUALS
The District 1 Steering Committee has approved a major change in the district's Class AAA Team Duals, expanding the field to 24 teams.
According to Dennis Kellon, chairman of the committee, the first through eighth seeds will draw byes in the first round. And except for the losers of the first-round pigtail matches — who are eliminated — the tournament will feature complete wrestlebacks.
The first two rounds will be held Thursday, Jan. 22. The survivors return for the final two days, Friday and Saturday, Jan. 30-31, with the AAA championship and third-place final, along with the Class AA final, set for 4 p.m. that Saturday.
The first round sits will be Upper Perkiomen, Radnor, Hatboro-Horsham, and Pennsbury, with the final two days of the duals held at Council Rock South.

FOOD FOR THOUGHT
The 23rd season of PAC-10 wrestling opens Wednesday night with Boyertown traveling to Perkiomen Valley and Phoenixville visiting Upper Perkiomen.
Fans bringing four canned goods to the Upper Perkiomen match will be admitted free. The canned goods will be accepted by representatives of the Upper Perkiomen National Honor Society, which will deliver the donations to the Open Line Food Drive just before Christmas.
Sure sounds like a great reason to take in the Phantoms-Indians match … and to give a little back to those less fortunate to brighten their holidays.
MOVING ON UP

OJR's Nick Fuschino upped his career win total to 97 with a perfect 5-for-5 last weekend. Pottstown's Eric Daniels will begin his season Saturday at the West Chester Tournament with 83. Boyertown teammates Alex Pellicciotti (82) and Tim Feroe (80) pushed their totals up by five each last weekend, too. Upper Perkiomen heavyweight Jared Bennett debuts Wednesday night with 79.
Among active coaches, Ridley's ageless Carl Schnellenbach is back for his 49th season and owns a state-record 663 wins. Danville's Ron Kanaskie is a distant second with 601. … District 1's only other active coaches with more than 300 wins entering this season are Oxford's Scott Gold (384) and Pennsbury's Joe Kiefer (357).
Around the state, Waynesburg (793) and Easton (786) are both expected to move of the 800-win mark this season. Canon-McMillan is the state's all-time leader with 922 wins in the history of its program. … Easton head coach Steve Powell, a graduate of West Chester Henderson, owned 395 of Easton's victories before beginning his 25th season last weekend.

HAPPY BIRTHDAY
Lehigh University, which features Andy Knerr (Norristown) and Brian Tanen (Souderton) on its roster, is celebrating its 100th year of wrestling this season. … The University of Pennsylvania, which features four former District 1 standouts – Harriton's Marty Borowsky, Upper Perkiomen's Zack Kemmerer, and Council Rock South brothers Mark and Rick Rappo – owns the nation's oldest college program and is already into its 105th season.
IRONMAN RECAP
It's generally regarded today that the Walsh Ironman is No. 1 or No. 1A when ranking high school wrestling tournaments. Last weekend, Blair Academy (N.J.) won the team title with a 282.5-234 edge over runner-up St. Paris Graham (Ohio). The teams are ranked No. 1 and No. 2, respectively, by Amateur Wrestling News. Pennsylvania's Central Mountain (third), Blue Mountain (sixth), Reynolds (seventh) and Wyoming Seminary (eighth) all had Top 10 finishes, while Shadyside Academy was 11th.
Labels: Boyertown wrestling