Pottsgrove likes to run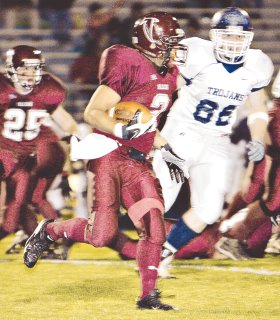 Bayard Rustin likes to run, run, and run some more behind its sizable and quick offensive line. Pottsgrove likes to run, run, and run some more behind its sizable and quick offensive line.
Don't think the keyboard got stuck … or is stuttering.
It's just that tonight's District 1-Class AAA semifinal showdown could very well turn into a track meet of sorts with the fleet afoot finding lanes of their own and running for goal lines instead of finish lines.
Rustin, on a nine-game run and 10-1 overall, features brothers Rondell and Rameer White, who together average eight yards every time they take a handoff, and have taken a couple hundred of them for 1,928 yards this season. Pottsgrove, also on a nine-game run and 10-1 overall, features Terrell Chestnut and Maika Polamalu, who together average a half-step under eight yards every time they carry the football, and have taken a few hundred of them for 2,238 yards this season.
Think the films and scouting reports look the same?
"We're definitely similar in what we do," said Pottsgrove head coach Rick Pennypacker. "Rustin is a run-the-football team. They'll throw at times, but most of the time, it's only because they're trying to score in a hurry-up offense."
For the record, quarterback Nick Michaels has gone up top just 62 times and
completed 30 of them for 462 yards and four scores. Chestnut has gone up top just 61 times and completed 35 of them for 840 yards and eight scores.
"Rustin is easy to prepare for, just like a lot of people may say about us," Pennypacker said. "But that doesn't make it any easier to defend them.
"What (the Golden Knights) do, they do very, very well. They're like a lot of those old Strath Haven teams … at times coming at you with two tight ends and other times coming at you in the Wing-T. They like to get the ball to the White brothers. They'll go to their fullback, too. They just pound the football."
The Falcons can pound as well. And can they ever scoot, as Chestnut and Polamalu — as well as fullback Preston Hamlette — have done so often this season.
But whether they've been short or long runs, or the occasional short toss or long bomb, Pottsgrove's offensive production begins up front with center Dan Foust, guards Andrew Filopanti and Eric Moran, tackles Antonio Filopanti and Brandon Mason, and tight end Scott Madl. Their unsung work has helped the Falcons average 265 yards on the ground and 341 yards overall.
"They usually show a '50' on defense," Pennypacker said. "They have two very good linebackers, too. I just don't know if they've seen the kind of speed they're going to see (tonight). But they're very good."
The Falcons aren't too bad on the defensive side of the ball, either. Take away what Pottstown did two weeks ago and the Falcons have allowed their other last four opponents an average of only 53 yards rushing. The front five — ends Justin Oliveri and Andrew Tremble, tackles Eric Figorski and Kayvon Greene, and nose guard T.J. Demetrio — have come up with big stop after big stop. They're backed up by linebackers Paul Owens, Madl, and Hamlette and a very aggressive as well as efficient secondary featuring Isiah Quick and Sheppard on the corners and Chestnut at safety.
"Our defense has been playing well," Pennypacker said. "The kids are always looking for a challenge, and they're definitely looking forward to this challenge. They know they're going up against a very good football team."
Owen J. Roberts at Upper Moreland
Owen J. Roberts (9-2) travels to top-seeded Upper Moreland (9-1) tonight in the other District 1-Class AAA semifinal.
OJR head coach Tom Barr likely had a long chat with Phoenixville's Bill Furlong, who saw a turnover with less than four minutes remaining lead to the winning score in last week's opening-round setback at Upper Moreland.
The Golden Bears have a well-balanced offense with the swift Chris Smallwood and quarterback Mike Rosenbaum. Smallwood has run for over 1,543 yards and 22 touchdowns, while Rosenbaum is closing in on 1,000 yards passing with 10 touchdown tosses. Defense is anchored by linebacker Dmitri Miller and safety Ronye Dennis.
The Wildcats counter with Ryan Brumfield (2,003 yards, 19 TDs), Sam Funk, and Cory Bissland in a run game that averages just under 300 yards a game. Quarterback Dan Miller, who has an outstanding season on both sides of the ball, can throw and has three excellent receivers in Brumfield, tight end Brad Davis, and wideout Kohl Batdorf. Defense is led up front by Sam Morgan and Sean Moloney and by linebackers Rich Zazo and Scott Syrek.
Daniel Boone at Mechanicsburg
Daniel Boone (8-3) is off on yet another long bus ride to visit top-seeded Mechanicsburg (11-0) in the District 3-AAA quarterfinals … and hope to do what last year's team did — take out an unbeaten top-seed in the second round (as the Blazers did to Northern York).
The host Wildcats are coming off back-to-back 3-7 seasons. Tarik Leftenant (1,100 yards), fullback Devon Hensel (372), and quarterback Jake Zeigler (408) are averaging a combined seven-plus yards per carry. Zeigler keeps defenses honest, too, hitting well over 50 percent of his passes for 1,050 yards and 14 touchdowns. Tyler Bullock (6-4, 265), who dominates at guard and at defensive tackle, has already committed to Connecticut.
Daniel Boone, meanwhile, shows Mechanicsburg a passing game it hasn't seen the likes of all season. Thanks in part to an offensive line that has allowed him time to throw, quarterback Jon Monteiro has amassed 2,853 yards and 33 touchdowns through the air. He has two excellent receivers in Zach Keeley and Kelly Saylor, who have caught a combined 128 passes for 1,729 yards and 19 touchdowns. Nate Greene's (880 yards) ability to break a long run keeps defenses honest. And speaking of defense, the Blazers' feature returning all-state Keeley in the secondary, where he has picked off seven passes this season.
Playoff Notes
Mechanicsburg's last undefeated regular season was 25 years ago. The program's only unbeaten overall season was a 10-0-1 run in 1954. Veteran Wildcats' head coach Rich Lichtel died just before last season kicked off after losing his battle with cancer. … Rustin is No. 2 on the District 1-Class AAA enrollment chart with 537 male students (9th through 12th grade). OJR (510) is at No. 5, Upper Moreland (450) is at No. 15, and Pottsgrove (410) is at No. 18 on the 22-school bracket. … Pottsgrove (6-4), Owen J. Roberts (1-0), and Methacton (1-0) — along with former member Lansdale Catholic — are the PAC-10's only teams with winning records in the postseason. Daniel Boone is 4-3 in postseason play in District 3-AAA (4-5 overall including two Eastern Conference playoff appearances)
Labels: Class AAA semifinals, District 1, Pottsgrove football