Remembering 50 years of rivalry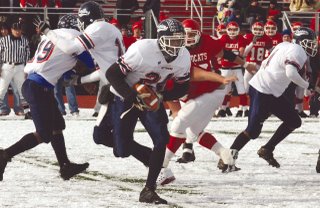 When John Brown heard his alma mater was going to play Pottstown on Thanksgiving, well, he simply couldn't believe it.
As the starting quarterback on Owen J. Roberts' first football team in 1955, Brown and the Wildcats had lined up against some mighty opponents in the Perkiomen-Schuylkill Valley League and beyond, even beat a couple.
But none compared to Pottstown.
"I was already out of school a few years, but I thought these people were kidding me when they said our school was playing Pottstown on Thanksgiving," the still lively 70-year-old Brown recalled last week. "Pottstown was so much bigger than Owen J. Roberts back then. Pottstown was graduating over 200 kids every year and we were lucky to graduate 50 or so.
"Pottstown had so many great athletes, too. I just remember thinking that we'd never ever beat Pottstown … never ever win that game."
Owen J. Roberts sure didn't on its first try, losing in a very convincing manner, 24-0, on the bitterly cold morning of Nov. 26, 1959. The second time around wasn't much better, either, a 33-7 loss. Then, in 1961, as Brown envisioned years earlier, an unbeaten Pottstown humiliated the Wildcats, 58-0.
"Pottstown really rubbed it in that game," recalled Scott Bush, a freshman quarterback that season. "After we got home and sat down to eat, my father (Roy) told me something I'll never forget – 'Pottstown is going to pay for that.' "
Did they ever.
The following year, Pottstown was tied for first place in the Ches-Mont League. Owen J. Roberts was winless, 0-5-3 to be precise.
Final score: Wildcats 32, Trojans 7.
"The only thing most of us were concerned about in the weeks leading up to that game was the color and material we wanted for our championship jackets," Bush said. "We weren't even concerned about anything when rain postponed the game from Thanksgiving to (the following) Saturday.
"But did we ever get beat up. I mean it was ugly, a no-doubt-about it (game). It was the first time we lost to Owen J., and it cost us the Ches-Mont championship. It hurt. I know personally it was the first time I got caught being overconfident, and the last time. And I can tell you no one ever took Owen J. Roberts for granted after that game, either."
Call it respect
The series, though only three years old at that point, became more than just a game. And in the years that would follow, outstanding individual talent, big plays and more big plays, edge-of-your seat drama, and so many surprising finishes, would only enhance the game.
Owen J. Roberts and Pottstown football became part of the Thanksgiving Day setting.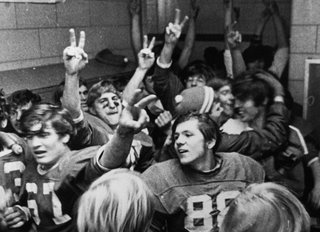 And this morning at 10 a.m. when the Wildcats and Trojans meet in Bucktown for the 50th consecutive season – officials from both schools will recognize the rivalry's history -- and its traditions.
"It's much more an event and a happening than just a game," said former longtime Pottstown athletic director John Armato, now the district's director of community relations. "It's a tradition that brings together the people of the communities … It lends to the family experience part of what Thanksgiving is supposed to be."
Settling scores
When the series kicked off in 1959, the late Hebert "Heeb" Meyers was Pottstown's head coach – the first of 12 who have led the Trojans against Owen J. Roberts. He was 4-3-1 in the eight games he matched wits with Lou Buckwalter and Henry Bernat, a mark that didn't quite satisfy his thirst for success. "(The OJR) game is the one we don't ever want to lose," Meyers told The Mercury prior to one of those early meetings.
Eventually, that was the feeling anyone associated with the game shared.
Especially Bernat.
A native of Phoenixville, where he played in three Thanksgiving Day games (1944-46) against Coatesville, Bernat was an assistant to Buckwalter for five seasons before taking over the program in 1960. He's often said the Pottstown-OJR game at first didn't seem like that big of a deal … or at least until the 1961 shellacking.
"I never did forget that game, and still haven't," Bernat said recently. "Pottstown was a great football team, mind you, but… Yeah, I never forgot that game."
Neither Bernat nor the Wildcats matched that humbling spread against the Trojans. But scores have certainly been settled. And Ches-Mont League as well as Pioneer Athletic Conference championships have been won and lost.
Yes, the old cliché of throwing out the records certainly applies to the rivalry, which has provided upset after upset and, more important, 14 games in which a league title was decided.
"I think what you have to remember is that all that separates the two schools are the (Hanover Street and Keim Street) bridges, and that most of the kids know each other," Bernat said. "Heck, a lot of them are friends."
But friendships are severed for those two to three hours Thanksgiving morning.
"For a lot of us, it's a rivalry that started in youth football when the (former) Pottstown M&M Rams played the NorChester Red Knights," said Brian Campbell, who ran for over 200 yards and two touchdowns in 1988, leading the Trojans to a 35-8 romp and a share of the PAC-10 title. "Everybody knew one another, played against one another…
"And when we were growing up, we always went to the Thanksgiving game. That was part of the holiday. It was the game first, then the family meal. It was such a special game. It was, and still is to a lot of people."
So special, Campbell added, that it didn't often end the way the records may have otherwise dictated.
"I remember losing my sophomore and junior years (7-0 and 28-0, respectively, in 1986 and 1987)," he explained. "The losses hurt, were very painful, and sometimes you remember them more than the wins.
"But it was never a problem getting up for that game. I mean that was the game. It was exciting, and it's probably the most memorable game for a lot of the guys who played in it."
Pottstown's Jim Tsakonas, who played in three (1965-67) and later coached the Trojans in three more (1988-90), certainly won't disagree.
"A lot of people outside the two (school districts) don't understand how big a game it is, how much a part of our two communities the game is," Tsakonas explained. "Sure, the players looked forward to the game, but so did everyone else in school and around town.
"It was an exciting time. We had bonfires, pep rallies. Heck, our band used to march up and down the hallways in school. Everyone supported it."
Tsakonas, who saw a dummy with his number on it hanging from the Hanover Street Bridge, and his teammates got caught up in the frenzy as seniors. Owen J. Roberts, with future NFL quarterback Don Strock calling the signals, was 6-1-1 and in need of a win against Pottstown to earn a share of the 1967 Ches-Mont championship. But the Trojans denied the Wildcats the title with a 25-6 victory.
Twenty-one years later, as the head coach, Tsakonas guided Pottstown to its first PAC-10 title. He helped put an asterisk on the 9-2 season with a 35-8 victory over the Wildcats, who incidentally avenged that loss the following season with a 20-6 win that closed out their own run to the PAC-10 title.
"As a coach you wanted your kids to understand what the game (against OJR) was about, to care about it, to get ready for it," Tsakonas said. "I always remembered that it was the one game you didn't want to lose. It was a matter of pride.
"I also remember after beating Owen J. for the title (in 1988), while shaking hands after the game, their coaches told me, 'There was no way you were going to shut us out, though.' You knew what they meant by that. Things are always pretty intense that day. It's the pride everyone has in the game."

Titles on the line
Pride may have never been more evident than in 1970. Both teams were unbeaten in the Ches-Mont League. Pottstown was a perfect 10-0 overall, and Owen J. Roberts was 9-1.
"Every game (with Pottstown) was big, but that one was certainly one of the bigger ones," recalled Bernat, who had gotten the best of John Schoenwolf and his Trojans the previous two years to take a bit of the sting out of the 1967 setback.
"A lot of our games went down to the wire. There were so many great games, games we should've won and games (Pottstown) should've won. But that (1970) game was something."
Fans began lining up at the ticket windows around six in the morning. By game time, well over 10,000 were bundled up in the stands and huddled two and three deep around the track to watch high school All-American running back Denny Laws and Owen J. Roberts top the Trojans, 20-8.
"There were a lot of good football players on that field that morning," Bernat said.
There's never been a shortage of good football players at either field on Thanksgiving morning.
The talent was always evident, especially in the championship games — in 1971, when Pottstown's 6-0 shutout clinched the Ches-Mont championship, and again in 1972, 1975, 1980, 1983 and 1984, when Owen J. Roberts won to close out its own Ches-Mont championship runs.
Few have forgotten the 1980 and 1983 affairs.
In 1980, Pottstown — just 2-9 going into the game — got a big run from Stan Glen to stun OJR, 14-7. The Wildcats still managed a share of the Ches-Mont title with Spring-Ford, though, after the Rams were upset by Boyertown, 15-14, the same morning.
In 1983, OJR was 10-0-1 and Pottstown was 8-3 on Thanksgiving. The Trojans had the lead and what most thought was the game at 7-3, but an errant pitch in the backfield got picked up by Kevin Pyle and returned for a touchdown with 1œ minutes remaining that was the difference in the 9-7 thriller.
"That's the only touchdown I scored (on defense) in my life," Pyle said last week. "We were ranked No. 1 in Southeastern Pennsylvania and No. 2 in Pennsylvania behind Berwick, but that didn't mean anything to Pottstown. You knew (the Trojans) wanted to ruin our undefeated season.
"It was a heck of a game. It was 25 years ago, too, but people still bring it up to me when I see them. People have a lot of memories from all the Pottstown-Owen J. games. I guess that's one of them."
Memorable moments
"Once you play in this game you never forget it," said Dave Strock, the athletic director at Owen J. Roberts who played in a couple of them for the Wildcats back in 1964 and 1965.
The two rivals parted ways in 1986 and 1987. OJR remained in and won the Ches-Mont title both of those seasons, while Pottstown left to line up in the new Pioneer Athletic Conference.
Nonetheless, the Wildcats still needed Mike Beasley's 59-yard touchdown run with 2:37 remaining to escape with a 7-0 win over a very feisty Pottstown (5-5) and close out an unbeaten year.
In 1991, Pottstown's Joey Allen scored on two long runs in a 14-0 victory that cost Owen J. Roberts a share of the PAC-10 title.
Three years later, most of the fans from both sides of the field were leaving with Pottstown in front 12-0 with just over three minutes remaining. And were they ever shocked by the phone calls they later got, or by the stories they read the following morning, detailing how the Wildcats scored twice – the last time on Jake Feltenberger's eye-popping, 29-yard touchdown reception – to pull out a 14-12 win.
"A lot of people were calling (The Mercury) to get the score, and a lot of them hung up not believing what we told them," said Tom McNichol, then the sports editor.
Some of the finishes since have been hard to believe as well. Like OJR blocking a game-tying field goal in 2000 to preserve a 35-32 win, and then Pottstown doing the same thing in 2005 to force overtime and pull out a 21-20 shocker that ended its near two-year losing streak and overshadowed a record-setting day by the Wildcats' David Frame (state-record 57 carries for a school-record 311 yards).
There will be more … perhaps today, definitely in the years ahead.
No guarantees
Today, of course, OJR head coach Tom Barr hopes there are no surprises. His Wildcats are 7-1 in the PAC-10, one game behind unbeaten leader Pottsgrove, and 9-3 overall. Pottstown, on the other hand, is 2-6 (3-8 overall).
"I know it's old and I know a lot of coaches before me have said it, but you do have to throw out the records in this one," Barr said. "You aren't guaranteed anything in this game."
Barr was well-prepared for the Thanksgiving Day feature long before he played for the Wildcats (1976-78), and before he became their head coach in 1997.
"Growing up we always went to the games because we knew it was a big game, like a bowl game," said Barr, whose wife – the former Carol Barndt – is a Pottstown graduate. "All we ever heard was, 'You have to beat Pottstown, you have to beat Pottstown.' To a lot of people, this is the game that makes (or breaks) your season.
"After all these years, it's still big. It's a great rivalry. It's a game that people talk about for a long, long time."
A game that, for some, is never ever forgotten.
"I had a kid by the name of Kenny Murray back in the early or mid 70s," Bernat said. "He was so small, but he came out for the team his senior year. I put him in for a few plays against Pottstown that year.
"Well, Kenny ended up writing for (The Mercury), then left the area. A number of years later, he wrote me a letter and thanked me for putting him in that game. He said, 'Coach, that was such a great experience, one I will forever remember.' Like I've said many times, Pottstown and Owen J. Roberts on Thanksgiving is more than just a football game."

Side Liners
GRAND MOMENT: Not only does this morning's game mark the 50th anniversary of the series, it is also the 1,000th game in the history of Pottstown's football program. The Trojans are 470-464-65. … Owen J. Roberts, 311-257-21 since its inaugural season in 1955, is playing its 590th game.
THE BEST: While a lot of the OJR faithful disagree on what Wildcat team may have been the best, Pottstown's devout following is split between the 1961 and 2002 teams. In 1961, the Trojans simply dominated everyone en route to its unbeaten season. In 2002, with the lines anchored by Maryland-bound Brandon Nixon, a backfield featuring quarterback Terrence Shawell and running back Christian Allen, and a defense anchored by Justin Gibbs, the Trojans allowed just three points in the PAC-10 and lost only to District 1 power Strath Haven.
THE COACHES: There have been 16 different head coaches in the Owen J. Roberts-Pottstown series. Owen J. Roberts has had just four – Lou Buckwalter (1959), Henry "Hank" Bernat (1960-90), the late Joe Edwards (1991-96), and Tom Barr (1997-present). Pottstown, on the other hand, has had three times as many – the late Hebert "Heeb" Meyers (1959-66), John Schoenwolf (1967-71), Bill Rogers (1972-77), Jim "Butch" Leveille (1978-81), Dan Weller (1982-87), Jim Tsakonas (1988-90), Mike Melnyk (1991), Tom Work (1992-94), Jeff Sparagana (1995-97), the late Jody Cwik (1998-2002), Rick Daniels (2002006), and Brett Myers (2007-present) – an even dozen, to be exact. … Bernat (20-10-1), who alone has more wins than Pottstown's entire group, along with Barr (7-4), Meyers (4-3-1), Sparagana (3-0), Myers (1-0) and Leveille (2-2), are the only six with .500 or better records in the series.
FIRST FAMILY: Unofficially, the Glenn family has had the most Thanksgiving Day participants for Pottstown – Bronk (who played in the very first one in 1959), Sage, Scott, Stan, Colin and Greg Jr.
FIRST TIME AROUND: Pottstown and North Coventry, which would team up with Warwick to create the Owen J. Roberts School District in 1955, played one another for 15 consecutive seasons (1930-1944). The fact the Trojans won 12 of the games may be the reason the series wasn't renewed until 15 years later.
After a scoreless tie the first year, Pottstown won two in a row and North Coventry the two after that to even it all up at 2-2-1. But from 1935 on, it was all Pottstown – 10 straight wins, seven by shutout, and a 193-27 advantage in scoring.