Out of the Blue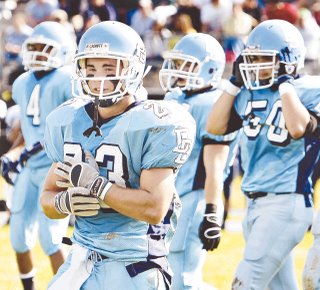 This column ran in the Nov. 18 edition of the Mercury.
Five area teams lined up for games last Friday night … three playoff games and a pair of non-league games.
All lost.
Wipeout.
But while Boyertown, Owen J. Roberts, Pottsgrove, and Spring-Ford returned to the practice field Monday to work out the kinks, prepare for their respective Thanksgiving Day football feasts, and focus on the opportunity to close out their long seasons on a winning note, that wasn't quite the case up at Daniel Boone.
The Blazers were returning the equipment Monday.
A disappointing 31-7 setback to unbeaten and top-seeded Mechanicsburg in the District 3-Class AAA quarterfinals closed the door on their postseason and put a lock on the program's 50th season, which could only summed up as yet another very successful one for head coach Dave Bodolus and the Blazers.
Then again, wins, appearances in the postseason, and winning seasons — and a lot of each if you care to count — have become the norm, not the exception, since Bodolus strolled up to Birdsboro and began mapping out the Blazers' game plan six years ago.
Talk about reversing one's ways.
Daniel Boone, often regarded as the Inter-County League's doormat, which 11 consecutive losing seasons will reduce any program to, has strung together six straight winning seasons under Bodolus. There have been a couple of I-C division titles, six uninterrupted trips into the postseason, and so many eye-popping performances that have led to an almost complete rewrite of school's individual and team record book.
Quarterback Jon Monteiro and wideout Zach Keeley put their names on countless pages in that book, as well as the Berks County and area record books, this season. And the Blazers erased the single-season mark for points scored in a season, too.
But it will be a while before Bodolus and the Blazers will be able to comfortably absorb their recent accomplishments.
"We had a good year," Bodolus said Monday. "I think we're all a little disappointed how it ended, though. We didn't play very well at all last Friday (at Mechanicsburg)."
Daniel Boone's run game, in overdrive at certain junctures this season, wasn't in gear at all. The passing game, unquestionably the county's and entire district's most prolific with Monteiro and his unshakable gang of receivers, was out of sync. Four turnovers, missed blocks, and tackles here and there, mental errors … all of which led to the Blazers' undoing, to the end of their season.
But what a ride it was for a team that kicked it off back in August with so many new bodies squatting down on the offensive and defensive lines, not to mention a few unproven receivers and a junior quarterback who had missed all of last year because of a leg injury.
"I thought we could be competitive, I really did," Bodolus said. "What helps is that our league is very challenging week in and week out. (The league) helps you get better.
"I was more concerned about our defense than I was our offense. We had a good group of receivers for (Monteiro), and we knew that Nate Greene ran the ball very well. But we didn't have a lot of experience on defense, especially with the loss of some very good linebackers last year. We just tried to get better every week."
They did, despite the hard-to-believe and harder-to-explain 48-47 overtime loss to Columbia in Week Three. They would lose two more times — to eventual District 3-AAAA playoff qualifiers Governor Mifflin and Muhlenberg — before last Friday's season-ender out at Mechanicsburg.
"We had a lot of kids step up this year," Bodolus said. "Monteiro wasn't necessarily a surprise because he's such an intelligent kid and such a good athlete. And Keeley, he was the glue to this team, our leader on both sides of the ball, and he led both verbally and by example with his work ethic and his play on the football field."
And next year?
"Right now, well, it's too early to tell," Bodolus said.
The Blazers return, among others, guards Mike Guarino and Mohammed Eid to anchor the offensive line and provide protection for Monteiro. Kelly Saylor, who caught 52 passes for 594 yards, and Josh Ortiz, who averaged just under 30 yards per reception and found the end zone on every 2.5 catches, will likely be Monteiro's favorite targets next season. … Daniel Boone is 49-21, with eight or more wins in each of the last five years, under Bodolus.
HONORABLE
Player of the Week honors go to Keeley, who caught eight passes for 74 yards and a touchdown — capping his career and shattering virtually every school and area receiving record, as well as a couple Berks County records — in the Blazers' 31-7 loss to Mechanicsburg.
RARE TRIPLE
Boyertown quarterback David Crognale came up with high school football's rare single-game "triple" when he ran for a touchdown, passed for another, and caught a pass for six points during last Friday night's loss to Hatboro-Horsham.
Despite missing a game this year because of a concussion, Crognale is the area's third-leading rusher with 1,164 yards. He has also thrown for 951 yards that, along with his 41-yard touchdown reception last week, adds up to 2,156 yards of total offense.
Going into Thanksgiving morning, Pottsgrove's Terrell Chestnut and Crognale are one-two among quarterbacks in yards rushing in the PAC-10 with 859 and 856, yards, respectively. Both are within reach of the 1,000-yard plateau — a mark no quarterback has reached since the league's inaugural season back in 1986.
Crognale is also high on The Mercury's overall career leaders chart. With one game remaining, he is sixth in passing (3,720), and third in total offense (6,379 yards) behind Perkiomen Valley senior Zach Zulli (6,577) and St. Pius X graduate Zack Pierce (6,731).
SHORT LIST
Owen J. Roberts sophomore Ryan Brumfield, despite being held to a season-low 32 yards and kept held out of the end zone for the first time this fall, ran by Dennis Laws (2,006) and current head coach Tom Barr (2,029) into second place on the Wildcats' chart for most yards rushing in a single season. Brumfield, with 2,035 yards, will take aim at Matt Lucas' school record of 2,046 on Thanksgiving morning against visiting Pottstown.
FOR THE RECORD
Monteiro finished the year with Mercury-area, single-game records for completions (29) and yards (475); single-season records for completions (190), attempts (319), yards (2,999), touchdowns (34), and average yards per game (272.6). He also set season records for the most games passing for more than 200 yards (8) and for more 300 yards (4), and for the most games passing for five touchdowns (3).
Keeley finished the year with Mercury-area, single-season records for receptions (87), yards (1,249) and touchdown catches (17). He also graduates with the Mercury-area career record for yards (1,945) and finishes second in career receptions (136) behind St. Pius X graduate Mike Todd (169), who was coached by Bodolus when he guided the Lions' program.
NOTES
Pottsgrove's 6-5 mark in the postseason is the only winning record among active Pioneer Athletic Conference members. Former member Lansdale Catholic ranks first overall with its 15-8 mark. Methacton is 1-1 (defeating Great Valley for the 1995 district title and losing to North Schuylkill in the first round of states). … St. Pius X is the only PAC-10 team other than Pottsgrove and Lansdale Catholic with more than one win in the postseason. The Lions are 3-4 overall, with three of their losses by a combined four points — a 29-28 overtime setback to Lakeland in 1999; a very controversial 13-12 loss to Pen Argyl in the state semifinals in 2001; and a 21-19 loss to Hanover Area in 2002.
Labels: The Blazers