Way of the Warriors
Dennis Kellon knows a thing or two about history. He taught American history in the Methacton classrooms for nearly 40 years, and helped create a storied wrestling history in the Methacton practice rooms for all but five or six of the 47 years the sport's been in existence there.
So no one, perhaps, was as happy — or proud — as Kellon was last Saturday afternoon when the Warriors recorded the program's 500th win during the Bill Fretz Duals at Perkiomen Valley High School.
"That's it, we got it … yeah," Kellon said after watching 112-pound Rob D'Annunzio's major decision create an insurmountable lead that led to the Warriors' milestone 40-21 victory over William Tennent.
Kellon, of course, isn't quite the same as he was back in 1966, when he was hired a month or so after graduating from college to teach at Methacton. The hair is a little thinner (with a shade of gray here and there) since he was introduced to head wrestling coach William Berardelli, who literally begged him to start up and coach a junior high school team that winter.
But the energy he injected into Methacton wrestling, for three seasons at the junior high school, then for 30 more at the high school as both a head coach and assistant, hasn't diminished … nor has his allegiance, his loyalty.
"It's always been fun," Kellon said.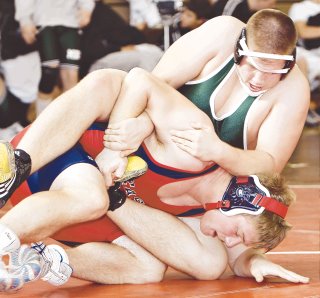 Berardelli, who lost a very courageous battle with cancer this past summer, as well as Kellon, the late Nelson Stratton, Chris Lloyd, Tony Haley, Billy Moser, and current head coach A.J. Maida, along with a number of devoted assistants like Tony DeMeno and Bruce Childress, have all made it fun.
They have all made it challenging.
And they have all made Methacton wrestling successful … one of the most successful in all of District 1.
Berardelli, a state champion in swimming at Norristown High School and later a highly touted swimmer as well as a guard on the football team at the former West Chester State Teachers College, never wrestled in his life before starting Methacton's program in 1962.
"Bill was already a (football) coach at Methacton, so they needed someone to start it up, and he did it," Kellon explained. "I remember when I got hired he was so happy. 'This is great, now we have a wrestler,' he said one day.
"I was very fortunate. When I interviewed at Methacton, ( the district) needed two wrestling coaches and three history teachers. I kind of fell into it."
Kellon took over the high school program in 1969, went 7-6-1 in his first year, then experienced growing pains the following three winters that ended with 2-12, 5-9, and 5-9 records.
Ironically, Methacton hasn't had a losing season since, and that covers 35 years, if you're counting.
Kellon was matside when the Warriors got win No. 100 in their final match of 1978; was an unpaid assistant sitting next to Stratton for win No. 200 in the next-to-last dual in 1986; was an assistant to Stratton for win No. 300 three matches into the 1992-93 season; and was matside when Lloyd closed the 1999-2000 season — his first — with win No. 400.
Kellon, now chairman of the District 1 Wrestling Steering Committee, was seated in the bleachers — right behind the Methacton team, of course — last Saturday for win No. 500.
Taking his first coaching position at the junior high school sure seemed like a long time ago, Kellon admitted. It was. But other than the new faces showing up every winter in that practice room, little else has changed.
"When I got there, I remember scheduling practices over the Christmas vacation, and when the athletic director found out, he told me I couldn't do that," Kellon recalled, breaking into a laugh. "Heck, when I called practice one Thanksgiving morning, I thought I was going to get hit with a drumstick.
"It didn't take long before the kids started to enjoy it. They started to realize that if they were going to be good at (wrestling), they had to work at it."
In 1968, Berardelli's final season at the high school, Kellon started an elementary school program. The youngsters' season consisted of three Saturday morning workouts, then a tournament on the fourth Saturday.
Two of his aspiring wrestlers, who knew little if anything about the sport, were Stratton and Jeff Madden. "Nelson was this little chubby kid, and Jeff looked like Opie on the Andy Griffith Show," Kellon recalled.
Both would later impact Methacton's program. As seniors in 1974, Stratton and Madden helped the Warriors put together their most successful season (12-2) up to that point. Stratton would return to coach for 17 years, the last 12 as the head coach, and was 173-33-2 overall before he died in the summer of 1995. Madden would take over the Wissahickon program and win well over 200 matches before retiring. This winter, he returned to take over the program at Pottsgrove.
But, as Kellon has said time and time again, it was Stratton who led Methacton into the wrestling spotlight.
"I always felt if we were to go to the next level, (Stratton) was the guy who would take us there," Kellon said. "He knew far and above more than I knew, and you could see that by what he did.
"What made Nelson so special was that he expected you to do your best, expected you to work hard, expected you to learn. He set the bar so high, but he made you get that high. And he always had a knack of getting the kids to have fun doing that."
Stratton was the first District 1 coach to take his team out of the Philadelphia region in search of the best competition.
"You'll never get better unless you wrestle better competition," Stratton once said in an interview with The Mercury.
Methacton got better, and became one of the premier programs in the district. Kellon, who was back as the head coach for four seasons after Stratton's death, eventually handed over the duties to Lloyd. Haley, and Moser followed. Today, it's Maida — another former Warrior himself.
"We've always had great coaches," Kellon said, naming those before as well as after him. "Dave Kyler was an excellent junior high coach for us at one time, and you just can't say enough about what Tony DeMeno and Billy Moser did for us all those years (as assistants). All of those guys … we were nearly inseparable."
Moser, of course, is just one part of Methacton wrestling's so-called First Family. Oldest brother Rick was the program's first district champion; Billy was the first regional champion, and younger brother Jon was the first state champion. Even the little fella, youngest brother Eric, is still coaching in the Warriors' midget program.
"And one other big thing that helped us along the way was the opposition, the coaches we faced," Kellon explained. "Guys like Lonny Moore over at Phoenixville, Bill Saltzman at Cheltenham, Alray Johnson at Downingtown, Mike Lunn at Boyertown, Mike Fabel at Spring-Ford, and Jim Tsakonas at Pottstown … they were great. We were all fierce rivals. But in the wrestling community, we were all willing to share what we were doing.
"When we wrestled their teams, even if we got hammered, we didn't go back thinking it was horrible or make excuses. We wanted to know what they did, how we could do what they were doing to get better ourselves."
Kellon, and those who followed him, learned quickly … and learned well.
The 500 wins more than prove that.

POWER ON POWER
Northampton, ranked No. 1 in the state and No. 3 nationally, ran off four wins in five bouts to survive a 32-24 thriller with Cumberland Valley, ranked No. 3 in most state polls and No. 11 nationally. … Boyertown, North Penn, Oxford, Penncrest, Pennridge, Quakertown, and Springfield-Delco are part of the 87-team field for the Beast of the East Classic down in Delaware this Saturday and Sunday. Among the mighty ones there will be No. 1 Blair Academy (N.J.), No. 3 Central Daughin, No. 10 St. Mark's (Del.), No. 11 Cumberland Valley, No. 12 Eastern Regional (N.J.), and No. 15 Wyoming Seminary. … The 10th annual King of the Mountain Tournament gets under way this weekend at Central Mountain. Council Rock South and Hatboro-Horsham are the lone two District 1 entries in the 37-team field, which features nationally ranked Central Mountain (No. 6). … Council Rock North will be the only District 1 team at the 42nd renewal of the Powerade at Canon-McMillan on Dec. 29-30.

MOVING ON UP
OJR's Nick Fuschino tacked on four more wins over the weekend to pass the 100-win career mark and become the 78th area wrestler to achieve the feat. … Boyertown's Alex Pellicciotti (83) and Tim Feroe (81) will look to add to their totals over the weekend at the Beast of the East Classic at the University of Delaware, while Upper Perkiomen's Jared Bennett (84) will attempt to do the same when the Indians hit the road later this week for the four-day Reno Tournament of Champions in Nevada. … Boyertown senior Ryan Kemmerer now owns 138 career wins to move by Methacton's Jeff Albano and into 13th place on The Mercury's all-time chart. Four more wins will push Kemmerer into a four-way tie for 10th place with Upper Perkiomen's Austin Reed and former Hill School teammates Zach Doll and Ty Willman.
Ridley's Carl Schnellenbach (663), Oxford's Scott (384), Pennsbury's Joe Kiefer (357), and Radnor's Skip Shoemaker (343) are District 1's only active coaches who opened the current season with 300 or more career wins. … Easton head coach Steve Powell, a graduate of West Chester Henderson, upped his career total to 397 with two wins last week. Powell will attempt to hit the coveted 400 mark after the New Year during his own Easton Duals, which features Wilson Area, Allentown Allen, Council Rock South, Bethlehem Freedom and Caesar Rodney (Del.).
Labels: Warriors wrestling