Bears play a waiting game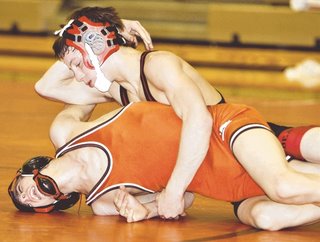 HOLLAND — When Boyertown was named the top seed in the District 1-Class AAA Team Duals Tournament, head coach Pete Ventresca and the Bears were also rewarded with a first-round bye. That meant a free seat in the stands, where they could relax and watch everyone else sweat it out.
What Ventresca and the Bears didn't expect (after slipping into their singlets and eliminating Perkiomen Valley in the second round), was another bye … in tonight's quarterfinals.
Because West Chester Henderson pulled out of the duals Tuesday due to a fast-spreading skin infection similar to the one that forced No. 3 seed Great Valley to pull out of the duals and shut down its program just over a week ago, the Bears will have the opportunity to be fans first again this evening. This time, all of their eyes will be focused on the Council Rock North and Springfield-Delco feature (6 p.m.), the winner of whom they'll tangle with (at 8 p.m.) for a spot in Saturday's final and, just as important, a guaranteed berth in next week's state tournament.
"It's kind of like a double-edge sword for us," Ventresca said earlier this week. "(The bye) means we get to go right into the semifinals, and we have a chance to scout our opponent for that match. At the same time, though, that other team will have had that first match in, which is good for the nerves. It's also a good warm-up."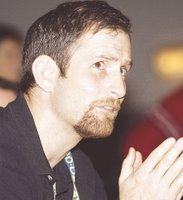 Ventresca plans to get the Bears (16-4) heated up before stepping on the mats, too. That may mean running through the Council Rock South High School hallways, or rolling around in a remote corner of the gym … who knows.
"Oh, we'll get a good warm-up in all right," Ventresca said. "We don't want to go out there stagnant.
"We'll have to be ready, because (Council Rock North and Springfield-Delco) will be going out for blood.
That's going to be an emotional match. I know from experience that it's tough to go back-to-back in big matches like this, but (for the winner) it can be a positive."
Neither Ventresca nor the Bears care who wins that earlier match, either. SF-Delco got the best of Council Rock North (37-28) a couple of weeks ago, an outcome that could easily be reversed tonight. And the fact the Bears beat Council Rock North three times already this season – 31-25, 45-27 and 38-24 – creates an even more daunting challenge if they'd go at it yet again.
"Right now we have our strategy in place for both of them," Ventresca explained. "Delco definitely has a lot of tough kids in its lineup, and Council Rock North poses a lot of problems for us with their lineup right now. There are a lot of different things about each team that concern us, so I can't say we'd prefer to wrestle one or the other."
There's no question Boyertown's strength begins at 103 and runs through 152 or 160, wherever Tim Feroe (24-5) gets penciled in. Adam Kolb is considerably better of late at 103 pounds than his 11-7 record indicates. And after Kolb it's Jeremy Minich (22-4), Matt Malfaro (23-5), Jon Neiman (14-5), Trevor MacMinn (13-8), Alex Pellicciotti (27-2) and Ryan Kemmerer (18-1), a gang that has the ability to go toe-to-toe with any other seven in the entire district.
What the Bears need, if they're to get into the final let alone pin down the title, is for Feroe and 189-pound Zach Heffner (17-2) to anchor the upper portion of the lineup – which may also include some form of combination of Ross Herlinger, Tyler Mauger, Brock Hallman, Ryan Schwager, Zach Rodgers and Mike Brnilovich. The heavier brackets are where both Council Rock North and Springfield-Delco flex some mighty muscles of their own.
"We have to stay focused," Ventresca said. "We have to go out confident and not allow ourselves to get caught up in the atmosphere. We have to be at our best and take care of business."
The Bears have been, for the most part this season, with their only losses to nationally ranked rivals – St. Mark's (Del.), Northampton, Central Dauphin and Cumberland Valley.
"Our team goal at the beginning of the season was to place in the top three in every tournament we were scheduled to be in," Ventresca said. "But winning (the district duals) is our goal now. We feel we can do it, but we know our hands are going to be full because there are a lot of very tough teams here. We have to wrestle our best in every bout of every match."
* * *
No. 7 seed Upper Perkiomen (16-7), which has more wins and more duals titles than anyone else in the Class AAA bracket, goes up against No. 2 Quakertown (16-2) in one of the other quarterfinals tonight. No. 14 Central Bucks East (10-7) takes on host and No. 6 Council Rock South (7-5) in the other.
"Quakertown is so good," Upper Perkiomen head coach Tom Hontz said after last week's PAC-10 win against Perkiomen Valley. "They're very, very tough down low."
Quakertown features a handful of the district's top-ranked entries, with Scott Wolfinger (23-5) at 103 and Colin Bynum (20-7) at 125, then the imposing threesome of Matt Rust (27-6) at 135, Eric Koch (21-7) at 140, and Briar Malichewski (22-7) at 145.
The Indians aren't exactly a pushover early on, not with brothers Marty McStravick (19-7) and Mike McStravick (24-5) sandwiched around Garrett Fellman (19-8). And they can produce big points themselves up top with Britt Kerr (16-9), Nick Edmonson (13-4), Nick Hale (13-9) and Jared Bennett (27-2).
NOTABLE
The host Golden Hawks, unquestionably the darkhorse among the seven remaining teams, are the two-time defending duals champions. They defeated Council Rock North, 36-27, for the title a year ago. … The year before returning to District 1 for the 2001-02 season, Boyertown won the District 3-AAA Duals title. … Upper Perkiomen has won one-third, or five, of the 15 district duals titles. … The Class AA battle begins Saturday, with top-seeded Octorara – coached by Spring-Ford graduate Mark Durante – the heavy favorite to pin down the program's record eighth AA title. The Braves ended Pottstown's two-year reign last winter.
Labels: Bears waiting game