Amelia Corney is always pushing forward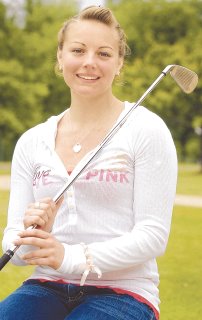 For the more than 500 eager seniors at Spring-Ford High School, the remaining week and a half of classes and final exams leading up to commencement may seem like a lifetime.
Especially for Amelia Corney.
But she will treasure sitting next to her classmates and taking all those tests as the academic calendar winds down, and she will cherish the moment she is handed her diploma — as much, if not more, than anyone.
Not so awfully long ago, Corney wasn't at all sure she would ever graduate.
Or even live.
Eighteen months ago, about three weeks into her junior year, Corney was diagnosed with acute lymphoblastic leukemia — cancer of the white blood cells. It was a form of cancer, she quickly learned, that could be fatal in weeks to months if left untreated.
Amelia Corney was confused, shocked. She was playing golf for Spring-Ford's girls team every afternoon, swimming for the USS Tiger Sharks club team at The Hill School every evening, and all of a sudden she was admitted to the Children's Hospital of Philadelphia (CHOP).
But Monday night, after three bone marrow transplants, five surgeries, more than 50 blood transfusions and well over 100 hours of physical therapy — and a seemingly endless treatment plan that still includes another year of chemotherapy, monthly spinal taps and an unknown number of surgeries — Amelia Corney was presented the Most Courageous (Female) Athlete Award during the Summit Awards' 10th annual program at the Sunnybrook Ballroom.
Next week she will graduate.
In 14 days, she will celebrate her 18th birthday.
And in just over two months, she will be attending Rider University.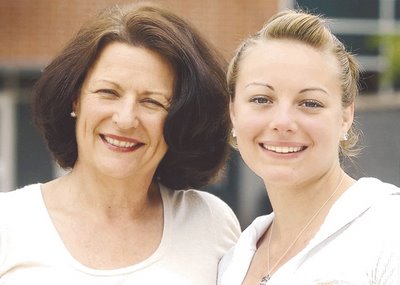 "Amelia never asked why this happened to her," said her mother, Sharon Corney. "She never looked back at what was left behind. She just bravely pushed forward, and she continues to push forward."
*

Amelia Corney's biggest fear, her mother recently revealed, was bugs. And yet it was a bug bite that may have saved her life.
On Sept. 21, 2007, she had blood drawn before going to school to identify an insect bite on her back. There was an infection, but antibiotics didn't seem to be helping at all.
By mid-afternoon, doctors called her father — John, who was on a business trip in Italy — and informed him his daughter's hemoglobin count was at a meager four (the normal count is 12-16). After several more calls, Sharon Corney was finally reached. Doctors, who couldn't believe Amelia was able to walk let alone play golf and swim, told the parents to get their daughter to CHOP immediately.
"She was at the driving range when I picked her up, and she struggled to keep her demeanor on the ride to the hospital and whole time she was in the emergency room," Sharon Corney recalled. "At two o'clock (the next morning), the attending physician told her she had cancer, and that she would not be going home."
Amelia Corney was moved to the oncology floor and underwent the first of many blood transfusions.
"She was exhausted and scared when she was told of the diagnosis," Sharon Corney explained. "And it was almost like she cried silently when the nurses began the blood transfusion that morning. But she never complained, never asked 'Why?' Then she bravely said to me, 'Everything will be okay.'"
Little did Amelia Corney realize that CHOP would be her home for the next 57 days.
In addition to the blood transfusions, she underwent chemotherapy treatments. Surprisingly, her leukemia went into remission and doctors identified her as an "early rapid responder." Despite just three weeks of treatments, doctors felt she could be released from the hospital early.
"Amelia had her books and school work brought to the hospital so she could keep up with her classes," Sharon Corney said. "When she got the good news she could be released early, possibly in the next few days, she was so anxious to get to school and her teams. She wasn't going to be allowed to go back into the (swimming) pool, but she was hoping to return to the golf team."
*

Good news turned to bad the next morning, though, after Amelia mentioned a sore spot on the back of her right leg. Within hours, that sore spot was diagnosed as a fusarium — a fungus that can spread by the hour and find its way into the blood system.
Leukemia rapidly produces cancer cells in the bone marrow and hinders the marrow's ability to produce normal blood cells. Chemo, of course, cannot discern between healthy cells and cancer cells, and literally kills everything in bone marrow. While red blood cells and platelet cells are provided by transfusions, white blood cell transfusions are very rare. And with no white blood cells, Amelia became susceptible to infections from organisms that aren't normally a problem for individuals with healthy immune systems.
"Several surgeons were brought in to assess the best way to save her and, if possible, her leg," Sharon Corney explained. "I was advised to prepare my daughter for the possibility that she could wake up (from surgery) without her leg.
"Amelia wasn't hysterical, and there was no self-pity. Again, she told me, 'I will be okay.' "
An orthopedic surgeon removed infected tissue found around her Achilles tendon and sent samples to the lab, and tests revealed more infections. She immediately underwent another surgery, and by week's end two more followed.
Doctors stopped the chemotherapy to help gain control of the infections. Continuous infusions of antifungal and antibiotic medications, given to her four hours a day for six weeks, proved to be so harsh her body would rigor and shake uncontrollably. Throughout the period, her leg was bandaged to cover an open wound the size of her hand.
More medications were needed, and provided to her, but she developed cognitive problems. And the combination of the medications caused a reaction that left her lying in her bed much like a brain-damaged patient.
"Amelia had no short-term memory, no control of her emotions," her mother said. "Her speech was slow and slurred, and she couldn't follow a conversation.
"She also had difficulty with everyday self-care activities. She couldn't feed or dress herself. But she kept fighting to reverse her condition. I could see her fighting to come back even though the doctors weren't sure how to do it."
But Amelia Corney did it … by refusing any further sedation or pain medication, by squeezing her mother's hand as her only means to offset the pain.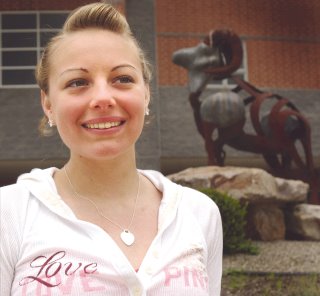 "It was about 10 days when we started to see improvement," Sharon Corney remembered. "She eventually went back to her school work (in the hospital) as a way to exercise her mind. It was a slow and very agonizing process, but she never once complained, never once showed anger … only determination."
After almost two months since arriving at CHOP, doctors scheduled another surgery to close the wound on her right leg. They removed a large piece of her left thigh because of the need for skin, fat and blood vessels, then removed a small section of her left leg to attach it to her deteriorating right leg.
The pain was excruciating and she was put on morphine, until she requested doctors to again stop the medication.
Finally, 57 days after being admitted to the hospital — almost three full months into her junior year at Spring-Ford — Amelia Corney was allowed to go home.
*

Saying good-bye to other children fighting their own frightening battles with cancer at the hospital wasn't easy.
Nor was getting adjusted to living at home again.
Amelia Corney's weight was down to just 85 pounds, and she wasn't able to stand unassisted let alone walk. The antifungal infusions continued with the help of her parents, and she resumed chemotherapy treatments as an outpatient. So even though she was at home, she was still visiting the hospital for chemo and physical therapy three to five days a week for the rest of her junior year, for seven long, long months.
"Her desire was to return to school, to golf and swimming, and that motivated her to push through the incredible pain of physical therapy and intense chemotherapy treatments," Sharon Corney said.
Amelia Corney never lost sight of her goal — to return to sports, to walk the hallways with her classmates, to graduate.
Almost a year to the day since being diagnosed with acute lymphoblastic leukemia, Amelia Corney returned to Spring-Ford High School and rejoined the Rams' golf team. She wasn't able to attend every practice or play in anywhere near the number of matches as before, but she was there. And two months later, she bravely rejoined the Tiger Sharks swimming team.
"She was still in chemotherapy and quite self-conscious about her baldness and terribly scarred legs," her mother said. "But she wasn't going to let that stop her from getting back to swimming."
She hasn't allowed anything to stop her from remaining in school, either — not the infections that forced her to be admitted to the hospital on two occasions, not the reactions from medications that have left her with migraine headaches and temporary loss of her eyesight, not the nausea from continuing chemotherapy treatments, not even the painful back spasms that usually follow her monthly spinal taps.
"None of that has stopped her from returning to school and sports," her mother said. "She has such a positive attitude and determination to keep up with her peers. And she never shows anyone the pain she is in."
What Amelia Corney does continue to show, though, is an engaging smile — in and out of school, on the golf course, and in the swimming pool.
"She is, without a doubt, one of the most courageous and most amazing individuals I have ever known," said Mickey McDaniel, the athletic director at Spring-Ford High School. "What Amelia has gone through, what she continues to go through … she is one very, very incredible young lady."
Something mom and dad have known for quite some time.
"Every day is so different, so challenging," Sharon Corney said. "She never, ever, ever, ever asked if she was going to die. And the only time I ever saw her cry was when we were in the car together and she said, 'Mom, today (Jan. 10, 2008) is the day I was supposed to take my driver's test.' She just wanted to be in school, in her classes, with her friends.
"She has never looked back. A big part of her success has been her ability to focus on her journey to get through all of this. We always knew we had a quiet, determined and hard-working child, but wasn't until the last two years that we saw how strong and courageous she is."
Labels: Amelia Corney