Local softball trio won't let season fade
This column originally ran in the May 30, 2009 edition of The Mercury.
(A little of this and a little of that … just had to mention them after nearly a week of showers, downpours and thunderstorms, and being locked in the office)
The high school sports year isn't over quite yet. And who knows, it may have another two weeks of life – at least that's what three softball teams and their faithful fans are hoping for.
Spring-Ford, despite finishing second in the Pioneer Athletic Conference and getting a less-than favorable seeding for the postseason, won the program's very first district title Thursday afternoon with a win over Central Bucks South in the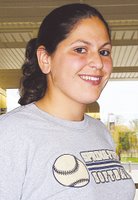 District 1-AAAA final. Mandi Rush came up with yet another gem on the mound, Alexis Karkoska set the offensive tone with a first-inning home run, and the defense was near-flawless. The Rams showed their resiliency in bouncing back from the disappointing runner-up finish in the PAC-10, and considerable character in the semifinals earlier in the week by blanking Pennsbury without head coach Tim Hughes, who left school before they boarded the bus because of a family emergency.
Owen J. Roberts, unquestionably the area's dominant softball program in recent years and the PAC-10 champions this spring, wasn't able to defend its district title. The Wildcats, who everyone knows has an ace of spades with Kelly Schymanski on the mound and a slew of gals who sure can swing the bat, self-destructed on defense – an overlooked strength of their game. But getting into
the semifinals earned them a spot in Monday's opening round of the AAAA state tournament. If they mend their defensive ways, beware … they can play as well as anyone anywhere in Pennsylvania.
The area will have a third team in the state playoffs, too. St. Pius X, despite being idle for nearly two full weeks, swept the District 1-AA title Thursday that, along with Spring-Ford's victory, gave the PAC-10 a daily-double.
ADDING A BANG
Speaking of Pius, most are aware the Lions will be teaming up with Kennedy-Kenrick in two years at the new Pope John Paul II High School just outside Royersford in Upper Providence Township.
Mind you, no one is predicting any dynasties, at least not yet. But the baseball program got a little boost Thursday when Kennedy-Kenrick won the District 12-AA title with a 12-1 rout of Philadelphia Public League representative Neuva Esperanza.
FOURSOME
Owen J. Roberts' athletes are keeping the OJR Athletic Association on its financial toes. Four of the schools' spring sports teams – baseball, boys lacrosse, boys track and softball – won Pioneer Athletic Conference championships.
Now the Owen J. Roberts Athletic Association (rest easy taxpayers, NOT the Owen J. Roberts School District) will be getting all the Wildcats' sizes for their championship jackets.
Greg Gilbert's ballclub ended Boyertown's run in baseball, something Gilbert savors considering he is still regarded one of the best Bears to roam the infield at Bear Stadium. Eric Wentzel's boys also ended Phoenixville's impressive streak in track. And Jeff Neese and Kevin Kirby continued to do their thing in boys lacrosse and softball, respectively, by successfully defending their titles despite admirable challenges from around the league.
CLASS ACTS
Both from Phoenixville, too.
First, earlier this spring, the Phantoms' tennis team lost. That's right, lost. Methacton dealt the Phantoms a 6-1 setback … it's first Pioneer Athletic Conference loss since the league was formed back in 1986-87. If you're wondering, the Phantoms won 196 straight matches in that span. And head coach Leo Scoda, who has defined class to the letter in every one of his 46 years coaching the Phantoms, had nothing but praise for the Warriors and their coach Cara DeCicco.
The second class act comes from Liz Jones, a senior student-athlete who back in April reached the coveted milestone of 200 career goals in lacrosse. While some will say acknowledging your teammates and coaches is what everyone does, well, try again. Not all do, especially in this me-me-me society. Jones did, lauding her teammates, head coach Jen Foresta and assistant Aamina Thornton. Then later this spring, get this – she sent a lengthy e-mail to The Mercury (as well as to sister-paper The Phoenix) and thanked the sports staffs for all the coverage they gave her throughout her high school career. Good luck in college young lady – you certainly have a lot of fans in the media.
REACH THE SUMMIT
It's easy to pick up a newspaper, turn on CNN or sign onto the Web and read or hear every imaginable horror story, way too many about kids, too.
Tired of it? Want to hear some great stories?
If so, stop over at Sunnybrook on Monday night (7:30 p.m.) and sit in on the 10th annual Summit Awards program. It's free … empty the wallet, don't even bring a dime. The awards aren't about top scorers and championships, either. But when you hear the stories, hear about the memorable moments, the individual achievements on and off and the playing fields, how some have overcome adversity, and learn about the commitment of coaches and others have made for so long to student-athletes, well, you'll walk out of the ballroom feeling pretty darn good about this generation … and feeling pretty good about life.
ON TO SUMMER
Believe it or not, the "summer" baseball seasons are well underway. Yep, the li'l guys started playing before the infield grass turned green; all those Junior Legion and Babe Ruth leagues have almost two full weeks of play in already; and the Senior Legion and AAU ballclubs are breaking sweats now, too. Even the not quite over-the-hill guys down in the Perkiomen Twilight and up in the Tri-County adult leagues have been swinging away for almost two weeks, too.
American Legion baseball has moved up its postseason schedule a week, which means some leagues – like the Bux-Mont and Chester County – will be playing almost daily. Up in Berks County, a few feathers were ruffled when officials abandoned division play and went with one 16-team alignment, or a 15-game league schedule.
Boyertown manager Rick Moatz, incidentally, needs 17 wins – and he'll get them – to reach 1,000 in his career with the Bears. Moatz may also have the biggest challenge of his 22 years in the dugout in trying to get the Bears back to the Mid-Atlantic Regional, something he's done quite regularly the past decade.
Spring City and Boyertown will be hosting a couple of postseason tournaments, too. The Red Sox will entertain the Region Three field at Ram Stadium, just behind Spring-Ford High School, while the Bears remain home at Bear Stadium for the Pennsylvania State Tournament.
If you want a bang for your buck (even though they don't charge to watch), catch the Pottstown PAL Spartans' AAU ballclub over at Ringing Rocks. Head coach Jim Goodhart's lineup can, in a word, hit.
Also, keeping the arms fresh and bats hot is something a lot of post-Legion and college players have been doing for a long, long time down for Collegeville in the Perky League. The other night, OJR graduate Adam Hartzell, who had a banner season for Elizabethtown College, fanned nine in six innings to help the Sox stop Lansdale.
FAREWELL
The Pottstown area lost two outstanding men this week – Adam Sabuacak and Bob Eppehimer.
Sabuacak was just 26 when he died from an unknown pre-existing medical condition. He played sports at Pottstown High School, played them well, and was upbeat in victory and defeat … a class young man on and off the playing fields. And since graduating, no one was a bigger fan of Pottstown sports.
Eppehimer, "Golden Voice" as we knew him, was 86. Few knew he was the president and valedictorian of his Pottstown senior class back in 1941, and few knew he served with the U.S. Navy during World War II. But everyone, or so it seemed, knew that voice … the voice of WPAZ radio for 50-plus years. And to those of us who knew him just a little better than others, he was the "Ol' Fella" who smiled, smiled and smiled, and had story after story after story to tell – especially those countless proud tales of his wife, four daughters and grandchildren. The "Ol' Fella" loved helping people, especially those less fortunate than him, and he loved life … for 86 long years.
Both will be missed dearly.
Labels: softball trio