Bearly Believable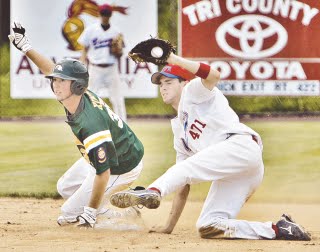 Forty years ago, when Boyertown won its first Pennsylvania American Legion state title with a 3-0 shutout of Chambersburg out in York, an area sports writer called the Bears' exploit "a fairy tale."
But it was real, of course.
Fast forward to this past Saturday, when Boyertown won its record 22nd Pennsylvania American Legion state title with a 2-0 shutout of Nor-Gwyn at Bear Stadium. Close to a handful of sports writers called the Bears' exploit just about everything, from unbelievable to unimaginable (perhaps a splicing of the greatest episodes from the Twilight Zone and Outer Limits).
But as unreal as it may have seemed, it was indeed real.
This one, unlike any of the previous 21, was special.
So extraordinary that someone should put an asterisk next to it in the annual Pennsylvania American Legion Baseball Guide.
You see, summers begin – for the Boyertown Bears at least – with high expectations. They don't dream about winning Berks County League, Region Two and state titles, and they don't come to the ballpark hoping they can win them.
They expect to win them … all of them.
But this past May, after tryouts ended and after manager Rick Moatz penciled in his roster, nearly everyone – the Bears themselves as well as their coaching staff and their loyal fans – took a different, if not bizarre, stance.
"I honestly don't think anyone really thought we'd be where we (were Saturday)," Moatz explained.
Especially veterans like Brandon Sullivan and Ethan Moser, who were part of the Bears' state championships the last two years.
"I didn't think we could do this, not at all," an ailing Sullivan said Saturday, recalling his preseason mindset. "I just didn't think we had a chance to do this."
"I didn't know a lot of the guys, and didn't know all the young pitchers we had when we started out," added Moser.
There were, for the record, a handful of familiar returnees from last summer – Moser, Nate Schnell, Sullivan, Aaron Wilkins and Ryan Zakszeski. Others, like Bryer Eshbach, Dane Hiryak, Travis Kreitz, Ryan Schwager and Chris Werner, were pretty much limited to cameo roles in the 53-3 run of a year ago.
Moatz didn't exactly add eight household names to the aforementioned crew back in May, either. Andrew Gehringer, Brock Hallman, John Mur
row, Josh Schnell didn't really knock the leather off the ball or throw it past anyone during the high school season this past spring, and Taras Letnaunchyn, Paul Mills, Steve Price and Ben Skean don't even begin their junior years in high school until next month.
"We knew from the beginning we would be playing in the state tournament (as the host)," Moatz said. "So the obvious thing for us was to get better, get competitive … so we could at least compete in the state tournament.
"But did I think we had the horses to do this? No … absolutely not."
Anyone who did, especially during an unprecedented three-game Berks County League losing streak in the final week of June, must not have been wearing a helmet in their own playing days.
That skid denied the Bears their normal top-seed for the league playoffs. But somehow they managed to regroup and win their 30th league title and advance to the Region Two tournament instead of sitting around and practicing for a full week or so prior to the state showdown.
"We had some practices after the regular season ended and the (Berks) playoffs started," Sullivan said. "We talked a lot about attitude, about being aggressive. And we worked hard. I think that's what may have really turned it around for us."
"When we started winning in the playoffs, I think most of us felt we had a good team, a good fundamental team," Moser added. "We knew we had a good program, or system here. And even though some people didn't think we had a chance to do much of anything, we may have started to think we're better than we first thought. We started to surprise ourselves."
Hatfield, with a lineup comprised of a lot of players from North Penn's PIAA-Class AAAA state championship team in the spring, had a surprise of its own for the Bears. In the Region Two opener, Eric Ruth fanned 17 Boyertown batters and Hatfield humbled the Bears in an abbreviated 13-3 rout.
Facing yet another layoff until states, the Bears bounced back again. This time it was four straight wins, and then a rain-shortened 2-2 stalemate with none other than Nor-Gwyn.
Co-champions doesn't exactly have that familiar Boyertown ring to it, but it was good enough considering.
"We saw, at the end of the Berks County playoffs, that these guys weren't intimidated," Moatz said. "And at the (state) regional, watching them come through the losers bracket… The guys just didn't go away, didn't give up, didn't quit."
That was evident early last week, with their four-game sweep through the first four days of the state tournament – a familiar ringa-dinga-ding in the Boyertown neighborhood.
And if there was a defining game in that stretch it was the three-hour, 11-inning victory over NorChester on Thursday night (or Friday morning). They erased a 2-0 deficit, went ahead 3-2, then endured a strikeout binge – 18 of them, to be exact, by the end of the affair – to pull out the win in the 11th.
The overlooked saviors in the upset? Murrow, who allowed just two runs in eight innings, and Hallman, who provided 2-2/3 innings of hitless relief.
The win set up yet another final-day showdown with Nor-Gwyn.
The Bears could've easily folded again after getting blanked 4-0 in Game 14 by the Hawks' Michael Bradstreet. But there was a Game 15…
With his pitching staff all but out of innings and appearances – not to mention Nate Schnell still sidelined since last week and Price unable to go since Thursday morning's game – Moatz and Bears pieced together a 2-0 gem. Moser worked the first six innings, Letnaunchyn the next two, and Eshbach closed it out with another spotless two for the save. Kreitz ended the string of zeroes on the scoreboard with a sacrifice fly in the fourth, and Wilkins doubled the count with an RBI double in the seventh.
For the week, the Bears hit a punchless .228 – about 200 or so points lower than their average in last year's state tournament. Only two regulars – Moser and Josh Schnell – hit over .300.
But combine their 42 hits with the other 58 baserunners (walks, hit-batsmen and errors) and a pitching staff that owned a 1.67 earned run average, well, you get just a wee bit of an idea how they did what they did.
"We tell the guys it's not always about talent," Moatz said. "It's about nine guys playing together, nine guys executing, or performing within the system we have.
"We have to go with what the kids are able to do. We have a system, but it's a system that not everyone can conform to, or one that not everyone is suited to. Sometimes it's a little give and take. But it sure worked this week."
Forty years ago, when Boyertown won its first Pennsylvania American Legion state title, Ken Stimmel – who threw 10 scoreless innings of relief in the shocking run – said it was a "team effort."
This past Saturday afternoon, when Boyertown won its record 22nd Pennsylvania American Legion state title, Moser – named the tournament's Most Valuable Player – said it was a "team effort."
A lot has happened in 40 years ago, and a lot of things have changed.
But in Boyertown, when it comes to baseball, a lot of things stay the same.
* * *
Saturday's celebration was a all-in-the-family moment for Moser. His cousin, Corey Hannahoe, was part of the Bears' state championship in 1989, and his uncle Todd Hannahoe – Corey's father – was part of that first championship in 1969. … Boyertown (2004, 2006-09) and Nor-Gwyn (2005) have now accounted for the last six American Legion state titles. ... Boyertown, which has won 22 of the 24 state finals it has appeared in, advances to the Mid-Atlantic Regional in Morgantown, W.Va. The Bears (37-8) open at 1 p.m. Thursday against New Jersey state runner-up Mt. Laurel.
Labels: Boyertown Bears, Legion baseball