Remembering solid gold Saturdays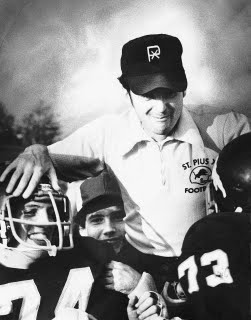 Jim Mich had a lot to think about when he sat behind the wheel of the family car and took off from his parents' home in Easton for the long drive to Pottstown, a town he had never been to before, and over to St. Pius X, a high school he had never heard of before.
It was a rollercoaster-like ride of emotions that morning back in June of 1959.
It wasn't easy balancing the pain of his father's recent death with the joy of graduating on time from then East Stroudsburg State Teachers College just a few weeks earlier. It wasn't any easier suppressing the excitement and settling the nerves on the way to his first job interview, either.
So imagine, if at all possible, how Mich reacted when the priest told him he was Pius' new football coach after he had thought he was only applying for a spot on the staff as an assistant. Or what may have been racing through the 21-year-old's mind after strolling out of the principal's office and seeing a group of men building a football stadium adjacent to the school – a particular project the Archdiocese of Philadelphia did not permit.
"What a day that was," Mich recalled.
It was a day very few of the St. Pius X faithful are likely to forget.
The Lions kicked off their program a year earlier under Marion Zarenkiewicz, but most graduates – especially those who put on the pads and cleats – feel 1959, with Jim Mich and that brand new stadium, was the birth of Pius football.
Sadly, this season – which marks the 50th anniversary of Mich's arrival and the Lions' first roar in that new stadium – will be its last.
Next year, St. Pius will team up with Kennedy-Kenrick and move into the new Pope John Paul II High School in Upper Providence Township.
The Lions will play their final game on the field – fittingly known as Mich Stadium since being renamed in his honor in 1976 – on Thanksgiving morning against longtime rival Pottsgrove.
* * *

When summer practices began in 1959, it was a toss-up as to who was louder – the energized Mich hooting and hollering at his players during practices in the high school parking lot, or the men hammering away while putting the finishing touches on the nearby football stadium.
"I just remember feeling great that we were going to have our own place to play," Mich said. "Having our own field meant something to us. We were going to have our own locker rooms, our own showers, our own coaches room.
"Back then the Archdiocese (of Philadelphia) didn't allow stadiums to be built on school property. But our athletic association financed the whole thing, and they didn't care what the archdiocese allowed or didn't allow. They were amazing."
The Pius A.A. didn't just find the money, but the manpower, too. Some of the movers and shakers in the organization were Bob "Chuz" Calvario and Elmer "Chump" Pollock, and a handful of others – Des Coffey, Joe Psota, Harry Schaeffer, Jim Smale and Tony Veach – all of whom have since passed but have never been forgotten.
Calvario, a trainer for the Lions from the beginning and a local businessman, was very instrumental in fundraising for all of Pius' athletic programs and arguably one of the school's most vocal supporters before, during and after his sons were standout athletes. And much the same could be said for Pollock, who was the public address announcer for Pottstown High School football games for more than 50 years – and for Pius' first season of home games when they were played on the Trojans' field.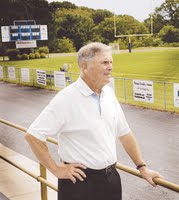 But the athletic association was quite proud of their new stadium, which sat up to 1,400 fans on the concrete and steel home-side stands built high enough at its lowest point to provide a clear view of the playing field.
"I think we were all proud of what we had there," Mich said.
Especially after winning their home debut – 6-0 over the Pennsylvania School for the Deaf – on Saturday, Oct. 3, 1959.
Located in Germantown, PSD was the third oldest school in the U.S. and well known for its football program for more than three decades at the time.
After a scoreless first half, the Lions got excellent field position when co-captain Mickey Sombers returned a PSD punt 24 yards to PSD's 32-yard line. Art Hatmaker ran for 10 yards on first down, Skip Peterman took another handoff for six yards and, following an incomplete pass, Hatmaker bolted around the left side to the five-yard line. Peterman sneaked to the one, and that's when co-captain David "Horse" Lees took it into the end zone for the game's lone score.
The Pius defense that blanked PSD that afternoon featured Paul Bobinsky, Ed Chieffo, Dennis Dzuryachko, Tom Lapinski, Lees, Phil Maddaliano, Joe Narieka, Ted Pawlowski, Tom Rapchinski, Sombers and Joe Wambach. Lapinski went on to become the captain at the University of Delaware and was the head coach at Swarthmore College; Maddaliano played at Temple; Pawlowski played at South Carolina; Rapchinski would captain his team at Millersville; and Wambach became a radio personality in Cincinnati.
The Lions would finish their first season under Mich and in their new stadium with a 5-4 record.
"We really liked having that new stadium," Mich said. "As a coach, you always wanted your own field, but not everyone had that back then. That was the way football was in those days."
Knowing exactly "where" to play on it was important, too, as Mich explained.
"You always wanted a good playing surface, but I don't think we ever had that," he said before adding a laugh. "There was a lot of shale in the ground on our field, but again that was football in the day. I can always remember never wanting to run to the left side, because that's where the field was always wet. We always ran right because it was like a rock on that side with all the shale in it.
"Sure, we got some complaints once in a while because the field wasn't necessarily in as good as shape as lot of the other public school fields. But that's what we had … and we were proud of what we had."
* * *

On April 24, 1976, Msgr. Joseph Murray – the principal at Pius – renamed the field Mich Stadium in honor of the young fella who was now 39 years old with a whole lot of wins under his belt … and an immeasurable amount of respect from Pius players and fans as well as coaches from around the Philadelphia Suburban Catholic and Ches-Mont leagues.
"I was embarrassed to some degree," Mich admitted. "It was a nice honor, a wonderful honor, especially for someone my age. I had just hoped I was deserving of such an honor."
Mich would continue plotting Pius' game plans and strolling the sidelines through 1984. He won or shared three Philadelphia Suburban Catholic League championships; guided the Lions to a very impressive 72-32-1 record in 11 seasons as an independent; and was very instrumental in helping his school – despite two prior rejections – get into the Ches-Mont League in 1978. When he bid farewell to the program, and to Mich Stadium, he owned a 159-89-11 career mark.
Mich would later serve as an assistant coach for 10 years at Kutztown University.
But rarely – and usually when his schedule didn't allow it – did he ever miss a St. Pius X football game on the home turf.
And there were plenty of memorable games, for Mich as well as for the coaches who have followed him – namely Bill Rogers, Dave Bodolus, Ray Gionta, Ed McCann, Madison Morton, Bob Wagner and, now going into his fourth and final season at Pius, George Parkinson.
"That was our field, and we took a lot of pride in playing and playing well on that field every time we went out there," said Bodolus, a standout himself at Pius and now the head coach at Daniel Boone.
* * *

Mich Stadium underwent renovations in 2005, thanks in part to Johnny Jones, part of the football program in the early 1980s, and Dave Psota, a longtime assistant under Mich. Among the improvements were new fencing, new seating, a new press box and a total reseeding of the playing surface.
"I guess we really needed some of those things for a long time," Mich said. "But it was a football stadium, our football stadium … and we proud of it from the very beginning. It's kind of sad right now, knowing the field and the school won't be there when we move (to Pope John Paul II).
"It's going to be tough for me, too, because all three of my children went there, and my one granddaughter will be graduating with the last class next spring. Heck, my whole adult life has been spent at Pius, and around that football field. I don't think we're ever going to have the same feeling for that new school like we did for Pius."
Labels: Jim Mich, St. Pius X football