Familiar teams lined up for regionals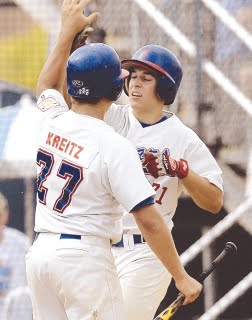 This column originally ran in the Aug. 5, 2009 edition of The Mercury.
There is a handful or so of familiar teams lined up for Thursday's opening rounds of American Legion baseball's eight national regional tournaments. Among them are four that have won all but two of the last six World Series.
None is more recognizable, though – for Boyertown fans, that is – than South Richmond, Va.
A year ago, Post 174 (or the Blue Bombers for the color of their uniforms and what their bats did to the baseball) rallied twice to defeat the Bears, 8-4, in the Mid-Atlantic Regional winners' bracket final. They went on to win the title, advance to the World Series in North Carolina, and finish third.
Boyertown led 2-0 after two innings and 3-2 after five. But South Richmond roughed up previously-unbeaten ace Shayne Houck and a couple of relievers for four go-ahead runs in the seventh and two additional runs in the eighth to put it away.
So guess who could possibly meet again this week, or Friday to be specific?
If the Bears (37-8) get by Mount Laurel, N.J. (33-4) in their opener, and
South Richmond (25-6) gets by host Morgantown, W.Va. (31-10) in its opener … yep, you got it, a rematch.
And considering there were a few choice words exchanged during as well as after last year's meeting, there's no doubt Friday's second-round nightcap could add a little heat to the already blistering forecast.
Boyertown will have considerably fewer members from last year's cast in the lineup. Brandon Sullivan, Ryan Zakszeski and Aaron Wilkins started in the game and are back, as are Ryan Schwager, who appeared as a pinch-runner; and Bryer Eshbach, who threw two-thirds of an inning of relief. South Richmond on the other hand, returns Bradley Shaban, Dustin Sollars, Chris Ayers and Joe Cujas – four of its top four hitters in national play last year.
Apparently that foursome hasn't exactly cooled off, either. During last Friday's 17-9 rout of Albemarle in the state final, Cujas – the tournament MVP – unloaded three home runs and knocked in five runs; Shaban had a home run and two other hits; Ayers belted a two-run homer; and Sollars contributed four RBI.
South Richmond invoked the 10-run rule in its first two wins, and put up 54 runs overall in its four-game sweep.
"These kids know how to play the game," coach Byron Ballard told the Richmond Times-Dispatch following the championship.
"They come from quality [high school] programs. It's great for them to come together, like each other and gel."
*
The other Mid-Atlantic Regional openers feature Stahl Post, Del. against Rensselaer, N.Y. (32-5), and South Charleston, W.Va. (41-10) against Mount Airy, Md. (33-14).
Rensselaer – Melvin Roads Post 1231, that is – won its very first New York state title on a tiebreaker. Roads, as well as Smith Post and Jurek Post entered Sunday's final day with identical 3-1 records before rained washed out play. State officials determined the champion by who owned the fewest runs allowed per inning average from the previous four games, and Melvin Roads (.400) edged Smith Post (.444).
Tony Abone Jr., the Smith Post manager, reportedly contacted an attorney to see if his team has any options in overturning the decision. He also contacted national American Legion officials to let them know he is considering legal action.
Stahl Post won its third state title in four years and 22nd overall; Mount Laurel was denied its first state title by Flemington and comes in as the Garden State runner-up; South Charleston won its third state title, with the previous two 34 years apart (1995 and 1961); Mount Airy won it second title to go with the first back in 1999; and host Morgantown, which was the two-time defending West Virginia state champion before South Charleston ended the run last week, has won 11 overall.
* * *
A glance at the other seven national regionals, which get under way Thursday morning:
NORTHEAST
At Manchester, N.H.: Portland, Me., which defeated Boyertown en route to the 2004 World Series title in Corvallis, Ore., won its second straight state title and sixth since 1996 to qualify. Portland (20-3) opens against Londonderry, N.H. (15-6), whose only previous state title was four years ago. … West Warwick, R.I. (26-13), with 10 state titles, opens against Colchester, Vt. (23-16), which just won its very first state title. … Flemington, N.J. (27-1), making its first regional appearance, takes on the only unbeaten team still playing this week – Newburyport, Mass. (29-0) – which is coming off its first state title. … Berlin, Ct. (29-5) won its second state title last week and debuts against host Manchester, which owns 27 state titles in its storied past.
SOUTHEAST
At Sumter, S.C.: Call it the host with the most. Sumter, which won three of the last five state titles – 11 overall – and is the defending regional champion, caps the first day of play against Salisbury, N.C. (32-7), which just won its fifth state title. … Shelbyville, Tenn. (19-14), which turned things around last month and won its second state title, opens against Bayamon, P.R. (34-4), no stranger to national play with 11 state titles. … Tuscaloosa, Ala. (47-6), which has won three straight state titles, six of the last seven and 19 overall, takes on Bradenton, Fla., coming off its third state-title performance. … And Irmo, S.C., with three state titles of its own, starts up against newcomer Conyers, Ga. (29-4), which won its first state title last week.
MID-SOUTH
At Enid, OK.: Like Sumter, Enid (40-13) has won 11 state titles, but it also swept the 2005 World Series championship. The Oklahoma power closes out the first day of play against Shelbyville, Ky., which last week won its second state title and first since 1983. … New Orleans Post 288, La. (25-7) won its first state title to earn a meeting with none other than Oklahoma runner-up Omaha Post 374, which was denied its 41st state title last week. … Hattiesburg, Miss. (19-10), which won its first three state titles in 1941, 1942 and 1953, added a fourth last week to qualify and meet up with two-time state champion and defending Mid-South Regional champion Jonesboro, Ark. (31-10). … And Midwest City, Okla. (68-9) – which split two games with Boyertown in the 1987 World Series in Stevens Point, Wisc. – opens against Texarkana, Tex. (24-3), which owns 10 state titles.
GREAT LAKES
At Appleton, WI: Pennsylvania state runner-up Nor-Gwyn (26-14) plays Game Two on Thursday against Rochester, Minn. (34-11), which last won a state title in 2003, or the year it rolled on to win the World Series in Bartlesville, Okla. … Midland, Mich. (44-7), which has won seven state titles since 2000 and 16 overall, is the defending regional champion and opens against Sandusky, Ohio (29-12), coming off its second state title. … Wassau, Wisc. (36-10) plays Hammond, Ind. (24-5), which won its second state title, and first since 1950. … The final game Thursday features Palatine, Ill., which won its second state title (and first in 20 years), taking on host Appleton, which swept its first state title in 1932 and added seven more since.
CENTRAL PLAINS
At Minnetonka, MN: Two of the most successful programs in American Legion baseball – Rapid City, S.D. and Omaha Post 1, Neb. – are featured in Thursday morning's doubleheader. Rapid City (43-19), which won 18 straight state titles from 1970 through 1987, 25 of 29 through 1998 and 33 overall, captured the 1993 World Series championship, too. The South Dakota power opens against Festus, Mo. (34-3). … Up next will be Omaha, which won the very first state title in 1928 and 46 overall as well as the 1939 World Series. The Nebraskans take on Dubuque, Ia. (12-3), which won its third state title last week. … Dickinson, N.D. (38-9), which has won its first state title last year and its second last week, debuts against Minnesota runner-up Apple Valley (38-9). … Pittsburg, Ks. (28-3), like Dickinson in winning its first state last year and second last week, takes on host Excelsior in the nightcap.
NORTHWEST
At Medford, OR.: Corvallis, Or. (32-17), the host of the 2004 World Series, defeated Medford, 6-2, last week for its first state title since 2003 and sixth overall. The win earned Corvallis a tough opening-round draw with Billings, Mt. (45-14), which won 14 straight state titles from 1954 through 1967 and has won three of the last four to push its overall total to 35. … Cheyenne, Wy., which won seven in a row before coming up short last year, won its 15th overall last week and opens against Anchorage, Ak. (25-8), which warmed up its fans with its second state title in the last three years last week. … California runner-up Covina (25-4), making its national regional debut, opens against Bellevue, Wa. (33-12), which won its sixth state title last week. … Lewiston, Id. (35-18) plays host Medford (40-10), which owns 10 state titles overall.
WESTERN
At Fairfield, CA.: The one thing that hasn't stayed in Vegas the past year is Las Vegas Post 76's World Series championship and amazing 75-7 overall record. The defending national champions, coming off their fourth straight state title, open Thursday's play against Albuquerque, N.M. (39-8), which has won three straight state titles of its own and 20 overall. … Greely, Co. (49-19) goes up against Kailua, Hi. (18-7), which won its first state title since 2001 and sixth overall. … Tucson Post 59, Az. makes its national regional debut against San Bernadino, Ca. (21-6). … The nightcap features Murray, Ut. (20-9), making its first appearance in national play, against host Fairfield (27-10), which has never won a state title.
* * *
All eight regionals are scheduled to be completed Monday, with the respective winners advancing to the 83rd World Series in Fargo, N.D.
Labels: American Legion baseball, Boyertown Bears