Still a long way to go for most of the area's teams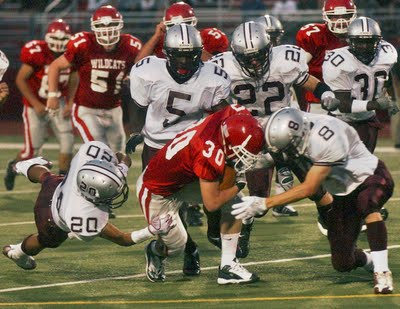 Don't get the measuring sticks out yet … not after just one week of football, not after the one week that usually features more nerves, miscommunication and mental mistakes – not to mention more mismatches – than any others over the next three months.
There aren't too many coaches who will put much if any emphasis on a season-opening win or loss (sorry, ties are a thing of the past). They're very few who will put their feet up on the desk and sit back with a smile and that first victory already neatly tucked into their pocket (at least not for long). There are even fewer who will play hide and seek over the weekend and then whine for a couple more days after defeat.
Monday was indeed Labor Day, a holiday for most. But you can bet coaches here, there and everywhere else were hard at work – watching film, rearranging some X's and O's, and devising a game plan for Week Two.
Week One is only the starting point. Week Two often reveals exactly what direction a team is taking into the regular season, when every snap, every run, every pass and every tackle can and usually will dictate who continues to play every weekend for a league championship, and who just may be playing beyond the first weekend of November.
That's why so many coaches and players – even their fans – were dealing out as many positives as negatives after kicking off their respective seasons last Friday and Saturday.
Boyertown is a team that some feel can compete for a Pioneer Athletic Conference title this season (and will get an opportunity to make as big a statement as you can when opening the league schedule at Pottsgrove on Sept. 18). The Bears debuted last Friday without David Crognale calling the signals for the first time in four years and a few question marks up front, and had little trouble with William Allen up in Allentown. It was the program's first win over a non-league opponent in nearly five years, or since a 22-13 decision of Abington two weeks before Thanksgiving back in 2004. But it was also a win over a team that lost for the 21st consecutive time and is an awful 1-30 since its season-opener in 2006. This week, against visiting Governor Mifflin, which has bumped off Boyertown in 20 of 29 meetings (with two ties), will be a tougher test.
Daniel Boone dumped on Donegal for the fourth straight year, has outscored its rivals 82-6 the last two seasons and 115-27 in the four-game series. But those 433 yards and 42 points – with a lot of new contributors – are in line with last year's Blazers team that led the area in total offense (420) and points per game (33). Those numbers could swell even more this week with Susquehannock, which lost 58-0 to Disrtict 3 power Manheim Central — coming to Birdsboro.
Owen J. Roberts, like Boyertown a legitimate threat in the PAC-10 again this year, ended a string of woeful season-openers with a 13-3 win over Conestoga, which is considered a Central League contender. The Pioneers were quick and aggressive, but head coach Tom Barr has to be concerned with the Wildcats' inconsistency on offense, or the breakdowns and bottlenecks that limited Ryan Brumfield to just 81 yards (more than half of which came on five carries) and enabled quarterback Nate Walters to complete just 2 of 6 passes for 25 yards.
If anyone had the right to break into a smile and at least grin through the weekend, it was Perkiomen Valley. With less than a handful of starters back and an almost entirely new party of people in the skill positions, the Vikings got a big play from its defense to take the lead and a lot of hard running from unsung Steve Morrow to hold it in a win over Upper Dublin. But head coach Scott Reed and the crew entertain Ches-Mont League giant Coatesville next.
Pottsgrove, with all the preseason hype and hip-hip-hooray, didn't have any problems with a good Pennridge team, and only a pair of late scores make the final score respectable. However, you can bet your cleats, shoulder pads and helmet that 10 penalties and the ballyhooed Falcons defense giving up 147 yards through the air had head coach Rick Pennypacker a bit, well, let's just say upset. The Falcons will find out this week preapring for a very, very good Wissahickon (which topped Pottsgrove, 31-22, in Week Two a year ago).
St. Pius X couldn't move the chains and failed to take advantage of a slew of opportunities in the first half against Simon Gratz on Saturday. But the Lions came alive on both sides of the ball in the second half, recovering from a 6-0 deficit with three unanswered scores and using a determined defense to stuff Gratz's two-point conversion attempt at the win with 16 seconds remaining. No one in the area needed a win on opening day more than the Lions … and they got it.
Upper Perkiomen is yet another potential PAC-10 contender, and at times during last Friday night's 20-13 win over Muhlenberg looked every bit of one. But the Indians needed a pair of second-half touchdowns to get by their hosts, who may be at best a middle-of-the-pack entry in the Inter-County League for the first time in recent memory. And head coach Keith Leamer is fully aware of the need for improvement this week against a team (Upper Dublin) that is noticeably weaker than Muhlenberg.
All was not lost in the four losses last weekend, either.
Methacton ran smack into one of the best in all of District 1. The Warriors fell into an immediate hole when Division I-A recruit Tony Latronica returned the opening kickoff 83 yards for a touchdown, and it only got worse after that against a team some feel could give almighty North Penn a run in the race for an AAAA district title. Head coach Bob McNally should get a better feel as to who's who this week at Kennedy-Kenrick.
Phoenixville played like head coach Bill Furlong anticipated – or at least for a series or two into the second half at Great Valley. And despite coming up with six turnovers and helping to trigger their rivals to get hit with nine penalties on the night, it was a forgettable quarter and a half down the stretch that left them on the short side of a 27-21 loss. The Phantoms will focus on finishing this week and, perhaps, a little revenge considering they host Unionville, which got the best of them in the opening round of last year's District 1-AAA playoffs.
Pottstown showed considerable poise and the ability to come back in a 34-22 loss to Blue Mountain, which is among the Inter-County League Division 1 favorites this season. The Trojans led 10-0, fell behind 14-10 only to take a 16-10 lead, then fell behind again 27-16 only to get within five, before the hosts put it away with a late score. Transfer David Tyler gives head coach Brett Myers a big-play threat, as he proved in returning a kickoff 85 yards for one touchdown and carrying 19 times for 178 yards and another score.
And Spring-Ford, which has had to endure more bail-outs (call them transfers if you like) than the generous administration down in Washington, D.C., happened to run into one of the best teams in District 1 (and possibly around the state in the AAA bracket) in Bayard Rustin. The Golden Knights have a good portion of its lineup back from a year ago, when they won the district title and lost in the eastern final to eventual state runner-up Archbishop Wood. The Rams will get a better feel as to where they are and where they're headed this week when Sussex Tech (Del.) visits Coach McNelly Stadium.
Labels: football week 2