Weekend will decide contenders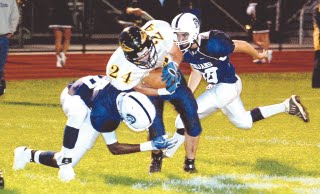 This column originally ran in the Oct. 8 edition of The Mercury.
The second half of the high school football season kicks off tonight. That's right, the second half, at least for those teams with one eye on those confounded playoff points standings. What happens over the next five weeks will determine who's in, who's out, who plays who where, and so on and so on.
But remember what Ol' McDonald (or some other fowl egghead) said about what came first.
Keep that in mind, too, because this is the weekend when statements will be made, when teams will dictate — on the field, that is — who is still in the running for a league championship, who is running low on gridiron gas, and who may have tanked it entirely.
Oh, there are some biggies ahead, mind you, but looking ahead only plays into the psyche of those who put the gear on and their coaches, as well as their fans who do all the hooting and hollering.
But tonight, the outcome of three particular games — Upper Perkiomen at Owen J. Roberts, Boyertown at Perkiomen Valley, and Daniel Boone at Conrad Weiser — will, in all likelihood, go a long, long way in determining Pioneer Athletic Conference and Inter-County Section One titles.
Upper Perkiomen (2-1, 4-1 overall) can ill-afford another loss, and Owen J. Roberts (3-0, 5-0) can't afford a loss of any kind – not with a trip to unbeaten Pottsgrove next Friday in a game that has had an asterisk behind it since practices began back in August. Boyertown and Perkiomen Valley are both 2-1, both have already (unsuccessfully) dealt with Pottsgrove, and both still have Upper Perkiomen and Owen J. Roberts, among others, on their respective cards.
Up in Berks County, Daniel Boone has the I-C's most productive offense and least-generous defense. The Blazers have thumped and trumped everyone thus far. But Conrad Weiser (with apologies to Twin Valley) is the best team and biggest challenge Daniel Boone has tackled yet. And don't forget it won't get any easier the rest of the month with Governor Mifflin, Pottsville and absolute pain-in-the-pads Muhlenberg on the card.
"(Tonight's) game is your biggest game," Pottsgrove head coach Rick Pennypacker said earlier. "It's that way every week. If you look ahead, if your kids look ahead, bad things happen. You don't worry about next week until next week."
That's the approach Keith Leamer has adopted at Upper Perkiomen, where midseason setbacks and late-season lulls in the past have cost the Indians dearly in their runs for a PAC-10 championship.
"Our goal this season is to just get better every day," Leamer said. "If we can do that this week we have a chance against Owen J. Roberts."
Getting out of Bucktown with a win tonight may depend on just how well the Indians' offense fares against OJR's defense. Yes, the Wildcats have a running back named Ryan Brumfield and his area-leading 939 yards, 14 touchdowns and 86 points overall, and he could very well pad those numbers tonight. But overlooked in Brumfield's rewriting of the record books is head coach Tom Barr's OJR defense … a pretty darn good defense, that is.
Ends Steve Lawless and Kyle Moore, tackles Sean Moloney and Mike Nowak, and linebackers Sam Funk, Rich Zazo and Nate Blevins have limited opponents to less than 100 yards on the ground thus far. Those fellas, along with corners Brendan Shoemaker and Sean Yeager and safeties Francis Polignano and Brumfield, are surrendering an average of just 141 yards overall.
"(OJR) is playing at a very high level, so we have our work cut out for us," Leamer said.
The workload will fall heavily on an improved Upper Perkiomen front line and a fast-maturing Casey Perlstein at quarterback. Center Jake Nyce, guards Steve Grover and Alex Zukowski, tackles Dwayne Gillespie and Mike Paul, and tight end Nick Hale, have worked together well since the disappointing loss to Perkiomen Valley three weeks ago, and that's made it easier for fullback Chase Fleming – who may be as good as anyone on the other side of the ball at linebacker – and tailback Mark Cole. The line has also helped give Perlstein enough time to throw for 410 of his 490 yards the last three weeks, too.
"Both (teams), at some point this season, have been getting it done in all three phases of the game," Leamer said.
That other phase – turnovers – has also hindered both teams. OJR overcame a school-record 12 fumbles (six of which were lost) in Week Two and is coming off its first turnover-free game of the season. Thanks to seven interceptions and 10 fumble recoveries, though, the Wildcats are plus-six in takeaways. Upper Perkiomen has had trouble holding onto the football as well, losing two fumbles in three of its games and throwing three interceptions in another. But, like the Wildcats, the Indians have come up with 15 turnovers of their own and are a plus-five in takeaways.
"This is a game that could very well come down to turnovers," Leamer said.
Big games, more often than not, are decided by the bobbles and errant throws.
* * *
Speaking of turnovers, Boyertown hasn't given the football away in its last two outings. Perkiomen Valley, on the other hand, has been very charitable – 13 fumbles and six interceptions for an area-high 19 overall.
"We had the one bad game (nine turnovers at Coatesville)," head coach Scott Reed said. "But there's no question the turnovers have hurt us. We can't afford to keep making those type of mistakes."
Daniel Boone, of course, has made very few mistakes of any kind. When you have a quarterback like Jon Monteiro and a slew of gifted receivers who provide as balanced an offense as you could draw up (979 yards passing and 975 yards rushing), it certainly does leave opposing defenses a bit perplexed as to what's coming next. But head coach Dave Bodolus and his defense will get its toughest test to date tonight going up against a similarly balanced offense that features Zach Guiles (678 yards passing) at quarterback and Codie Butler and D.J. Robinson (just under 900 combined yards rushing) behind him.
OPENING UP
The Hill School opens its Mid-Atlantic Prep League schedule this afternoon (3:30 p.m.) against visiting Peddie School. The Rams (2-1 overall), who hope to get back on the winning track after dropping last week's home-opener with Chestnut Hill Academy, were the runners-up to unbeaten Blair a year ago.
Head coach Marty Vollmuth will see a familiar face on the opposing sidelines, too. Peddie, winless a year ago, is coached by former Hill head coach Frank deLaurentis, in his second term as the Falcons' head coach. DeLaurentis previously guided the program from 1996 through 2005.
ACHES AND PAINS
Area quarterbacks have seen their share of trainers and doctors, even made enough visits to the hospitals, this season.
Boyertown's Dylan Pasik is questionable tonight after going down with an injury last Friday night; Hill's Jack Detmer, a post-grad, is out indefinitely after breaking two bones in his left wrist during the Blues' second possession last Saturday; Methacton's James McHugh is questionable after suffering a stinger last week; and Phoenixville's Tom Romano is probable, or hoping to return to the lineup Saturday afternoon after injuring his arm during a practice prior to the Phantoms' league-opener four weeks ago.
Detmer threw for more than a 1,000 yards last year at his high school in Scarsdale, N.Y., and both McHugh and Romano threw for well over a grand as starters last season.
* * *
No one has been as banged up as badly as Phoenixville this season. Head coach Bill Furlong – who refuses to use the injury tag as a reason behind the Phantoms' 0-5 start – hasn't lost just his quarterback in recent weeks.
Romano was joined on the sidelines early on by tight end-linebacker Vince Ciaverelli. Since then, John McInally, one of the league's best kickers the past two seasons, has been out with a pulled hamstring. Last week, nose guard Dennis Kelly went down with an injury that has him questionable for Saturday, and defensive end Greg Porter – who also doubled at tight end with Ciaverelli out – suffered a concussion that will keep him out at least another week.
And if that isn't enough, Furlong lost starting guard-linebacker Matt Viscuso for the season last week after he suffered a compound fracture that required surgery to place a steel rod in his leg.
BIG NUMBERS
Brumfield needs 61 yards tonight to reach 1,000 for the season, while Monteiro needs only 21 yards passing to hit 1,000. … Nine area backs are averaging over eight yards a carry thus far, topped off by Pottsgrove's Maika Polamalu (9.9). Spring-Ford's Chase Stewart, thanks in part to his school-record 94-yard dash last week, is next at 8.3.
* * *
Big numbers don't always translate into wins… check these out:
Grace Brethren (Calif.) quarterback Max Leffler throws for 510 yards and four touchdowns in a 41-32 loss to Frazier Mountain; Boyd (Tex.) quarterback Jonovan Griffin throws for 480 yards in an 84-40 loss to Plano West; and Downey (Calif.) quarterback Jason Lee throws for 450 yards and six touchdowns in a 72-43 loss to Patterson.
NOTES
The big game in District 1 this week has the state's No. 8 ranked Downingtown West at Henderson. Both teams are 5-0 and among the district's playoff points leaders in the AAAA and AAA brackets, respectively. … Out in Oklahoma, officials at Jenks High School – which has won nine of the last 13 state titles in the big-school classification and is nationally ranked year after year – have suspended 14-year head coach Allan Trimble and one of his assistants indefinitely. A 44-page report revealed Trimble was responsible for questionable conduct with seven players, conduct that ranged from recruiting violations to monetary gifts.
Labels: high school football