Perk Valley finding its identity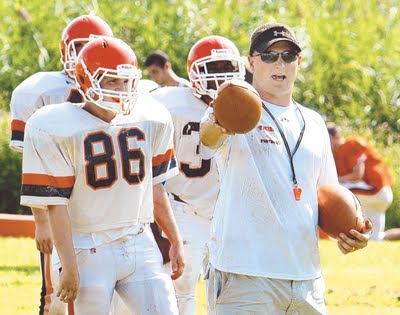 Scott Reed may have been thinking about getting photo identification cards to pin on every one of his players' jerseys when Perkiomen Valley's camp opened four weeks ago.
Graduation took all but one of his starters on offense and seven of his starters on defense. There were twentysome seniors back, mind you, but most spent last season standing on the sidelines as backups and fulfilling their football needs in the junior varsity games. And adding to the who's who dilemma even more were all the sophomores, enough of them to give Reed an unheard of – or school record – 82 aspiring players on the roster.
"We never ever had that many kids, so we were really surprised," Reed said. "During our off-season workouts we had maybe 30-35 kids in the weight room, so when we saw how many came out (on the opening day of practice) it did surprise us. We just didn't know most of them, and knew we had to try and figure out what they could do."
Three weeks into the season, and coming off what many considered an upset of Upper Perkiomen last Friday night, it appears the Vikings have stepped forward to show their coach who they are … and the entire coaching staff is figuring it all out pretty well.
"We have a lot of seniors who never played before, like 20 or so who didn't crack the lineup as underclassmen," Reed explained. "They were undefeated on the freshmen and jayvee teams, but they hadn't played much with us because we had those good junior and senior classes the last two years.
"I can't say we were really young, but we certainly were very inexperienced. We had a lot of evaluating to do."
A lot of evaluations and assessments, actually, because of replacing 17 starters and baptizing the entire gang in an entirely new 3-5-3 defense, which doesn't even come close to resembling Perkiomen Valley's traditional 5-2 alignment.
"It's certainly been a challenge for the whole coaching staff," Reed added. "We have dedicated kids who play to the system well. But we had to figure out where everyone was going. We have a lot of personnel, but finding out who would fit in where was a huge challenge for us. A lot of kids were challenging each other, and we had to find kids willing to step up."
Reed is discovering a lot have, at least through three games – wins over Upper Dublin and Upper Perkiomen sandwiched around a turnover-filled setback to Coatesville.
The offense has been "learning under fire," as Reed said last week. Wideout Ben Carbutt was the only Viking to get any quality time a year ago. But Pat Catagnus has held his own at quarterback, and Steve Murrow and John Schmidt have found room to run behind a fast-learning and fast-improving front line. And everyone could be doing a lot better without the 15 turnovers.
"We're not where we need to be offensively," Reed said. "We have to stop the turnovers. We have to learn how to close out games better. We're making mistakes we have to clean up."
If there's been a surprise – beyond the record turnout, that is – it's been the defense. Up in Red Hill last Friday night, the Vikings allowed only 14 yards rushing.
Ends Sean Conners – who recovered a fumble and picked off an Upper Perkiomen pass, both in the final quarter – and Matt Kline; tackle Chris Stewart; linebacker Brendan Murray; and safety Kyle Williams are back from last season. They, along with Kayo Bakere – who transferred back to Perkiomen Valley this year – have adjusted well to the new defense. The rotation of Matt Kline and Justin Morgan at the other outside linebacker spot has improved, and the inside-linebacker threesome of Murray, Joe Scenna and Bobby Strickland – who had three sacks last weekend – are playing extremely well. And the secondary, which features Carbutt, Gio and Joe Waters and Wayne Smith are holding their collective own, too.
"We wanted to be more of an attack-style defense this year," Reed said. "After looking at all the kids we had, we felt instead of finding five linemen we could find more who would fit into those five (linebacker) positions. Plus, it's good to try something new at times.
"We're happy so far. We're still giving up big plays, and everyone knows we can't do that. We just have to play four quarters of solid defense."
Especially this Friday, when unbeaten defending PAC-10 champion and state-ranked Pottsgrove visits.
SHORT LIST
The Hill School joined Phoenixville as the only area programs with 500 wins by opening its season with a 32-12 thumping at Germantown Academy last Friday afternoon … and everyone kept the milestone victory in perspective.
"It's amazing … an incredible feeling," said senior Andrew Donald, a resident of Kimberton who will certainly remember the game after catching six passes and picking off two on defense. "We'll celebrate this tonight, then set our target on No. 501."
"This was a good goal for today," added head coach Marty Vollmuth, in his seventh year guiding the Rams. "We wanted to get off to a good start. (The win) makes me feel proud, having been here 24 years and to have two former players on the staff. It's a real accomplishment."
The Rams travel to Episcopal Academy this Saturday, then return home the following two weeks to first entertain Chestnut Hill and then open their Mid-Atlantic Prep League against Peddie.
MORE OPENING LINES
Daniel Boone opens its I-C League Division One season Friday at Twin Valley. Head coach Dave Bodolus expects a considerably tougher challenge this week than his Blazers got in the first three weeks – three wins in which they piled up a 1,243-225 yard advantage on offense and outscored their opponents 137-13. Twin Valley is also 3-0 for the first time in its 12-year football history.
Perkiomen School opened its Tri-State League season with a bang last Friday afternoon and ended a two-year skid to Tower Hill (Del.) with a 37-0 romp.
UNBEARABLE
Boyertown head coach Mark Scisly has to be scratching his head. The Bears threw up 41 points in their season-opener, scored once in the first quarter of Game Two with Governor Mifflin … and have since gone into hibernation (offensively, that is).
Turnovers and penalties have helped take the energy out of the offense. The Bears are minus-five in takeaways, and have been whistled nine times for 92 yards in penalties the last two games. All of that has overshadowed an otherwise strong defensive effort.
Up front, Scisly has gotten strong play from Wilmer Barndt, Chris Muller and Tyler Bogert, and more of the same behind those three from Kyle Fultz, Jared Giles, Zach Heffner, Tyler Mauger, Jon Neiman, Dalton Schaeffer and Tyler Shaw.
Scisly and the Bears hope to get the offense on the same page Friday night against visiting St. Pius X.
LION-HEARTED
Speaking of St. Pius X … in case you didn't catch their streak-ending win last Saturday.
The Lions defeated Phoenixville for the first time a 28-0 shutout in 2002; won their first PAC-10 opener since a 25-12 decision of Spring-Ford in 2003; scored their most points in a PAC-10 since a 52-28 loss to Owen J. Roberts in 2005 – which was 32 games ago; and ended a 23-game PAC-10 losing streak that dates back to Week Four of the 2006 season.
Pius, which is 3-0 for the first time in eight years, needs one more win to match its combined win total of the last three years and three more wins to match the combined win total of the last five years.
INJURY WOES
The area's injury list worsened last week, and before round three even kicked off.
Pottstown has reportedly lost running back David Tyler for the season with a leg injury. A senior, Tyler ran for just over 2,000 yards at Spring-Ford as a sophomore and junior before transferring to Pottstown this year. … Phoenixville quarterback Tom Romano suffered an arm injury during practice last week, which kept him out of the Phantoms' game with Pius. He, as well as two-way starter Vince Ciaverelli, who also missed Saturday's game, are both questionable this week. … Pottsgrove all-state linebacker Preston Hamlette, sidelined with an ankle injury, is still doubtful this week.
MOVING UP
OJR's Ryan Brumfield last Friday night moved up to No. 10 on the area's career rushing chart with 3,564 yards, scooting past Upper Perkiomen's Luke Scherer and Methacton's Jason Adamek. Up next? His own head coach, Tom Barr, who had 3,633 carrying the ball for the Wildcats. … Daniel Boone quarterback Jon Monteiro is within 72 yards of passing
St. Pius X graduate Matt Troutman for the eighth spot in career passing yards.

WORTHY CAUSE
The NorChester Red Knights youth football and cheerleading organization will hold its second annual "Fill The Bus" food pantry donation day from 9 a.m. to 3 p.m. Saturday at the Red Knights Field House, located just south of the intersection of Routes 100 and 23.
Donations needed all can goods and non-perishable items, such as personal care products, and paper goods like napkins, tissues, toilet paper and paper towels.
The event benefits the North Coventry Food Panty, which offers supplies and staples to needy members of the Northern Chester County community. More information is available www.norchesterredknights.com or by calling 610-469-1816.