Leaders of the PAC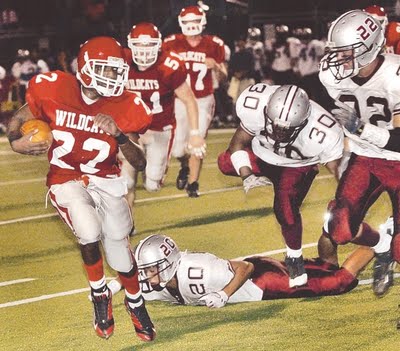 This column originally ran in the Oct. 16 edition of The Mercury.
LOWER POTTSGROVE — No one should be surprised Pottsgrove is situated on top of the Pioneer Athletic Conference standings and unbeaten through six games overall. And very few should be surprised Owen J. Roberts is right up there alongside Pottsgrove and unbeaten through six games as well.
The big question is if either the Falcons or the Wildcats have any surprises for one another when they meet tonight.
Don't expect many.
Especially any of those scrupulous, out-of-the-blue, razzle-dazzle offensive schemes, or devious defensive designs, either.
"Every team has their gadgets, a trick play or two they go to once in a while," said OJR head coach Tom Barr. "But in a game like this you go with what brought you here, what got you to 6-0 at this point."
"You don't win football games with (trick) plays," added Pottsgrove head coach Rick Pennypacker. "It all comes down to fundamentals, who blocks and who tackles."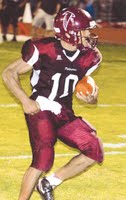 Neither Barr nor Pennypacker have reached into the gadget bag this season to pull out a win. Quite the opposite, as a matter of fact.
It's all been rather plain and simple.
Owen J. Roberts runs the football, Pottsgrove runs the football. They've only gone up top a combined 50 times thus far, which reveals just how much both like to pound it, pound it, and pound it some more … inside or outside, wherever their very good offensive lines lead them – the Wildcats to the tune of 285 yards a game, the Falcons to the tune of 275 yards a game.
The Wildcats' front of center Mike Nowak, guards Jesse Dugan and Sean Moloney, tackles Andrew Garson and Kyle Moore, and tight end Francis Polignano – along with fullback Rich Zazo – have executed rather well in opening lanes for Ryan Brumfield. Six games in and Brumfield already has 1,222 yards and 20 touchdowns – both area-highs and among the leaders in all of Pennsylvania.
"Ryan Brumfield is as good a running back as I have ever seen," Pennypacker said. "He reminds me of some great backs we've all seen the way he sets up his blocks. He gets the ball out in space, looks and looks for that block and, boom, off he goes. He is so good."
The Wildcats also proved last week – when quarterback Nate Walters flipped a pair of touchdown passes covering 60 and 40 yards to wing Sam Funk – that they can go up top if needed, if only to lessen the presence of too many Falcons in the box. And Funk is equally dangerous on the counters OJR has called on at opportune times for 25 or more seasons, too.
But for Brumfield and the rest of the Wildcats to get off the ball and run like they have this season, they'll have to do it against a defense unlike any they've seen yet.
"They're quick and they get to the ball," Barr said of Pottsgrove's 5-2 defense, which is permitting an average of just 107 yards on the ground and 192 overall. "We have Brumfield, but (Pottsgrove) makes it very difficult to get out on the perimeter. Their technique is so good. But their quickness off the ball and their quickness to the ball can scare you."
The Falcons go with T.J. Demetrio on the nose, in between tackles Kayvon Greene and Tyler Wysochanski, while Justin Oliveri and Maika Polamalu are situated on the ends. Brad Thornton and Danny Michaels have been superb at linebacker, especially Michaels in filling in for injured returning all-state senior Preston Hamlette – whose is questionable for tonight's affair. And behind all of that group is a secondary that usually features Angelo Berry, Terrell Chestnut and Scott Madl, with Fred Dukes and Isaiah Quick getting into the rotation.
Owen J. Roberts' defense – a 4-3 set – has actually been even less generous than the Falcons. The Wildcats are surrendering an average of 111 yards on the ground and just 172 overall. Ends Steve Lawless and Kyle Moore and tackles Moloney and Nowak have been relentless up front and getting into opponents' backfields. Zazo is the middle linebacker, situated in between Nate Blevins and Funk to give OJR "as solid a group of linebackers as there are," according to Pennypacker. And the Wildcats' secondary – Brendan Shoemaker and Sean Yeager on the corners and Polignano and Brumfield as the safeties – can match up with most any other.
Nonetheless, the Wildcats will have to deal with a Pottsgrove offense that has the ability to find the end zone at any time from anywhere on the field.
"Last year it seemed like all you had to deal with was Chestnut (at quarterback)," Barr said. "But now they have more than just Chestnut. They have Polamalu, who averages something like 10 yards a carry; Berry, who really runs hard; and Greene, who has been in the backfield of late and runs so well, too. All of those guys are fast. It's their speed that concerns us."
What concerns both Barr and Pennypacker are turnovers … or avoiding turnovers.
The Wildcats have had their share of problems holding onto the football this season. They have fumbled away 12 possessions – though just one the last two weeks. And that just happens to coincide with what the Falcons have done thus far – like recover a dozen of their opponents' bobbles, which has helped define why they are at plus-12 in takeaways.
"Pottsgrove executes so well on offense," Barr said. "But what makes them so good is that when they get a turnover they turn it into points. I don't know how many times they've done that this year, but that's what a good football team does."
"Don't try to kid anybody, though," Pennypacker said. "Owen J. is a very good football team, a very sound football team … and probably the best football team we'll see, at least until the playoffs."
So it should be a good one.
"We just going to line up and go at one another," Barr said. "We've been doing that for the last couple of years."
"I think it's going to be a battle," Pennypacker said.
NOTES
Pottsgrove leads the PAC-10 series, 12-9, while Owen J. Roberts leads the overall series, 31-19-3. … Falcons dealt OJR its lone league loss last season, 41-14, which Pennypacker said should help fuel the Wildcats' competitive fires. "I think you have to look at the revenge factor too," Pennpacker said. "(OJR) has something to prove." … Polamalu is third in the area in rushing (579 yards, 8.9 per carry average). … Walters is 12 of 21 for 333 yards and three touchdowns, while Chestnut is 17 of 29 for 234 yards and two touchdowns. Each of the quarterbacks have been intercepted once. … Both teams have reliable kickers in Zack Lepore (OJR) and Zach Robinson (Pottsgrove). … The teams have had just one common opponent thus far – Spring-Ford. OJR outlasted the Rams, 13-7, four weeks ago, while Pottsgrove got by the Rams, 20-6, last Friday night.
Labels: PAC-10 football