Earning their wings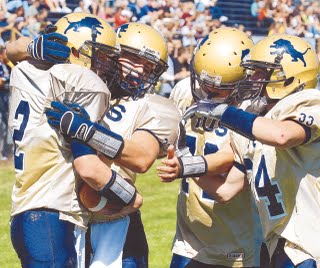 This column was originally published in the Nov. 3 edition of the Mercury.

LOWER POTTSGROVE — When George Parkinson stepped on the sidelines as the head coach at St. Pius X three years ago, he inherited a program that was drowning in one off-field storm after another. The disturbance included two head coaches and two interim head coaches in the previous three seasons, irregularity that led to unpredictability, or four Pioneer Athletic Conference victories and just six wins overall in that short but unsettling stretch.
But neither the persistent Parkinson nor the persevering group of freshmen he first teamed up with back in 2006 subscribed to or surrendered to the commotion, not even through three more overcast seasons that produced just four wins.
And last Saturday afternoon, despite overcast skies and an annoying drizzle here and there, Parkinson and the Lions brought some of that longed-for sunshine to the program with a 47-7 rout of visiting Methacton.
It was the Lions' fourth win in the PAC-10, doubling the program's total from the previous five seasons; their sixth win overall, equaling the program's total from the previous five seasons; assured them of no worse than a .500 season for the first time in seven years; and clinched a spot in the postseason for the first time in seven years.
So yes, Parkinson and the mud-caked Lions had every reason to smile, and every right to hoot and holler with their devoted fans in the puddles that bordered the home-side of Mich Stadium.
"You know, I always thought we could win even when we were losing all those games," Parkinson said. "I guess that's just my nature."
Unquestionably the character, or the spirit, of the Lions themselves, too.
"Some guys left (the program), but the guys who stayed with us believed in the team, believed in our program," Parkinson explained. "They never quit. It shows that if you keep believing and keep working hard good things happen. I feel we've been blessed."
A lot of players did depart after Parkinson's arrival, perhaps because of the instability, because of the mounting losses.
But a determined dozen opted to stay. They were Mike Furey, Matt Kendra, George Lockbaum, Mike
Matthews, Matt Mehallick, Rich Molinaro, Cole Parkinson, Kevin Pence, Tyler Pollick, Matt Raymond, Josh Rogers and Martin Shields … all of whom aren't just closing out their careers, but closing out the long and storied football history at Pius, which is closing its doors for good in the spring and joining Kennedy-Kenrick at Pope John Paul II High School next September.
"I'm not too surprised by what's happening," coach Parkinson said. "A lot of (the seniors) played as freshmen, started since they were sophomores, and were able to get a lot of experience. They've worked hard, become bigger and faster, and that certainly goes a long way.
"The last few years have been tough for them, but they've kept banging every week. They've seen what they can do. I've seen a lot of frowns turn into smiles … and that's awesome."
The Lions had a collective grin after opening up with three straight wins, the last in that streak coming against Phoenixville. Losses to Boyertown and Perkiomen Valley the following two weeks didn't stall their drive, either, and that was evident when they came from well back late in their game with Pottstown to pull out a 34-28 win over Pottstown.
"Phoenixville was our first real test," Parkinson said. "That was a real big win for us. And even though we lost to Boyertown, who really out-sized us, I thought we played decent. But I think if there was a turning point it may have been coming back like we did to beat Pottstown. The kids showed a lot of character."
The kind of character – the spirit – that may have been smothered, if not entirely concealed to most, throughout the previous three seasons.
"Our seniors have been a great example for our younger players," Parkinson said. "They've hung in there, worked hard, believed in what we've been doing… It's been a joy."
* * *
Pius has clinched District 1's second berth in the Class AA Sub-Regional playoffs, which kick off next weekend. Calvary Christian (7-1) locked up the top spot, with District 12's Del Val Charter (7-2) and School of the Future (5-4) grabbing the remaining two in the four-team field.
According to a district official, neither Morrisville nor Bristol can make up the points difference in their games this weekend to pass Pius – regardless of how the Lions fare against Upper Perkiomen this Friday night. Morrisville (5-4) travels to winless Conrad Science (Del.), while Bristol (5-3) visits Lower Moreland (6-3).
In Class A, five District 1 teams compete with six District 12 teams for the four sub-regional playoff berths. The top point-producing team from each district receives an automatic berth, with the next two highest point-producing teams completing the bracket.
AROUND THE DISTRICT
Think there's a lot on the line this weekend? But aside of the playoff spots – and positioning – there are three great match-ups Friday night. Interboro's unbeaten season is on the line against Glen Mills (6-3), who has lost to Downingtown West, Pennsbury and Dunbar (D.C.) – three rivals with identical 8-1 records. And two expected thrillers over in Suburban One feature Neshaminy (8-1) at Pennsbury and Council Rock South (7-2) visiting Council Rock South (6-3).
PRIVATE MATTERS
The Mid-Atlantic Prep League title will be on the line Friday afternoon when The Hill School hosts Hun School. Hill is 3-0 (6-1 overall), and still has its year-ending battle with Lawrenceville remaining, but Hun is 4-0 (4-3) and can clinch the championship with a win in its final outing of the season. … If Hill closes with two wins it would give head coach Marty Vollmuth and the Rams the program's winningest season in 22 years, or since going unbeaten (9-0) in 1987.
Perkiomen School is also 6-1, and defeating visiting St. Andrew's (Del.) on Friday would give head coach Kevin Manferdini and the Indians the program's winningest season in 31 years, or since their 8-1 run back in 1978.
POINTING THE WAY
Pottsgrove's 62-20 win over Upper Perkiomen last Friday night set a school record for points scored in a game, erasing the Falcons' mark set in a 61-0 shutout of Great Valley back in 2001. The 82 points put up by both teams were the seventh-most scored in PAC-10 game. … Just three weeks earlier, Upper Perkiomen came up short in a 56-28 shootout with Owen J. Roberts in the fifth-highest scoring game in the league's 24-year history. … St Pius' 47 points Saturday were the most a Lions team had scored since putting up 49 against Spring-Ford back in 2002.
RYAN'S EXPRESS
Owen J. Roberts junior Ryan Brumfield is approaching a few records with two PAC-10 games and a minimum of three games overall remaining on this season's schedule.
In league play, Brumfield has 1,482 yards and 23 touchdowns rushing and 146 total points. Those numbers put him within reach of the rushing mark (1,876, by Spring-Ford's Ralph O'Neil); the rushing touchdowns mark (29, by Spring-Ford's Joe Haley); and the scoring mark (196 points, by Pottsgrove's Brent Steinmetz).
Brumfield may need a few more big games to erase The Mercury area's single-season rushing mark, though. He enters Friday's game against Perkiomen Valley with 1,822 yards, or 1,006 behind the standard set by St. Pius' Zack Pierce. He is, however, within reach of the single-season scoring record, needing 42 more to equal the mark of 224.points set by O'Neil.
SIDELINERS
Daniel Boone quarterback Jon Monteiro failed to throw a touchdown pass last Friday night, ending his Mercury-area record streak of 19 straight games with at least one scoring toss. … Pottsgrove quarterback Terrell Chestnut, who went over 3,000 yards in career total offense last week, needs 101 yards rushing to become just the second area quarterback to run for more than 2,000 career yards.
Labels: St. Pius X football