Thanksgiving will never be the same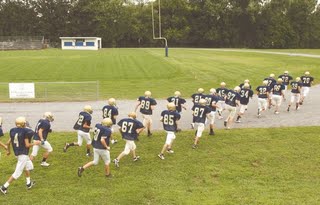 This column was originally published in the Nov. 26 edition of The Mercury.
This is, as it's been for longer than anyone can remember, and for longer than anyone has been around, one of the really big weeks for high school football in the area.
But the clock may be running down on Thanksgiving football, or close to running out, as many old-school fans or purists fear. The day that year after year has re-energized generations of players and coaches and enthralled their devoted followings, will never be the same after today … never be the same because Pottsgrove and St. Pius X will end their long and storied rivalry this morning.
St. Pius X will be closing its doors next spring and – along with Kennedy-Kenrick – moving into Pope John Paul II High School in Upper Providence Township.
And even though Pope John Paul II will be a member of the Pioneer Athletic Conference and play Pottsgrove, it will be in September — not November, and not on Thanksgiving anymore — according to several sources.
"I don't even like to think about (today) being the last game," said Jim Mich, who was just out of college, just 21 years of age, when he took over the one-year-old program in 1959. "I have a lot of emotions running through me over this, and it's going to be a very emotional day watching the last game.
"A lot of things close nowadays. But this, for me, is different. I'm having a very difficult time with it. I just can't explain it, really."
And it's easy to understand why.
Jim Mich was, still is and will be forever remembered as the heart and soul of St. Pius X football – if not the entire school.
His love of the game, and his passion for those who played it, was unwavering. He was as committed to teaching and coaching the 5-foot-5, 150-pound jayvee as he was the 6-foot-2, 220-pound all-state starting linebacker; as faithful to the five teams that didn't win many games as he was to the 19 others that won a whole lot of games and some championships; and he's been supportive of each and every one of the six head coaches who have followed him at Pius.
No one, absolutely no one, has been more loyal to Lions football than Jim Mich.
So today will certainly tug at his heartstrings.
Mich will be more than just a little emotional this morning when a lot of former Pius players – many from his 60s, 70s and 80s teams – sit down to break bread together, or share breakfast, in Father Doyne Hall prior to the game. He'll fidget in his seat, get up on occasion for a panicky pace, maybe even hoot and holler a bit during the game.
And when it's over and done with, when the crowd disappears and the gates surrounding Mich Stadium – justly named in his honor 33 years ago – are closed for good?
"I can't even imagine how I'll feel at that moment," Mich admitted. "I know I'm going to hate seeing the series (with Pottsgrove) end. I can remember how hard (former Pottsgrove athletic director) Francis Winterbottom and (former Pottsgrove head coach) Ken Harclerode worked with us to start up the Thanksgiving game back in 1965, too, so it's going to be very hard seeing the Thanksgiving rivalry end, too.
"It's just going to be a difficult day. There were so many people who helped us get the football program started; so many people who took it upon themselves to build our stadium at a time when the archdiocese didn't allow you to build anything on school property; so many great coaches who made me look good at times; so many good kids."
Today will be the 50th and final game between the Lions and Falcons, who have already clinched no worse than a tie for the title but need a victory for their second straight outright championship. And even though the Falcons have dominated of late, winning nine in a row and 17 of the last 19 (with one tie in between) for a commanding 28-18-3 lead in the series, their recent run won't diminish the hopes of the Lions or their loyal fans.
Not today.
Not even with the trip up to Williams Valley High School in Tower City to take on Tri-Valley in the opening round of the PIAA-Class A playoffs just two days away.
"The one saving grace about all of this is that coach (George) Parkinson has stuck by the kids and the program," Mich explained. "They've won the two playoff games. They've won eight games. They got the program back on its feet.
"Hey, we've gone through some difficult times here in recent years with all the coaching changes, the 1-10 seasons, and the news of the school closing. I've had my moments thinking about today, too. And as difficult as it will be seeing it all end, it'll help knowing the last season was a pretty good one."
*
St. Pius and Pottsgrove played against one another as non-league opponents (1960-1977) and as members of the Ches-Mont League (1978-1985) and Pioneer Athletic Conference (1986-present). … Their Thanksgiving series didn't begin until 1965, which Pottsgrove won 21-7. The following year, the Lions owned an unbeaten 8-0 mark and the Falcons were just 5-4, but Pius needed Darryl Stigura's late touchdown pass to Bob Fisher to salvage a 13-13 tie. … The only game not played at St. Pius or Pottsgrove was in 1974, when they met at Pottstown High School. That day the Falcons, who had already finished its Ches-Mont season and shared the title with Great Valley, trailed 10-0 before rallying for a 26-10 win over the underdog Lions. … Mich retired with a 159-89-11 career mark at Pius, which goes into today's game with an overall won-loss record of 265-264-12.
Labels: Pius' last game