You'd Better Believe It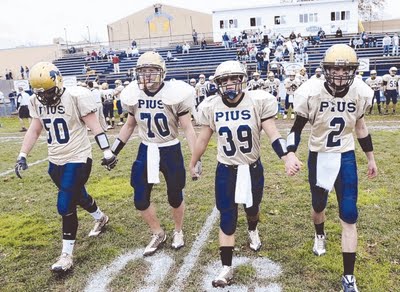 This column was originally published in the Nov. 24 edition of The Mercury.
This week has always been regarded as the final week of the high school football season. Except for a few teams and their seemingly endless schedules that ran into December back in the 1920s and 1930s; the St. Pius X and Pottsgrove playoff runs in 2001 and 2007, respectively; and a handful or so weather-related postponements, no area teams have played beyond Thanksgiving.
Well, this season sure is different.
Pottsgrove and St. Pius X made it a little different, or officially extended it beyond this Thursday's holiday football feast, last weekend. Pottsgrove did it by beating the odds (and everyone's predictions but their own) with a win over Bayard Rustin to move into Saturday night's District 1-Class AAA championship down at Coatesville. St. Pius X did it by beating the odds (and all but erasing for good the horrors of its recent past) with a win over Calvary Christian to move into Saturday night's opening round of the PIAA-Class A playoffs way up at Williams Valley.
Imagine that…
The program with the best won-loss record this decade (Pottsgrove) and the program with the worst win-loss record this decade (St. Pius X) both playing football three days before we flip the calendar over to the month that portly ol' fella up at the North Pole thinks is all about him.
And if not for a mistake here and there – the mental and physical gaffes that may have been uncharacteristic of their play this season but are nonetheless part of every game played – Daniel Boone and Owen J. Roberts would have teamed up with Pottsgrove and St. Pius X to make it a foursome this weekend.
But not enough can be said for what the Falcons and Lions accomplished last Friday night.
Yes, Pottsgrove has frequented the postseason in recent years, six times now since 2000. But the Falcons' first three treks were brief with hideous endings, or lopsided losses down at Strath Haven. Three years ago, they were on a two-game run before another setback to Garnet Valley. And last year, they came up short again to eventual district champion Rustin.
This season, when they opened practice back in August, the Falcons may have kept everything in focus, in perspective for three months … but they also dared to look ahead, to peek into a rematch, as they say, with Rustin. They got it, of course, and despite hearing and reading how there was simply no way they could get the best of a team that was virtually intact and a whole lot better than the team that beat them a year ago, the Falcons pounced on the pessimism, never once allowing it in their huddle.
Pottsgrove won a lot of big games under former head coach Ken Harclerode, and it's won its share of big games the past 20 years under Rick Pennypacker. But it never played a bigger game than last Friday night, never played better on any previous Friday night or Saturday afternoon … never won a bigger game.
And while most may be tired of hearing how the heart and soul of a team can sometimes outweigh the mass and outperform the talent of another, or just refuse to believe it… Well, there was never a better see-it-to-believe-it than Pottsgrove's 21-14 win. Rustin was much, much bigger than the Falcons, and had just as many if not more play-makers and game-breakers as the Falcons. But no yardstick or first-down chain can measure motivation, or the passion to rise up and overcome. Yes, the Falcons have Terrell Chestnut, Preston Hamlette, Maika Polamalu and Kayvon Greene, the play-makers and game-breakers. But they also have a lot of movers and shakers, an anonymous bunch – energized best perhaps by T.J. Demetrio, the munchkin in the middle of their defense – that has pushed them to step up and above everyone else thus far.
Believing, and not looking back, is what carried St. Pius X to the District 1/12-Class A title last Friday night and into the state playoffs this Saturday night.
It's been a long, long seven seasons since the Lions won an actual handful of games between August and November let alone appeared in the postseason. Actually eight years if you go back to 2001, when they swept the Pioneer Athletic Conference title, the then mythical District 1-Class AA championship, and played all the way through to the PIAA Eastern Final.
But since that long postseason run, the program had gone through three coaches and a pair of interim coaches before George Parkinson anchored his football feet on the Pius sideline in 2006. Parkinson didn't quit, didn't run off, when the losses continued to mount. Neither did a small group of unknown and untested freshmen, still a small group but now skilled seniors who have carried Pius – one of the area's most successful programs for more than 30 years – back to respectability.
Except for the players, Parkinson and their devout but depleted following, no one thought this season would be much different than the previous five or six. Few are likely to forget it, whenever it ends, even after they shut down Mich Stadium for good on Thursday, and close the doors to the school for good next spring.
TURKEY DAY
Pottsgrove will play at St. Pius X on Thursday morning as scheduled in their PAC-10 finale, completing the card that also features Owen J. Roberts at Pottstown, Spring-Ford at Phoenixville, and Upper Perkiomen at Boyertown. Pottsgrove, of course, needs a win for its second straight outright league championship.
Interboro, which will meet the Falcons in the District 1-Class AAA final, has cancelled its Thanksgiving game with Ridley, which is entertaining Downingtown East on Friday night in a District 1-Class AAAA semifinal.
FLAG TIME
When Pottsgrove answered Rustin's long touchdown run with a well-executed touchdown drive of its own – and scoring the first points of the season against Rustin's first-team defense – flags began flying … most in Rustin's direction.
The undefeated, unchallenged and state-ranked Golden Knights were hit with three unsportsmanlike penalties in the first half and three more in the second half – including back-to-back 15-yarders (actually one was only eight yards because of being half the distance to the goal line) when the Falcons were taking a knee in the final minute of the game. The Falcons got caught up in it, too … just once. After their one unsportsmanlike and an illegal block before the break, though, they were hit with just one motion penalty the entire second half.
* * *
There was a very controversial ending to Downingtown East's 49-48 thriller over Penncrest in last weekend's District 1-Class AAAA quarterfinal.
East, which fell behind 48-41 with just 37 seconds remaining, drove 56 yards for a touchdown and decisive two-point conversion with no time left. But what had a lot of fans fired up – Penncrest fans, that is – was East quarterback Trey Lauletta's pass with nine seconds remaining. Facing a third-and-three on the 37-yard line, Lauletta appeared to have been sacked as he threw the ball away. Officials ruled it an incomplete pass, not a sack which would've allowed the clock to run out. So Lauletta responded with a short toss for a first down, then a 30-yard touchdown pass to Tyler Kroft as time ran out. Drew Harris then ran in the two-point conversion for the win.
Blown call or not, fans – or whoever the nameless critics are on the web – were absolutely pathetic … none worse than a woman who wrote she had been following her sons and grandsons through every level of football for 30 years. Her response? "Like I said to my grandson, 'You can beat a team but you can't beat the refs.'" Let's hope her grandson didn't take those words of idiocy to heart.
A man, who claimed to be a referee himself, said it was the "worst display of refereeing I (had) ever seen" and asked others to call the PIAA. A referee calling out other referees publicly? Doubt it, unless he's one of those fellas who never dared to take the PIAA officials test (or did and failed it), and never blew his whistle in anything but a youth football game.
Shame we're not all perfect, eh?
CALL IT A CAREER
Daniel Boone quarterback Jon Monteiro and wideout Kelly Saylor closed out their spectacular high school football careers last Friday night following their 24-20 loss to unbeaten and state-ranked Manheim Central in the District 3-Class AAA playoffs.
Monteiro, who was 20 of 43 for 194 yards and two touchdowns in the setback, didn't even play two full seasons after missing his entire sophomore year due to an injury and a couple of games the last two years with injuries. But he still finished with a slew of records and among the Top Five in a number of area career passing categories.
He set area records for consecutive games of 100 or more yards passing (17) and consecutive games of at least one touchdown pass (19); most games with three or more touchdown passes (12); and most games with at least four touchdown passes (four). He owns the record for most yards passing in a game (475). On the area's career passing charts, Monteiro finishes third in completions (345), fifth in attempts (597), third in yardage (5,098), and third in touchdowns (62).
Saylor, who didn't catch a pass as a sophomore, closes third in career receptions (105) and fourth in career receiving yardage (1,441). Former St. Pius X standout LeRyan Dallas – who is now fourth in catches (102) and remains third in yardage (1,462) – was Saylor's receivers coach the past two seasons at Daniel Boone.
* * *
The Blazers made their fourth straight appearance in the District 3-AAA playoffs this year and finished 9-3, their sixth straight season of eight or more wins and seventh straight winning season – one shy of the school record set from 1964 through 1971. Head coach Dave Bodolus, who has orchestrated the turnaround, is now 58-24 guiding the Blazers' program in 2003.
Labels: Pottsgrove football, St. Pius X football