It's no time to think Thanksgiving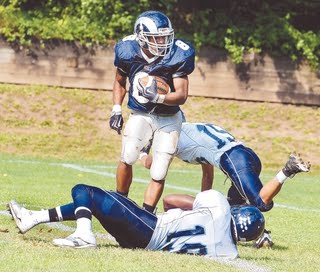 This column was originally published in the Nov. 10 edition of The Mercury.
Tell maw and grandmaw (and pop and grandpop who like to think they're Emeril Lagasse in the kitchen) to hold off exchanging recipes and planning out the Thanksgiving meal. We'll even hold off with our annual sermon about the long and storied Thanksgiving Day football rivalries.
For now that is.
In case you haven't noticed, there are plenty of appetizers as well as main courses on the football menu this weekend.
Appetizers like Boyertown renewing an old Ches-Mont League rivalry down at Great Valley; Methacton taking a ride up Germantown Pike to visit Pioneer Athletic Conference neighbor Perkiomen Valley in a game that ends both of those teams' seasons; Spring-Ford entertaining Upper Darby for the first time in 16 years; and Phoenixville heading down to Kennedy-Kenrick to help close the door on the Wolverines' final season before teaming up with St. Pius X next year at Pope John Paul II High School.
And for the main course?
Friday night's carte du jour…
District 3-AAA playoffs, with Daniel Boone is heading out to Greencastle-Antrim. It's a long, long, long bus ride, but head coach Dave Bodolus sure knows the way and hopes to head home with the same smile he had two years ago after the Blazers upset the Blue Devils, 17-10.
District 1-AAA playoffs, with Upper Moreland visiting Pottsgrove and looking for that elusive first win over the Falcons after losing both previous postseason meetings back in 2001 and 2003; and Marple-Newtown, with head coach Ray Gionta — who knows his way around the area rather well after a few years at Boyertown and St. Pius X — visiting Owen J. Roberts.
Now, if needed, take an Alka Seltzer (or a chill pill), and check out Saturday's brunch specials…
More District 1-AAA playoffs, with Upper Perkiomen traveling to Bayard Rustin, which has gone from a new school with a 3-8 record in its first year (2006) of football, to district champion in 2008, to undefeated and unchallenged defending champion this season.
District 1/12-Class A Sub-Regional playoffs, with Del Val Center coming up from Old York Road in Philadelphia to visit St. Pius X in a match-up of schools that, according to the PIAA, have identical male enrollments (194). For the Lions, it's their first appearance in the postseason in seven years and – win or lose – it's going to be the next-to-last-game at Mich Stadium before the grand finale on Thanksgiving.
Mid-Atlantic Prep League championship, with The Hill School motoring down to New Jersey for its annual brawl with Lawrenceville. The game itself brings out the best in both the Rams and Larries, as most of the previous 106 meetings have (that's right, they've lined up against one another 106 times already). But this one has some added significance because Hill can win the MAPL title outright with a victory.
Who said high school football gets a little boring this time of the year?
Eat it up … but save a little room for next week, and the week after that. There's always that turkey and filling on Thanksgiving anyway.
DETOUR
Forgive Scott Reed if he doesn't care to take his Perkiomen Valley football team over to Bucktown anytime soon. Last year, the Vikings nearly pulled off one of the season's big upsets, coming up a yard short of the end zone with second remaining in a 27-26 loss. Last Friday night, the Vikings nearly pulled off one of this season's big upsets, coming up just two points short of the Wildcats in a 14-12 setback.
The latest loss, of course, hurt even more because it cost the Vikings a spot in the District 1-Class AAAA playoffs' 16-team field. They dropped from a tie for the 15th spot down to 18th. Had they won they would've moved all the way up to 13th and an opening-round game at Downingtown West this Friday.
Not bad, though, not bad at all for a team that lost its entire offensive line from a year ago to graduation and had just one letterman back on offense, and on the other side of the ball returned only four lettermen who were moved around to fit into Reed's new 3-5 scheme.
WHAT A FINISH
Perkiomen School closed with a 24-22 thriller over St. Andrew's – its seventh straight win after a season-opening 19-18 setback to Academy of the New Church. It was the Indians' winningest season in 31 years, or since they went 8-1 in 1978. And that one-point loss to ANC denied them matching the school's only undefeated season of 7-0-1 back in 1946.
After going winless from 1986 through 1989 – losing 33 in a row during that stretch – and mustering only four wins in 27 games the next three years, Perkiomen administrators dropped football following the 1992 season. Seven years later, the program was renewed, and thanks to former head coach Bob Wagner's four straight winning seasons (2000-2003) and current head coach Kevin Manferdini's four (2006-2009), the Indians are over the .500 mark since bringing the game back to Pennsburg.
SIDELINERS
Boyertown has played turnover-free football three times this season and won all three of those games. It's a trend the Bears wouldn't mind matching in their final two games against Great Valley and Upper Perkiomen, which would give them a 7-5 overall record. … Daniel Boone has the area's top two receivers in Kelly Saylor (38 catches, 681 yards) and Tommy Bodolus (33-310), who combined have more yards than any area team and more receptions than all but one area team's entire receiving corps. … Methacton has been hit with as many serious injuries as anyone this year, the bottom line in what has denied the Warriors from putting up their first winning season since going 8-3 in 2000. … Pottstown has the week off, but will host Octorara on Friday, Nov. 20 as a tune-up for its Thanksgiving day finale with OJR.
MOVING UP
OJR junior Ryan Brumfield has become the first area running back to go over 2,000 yards in back-to-back seasons. Brumfield also became just the second area back to go over the 5,000-yard mark in his career and is within reach of St. Pius X graduate Zack Pierce's all-time record. … Daniel Boone senior Jon Monteiro is fourth on The Mercury's career passing chart with 4,718 career passing yards. He only needs three yards to pass Spring-Ford graduate Trevor Sasek, but would need at least two big outings to get by former Daniel Boone standout Chris Bokosky (5,297), and a deep run into the postseason to close in on the area record of 5,844 yards, held by Perkiomen Valley graduate Zach Zulli.
Labels: Thanksgiving football rivalries