Falcons had fans on the edge of their seats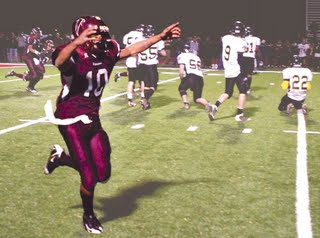 This column originally ran in the Dec. 4, 2009 edition of The Mercury.
PHILADELPHIA — There was little if any excitement in the first 10 weeks of Pottsgrove's football season. Shutting out three opponents and limiting five others to just one touchdown, not to mention never trailing once at the halfway mark of any of those games, doesn't exactly coerce coaches to pace crazily up and down the sidelines or force the fans behind them to fidget in their seats.
The last three weeks…
Well, neither head coach Rick Pennypacker nor any of his assistants have stood still for long (if at all), and their fans have been kind of sitting on pins and needles.
Talk about making up for lost time.
The Falcons have had to come from behind in all three of their playoff games – first against Upper Moreland and then against unbeaten Bayard Rustin for a pair of 21-14 thrillers, and again last week against unbeaten Interboro in a 28-21 overtime gripper.
"That was tense, and I mean tense," Pennypacker said last Saturday night, moments after the Falcons whipped up some momentum late in the third quarter, held it through the fourth quarter, then carried it into overtime to outlast Interboro for the program's first District 1-AAA title.
Pennypacker and his entire staff have indeed had a bit of an anxious look and an uneasy bounce in their collective step since the postseason kicked off back on the second weekend of last month.
Don't expect it to be any different tonight, either, when they make their debut in the PIAA playoffs against Archbishop Wood in a Class AAA quarterfinal showdown here at Northeast High School's Charles Martin Memorial Stadium.
"It has gotten tougher and tougher each week, and we know it's going to be even tougher (tonight)," Pennypacker said. "You may be able to make a mistake here and there (during the regular season) and have it not hurt you. But once you get into the playoffs, one mistake can cost you … cost you the game, end your season."
During the regular season, the Falcons more than made up for any occasional blunder. They opened with two very convincing non-league wins over Pennridge and Wissahickon, then ran the table on their Pioneer Athletic Conference rivals. The spotless 10-0 record earned them a second straight PAC-10 championship and the top-billing for the District 1-AAA playoffs.
But that's all their impressive play earned them.
Upper Moreland put them in a 14-7 hole at the break, but the Falcons took advantage of some of the Golden Bears' mistakes to pull out the win. Rustin – the defending district champions who dizzied every one of their opponents before visiting Pottsgrove – had them trailing 14-13 at the break, but the Falcons stepped up when the Knights lost a fumble and then their poise to pull out the win.
Last week, Interboro capitalized on a couple of breakdowns, mistakes if you will, to take a 21-14 lead at the break. But if there was ever a defining defensive play and defining drive to characterize the Falcons' fight this postseason, it came by way of linebacker Preston Hamlette and their persistent offense. Hamlette sacked Interboro's quarterback on fourth down to end the Bucs' one last attempt to regain the lead. The Falcons took possession with 10:31 left and, despite not finding their way into the end zone, they ate up all but the final three seconds of regulation.
Into overtime they went … with momentum, and a whole heck of a lot of confidence.
It took just two snaps for Maika Polamalu to skirt the right side for the go-ahead touchdown, and four stops on defense – the last being Angelo Berry's knockdown of a pass just inside the end zone – to finally end it.
Ironically, tonight's scrap with Archbishop Wood could likely unfold like the previous three games, even end in similar fashion.
"It should be a pretty exciting game," Pennypacker said.
Yep … the postseason may get a little repetitive in December, but never boring.
* * *
If the Falcons are looking for any additional motivation – or bulletin board material, as they call it – all they have to do is read a couple of the comments about their win over Interboro on easternpafootball.com... which, forgive us, we've cleaned up a bit (spelling and punctuation).
Bob said: "(Archbishop) Wood is going to destroy this Pottsgrove team. Pottsgrove is not good at all, they got lucky. And Terrell Chestnut is overrated."
And FootballFan responded: "It should be Rustin vs. (Archbishop) Wood. That would have been a great game Bob."
Let's see now – Pottsgrove isn't "good at all" and Chestnut is "overrated." Hmmm… Pottsgrove beats Rustin, then beats Interboro. Two straight wins over undefeated teams is lucky? Maybe, then again how often have you heard coaches – in all sports – say they'd rather be lucky than good? And, for the record, Chestnut is either being recruited or looked at by 30-40 Division I-A schools. Could JoePa and some of the best minds in college football all be wrong?
Labels: Falcons, Pottsgrove Falcons