Matters of Heart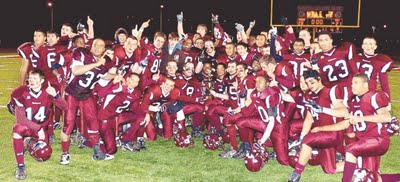 There isn't a soul on the Pottsgrove football team who'll likely forget last week for a long, long time.
No one.
It was emotional chaos … a convoluted mix of joy and sadness, linked by two heartwarming wins on the field and two heartbreaking losses off the field.
It was a week when football, the game the Falcons play with such conviction and with such passion, and life itself, which every teenager way too often takes for granted, were twisted so perversely by an automobile accident that claimed the lives of two Pottsgrove student-athletes.
Coming to school for practice on Monday, despite a few leftover aches and pains from that grueling game with Rustin less than 72 hours earlier, was easy.
Coming to school for practice on Tuesday wasn't.
Instead of looking for all those X's and O's and the plan of attack for their next game just 48 hours ahead of them, the Falcons were looking for one another … for a shoulder to cry on, for a hug of assurance, for hope. Many hadn't slept the previous night, not after hearing about the accident, especially after learning classmates Mike Cantamaglia and Andrew Case had died in the crash.
Cantamaglia and Case were 16 and 17 years old, respectively, like many of them. They were juniors, like many of them.
They played soccer and lacrosse … athletes, like them.
And above all, they were friends.
"(Tuesday) was a very, very difficult day," Pottsgrove head coach Rick Pennypacker said. "We told all of our kids if they couldn't come to practice we'd understand. I think they were all there to start, but it was hard.
"Some broke down during warm-ups, some started crying in the huddles. Some eventually asked to leave, and we had no problem with that. I've been in football most of my life, but I have never experienced anything like that."
By Thursday, the Falcons regrouped.
Whether it was while suiting up in their locker room, on the brief ride to St. Pius X High School, or during the game itself no one knows, but they had developed an indissoluble bond. And it was reinforced the moment the Thanksgiving game kicked off with the stars of Pottsgrove's unbeaten season on the sidelines (because of an agreement by both schools to play only non-varsity starters due to playoff games just two days later).
It was a role reversal of sorts. But the Falcons responded with a collective roar or two when their unsung teammates were on the field, and with words of encouragement when they came off of it.
Pennypacker called the 42-0 win – which gave Pottsgrove its second straight outright Pioneer Athletic Conference championship – "a real team effort." Considering the strength it took for the Falcons to take the field let alone line up and play that morning, few could argue.
The following day, many of the Falcons attended funeral services for Case … regrouped emotionally, then practiced. Early Saturday, many of the Falcons attended funeral services for Cantamaglia … regrouped emotionally, then rode off to Coatesville for the District 1-Class AAA championship showdown with Interboro.
Maika Polamalu's 62-yard run on the second play of the night and Kayvon Greene's 95-yard dash later in the first quarter helped the Falcons focus on the task at hand – beating yet another very physical opponent and winning the district title for the very first time.
However, a wave of adversity – as if the swell that hit them earlier in the week wasn't enough – struck again. First, it was a fumble. Then a few missed assignments, a couple of mental mistakes, a blocked punt… All of a sudden, the Falcons trailing 21-14 and had a listless look to them.
"We were still confident we could come back, though," said senior linebacker Preston Hamlette, who knows a little more about comebacks than most 17-year-olds.
Hamlette suffered what appeared to be a season-ending ankle injury during the second game of the season. Coupled with the strain of helping his mother through her battle with cancer, few expected him back.
He returned just over a month ago, albeit just on defense.
And Saturday night, few had more oomph in that decisive second half – or more of an increasingly confident strut in their step – than Hamlette.
Moments after the Falcons evened it up at 21-21, Hamlette cut short Interboro's attempt to go back in front when he sacked quarterback Brett Creighton for a six-yard loss on fourth down that ended a Bucs' drive that reached Pottsgrove's 20-yard line with 10:31 left. Exactly five minutes later, he strolled onto the field to take a handoff and convert a fourth-and-one. That helped the Falcons run out all but the final three seconds of regulation, force overtime, and survive yet another trying ordeal.
"This win was for (Cantamaglia and Case), this was a win in memory of them," Hamlette said.
No one, perhaps, played with as much emotion – or with as heavy a heart – as Polamalu.
The junior running back went to school with Case at St. Aloysius. Later, they were teammates in the Pottstown PAL youth football program.
"(Case) was one of my best friends," Polamalu said. "It was hard not thinking about him and (Cantamaglia), hard concentrating on football this week. But we dedicated tonight's game to them, in their honor. I wanted to do everything I could for (Case), wanted to represent him as best I could.
"It's been a tough week, a tough week for all of us. What has happened has made us all fight even harder, and I think it's helped make us a better football team."
"These kids are unbelievable, and what they did (last) week was unbelievable," Pennypacker said. "We couldn't be more proud of them."
* * *
Pottsgrove advances into the first round of the PIAA-Class AAA playoffs, taking on Archbishop Wood this Friday (7 p.m.) at Northeast High School in Philadelphia.
OUT WITH A ROAR
It was also a week to remember for St. Pius X football, which hosted its final game at Mich Stadium on Thanksgiving, then played its final game up in Williamstown on Saturday night.
St. Pius will team up with Kennedy-Kenrick next year at the new Pope John Paul II High School in Upper Providence Township.
"It was difficult knowing (Thursday) was the last time we'll be playing here," former Lions head coach Jim Mich – who the field was named after back in 1976 – said late Thursday night.
They had one of the largest crowds ever at Pius last week, and many of those in attendance were there for one reason only.
"For many of us it was our way of saying 'Thank you, coach Mich,' " said Tom Reed, who played for Mich in the early 70s. "Even though the school is closing, I think most of us, whenever we think of St. Pius, will always think of Jim Mich."
Mich also made the long trek up to Williams Valley High School for Pius' state playoff game against Tri-Valley on Saturday night. Despite having almost as many coaching changes as wins in the six years leading up to this season, Mich was one of the biggest supporters of current head coach George Parkinson and never wavered in his support of the kids who played for him.
"What has helped get some of us through (the closing of the school) is the great job coach Parkinson and his kids have done this year," Mich said. "They won a district championship … they brought some pride back to the program."
TALKING TURKEY
It's a shame Thanksgiving Day football isn't quite what is used to be … at least in this area.
Locally, the tradition began back in the 1920s, and even though the smaller schools' rivalries disappeared by way of jointures, there were usually a handful of games to choose from before sitting down with the family to gobble up the turkey, take a short nap, then wake up to watch an NFL game or two on the tube.
It's still easy to remember those 10,000-plus fans who sat in on the Phoenixville-Great Valley game back in 1966; the 10,000-plus who watched Pottstown and Owen J. Roberts epic in 1970; and the 12,000-plus who squeezed into Coach McNelly Stadium to watch the showdown between unbeatens Phoenixville and Spring-Ford back in 1994.
With Pius closing it doors at the end of the current school year, the current Thanksgiving Day card of four games will be reduced to three, and that's only if the remaining three – Boyertown and Upper Perkiomen, Owen J. Roberts and Pottstown, and Phoenixville and Spring-Ford – continue the commitment to their respective holiday series.
Playoffs, of course, have led to the demise of Thanksgiving Day football. And even though statewide playoffs began back in 1988 (thanks to the constant whining of the WPIAL), it took a while – actually increased fields (that's more postseason qualifiers) and additional revenue (that's more money in the PIAA's pockets), to impact Thanksgiving Day football.
For someone who has watched at least one Thanksgiving Day football game every year except for one since 1956, it's still a very special treat, a day to look forward to every season. And the playoffs, well, when nearly everyone is on the edge of their seat for nearly every play, that's a pretty special treat as well.
It's a shame Pennsylvania can't maintain – or protect – the tradition like New Jersey does. Believe it or not, 78 games are played on Thanksgiving Day in New Jersey, where no playoff games are scheduled the entire holiday week.
Labels: Pottsgrove football