Va. champs headed to World Series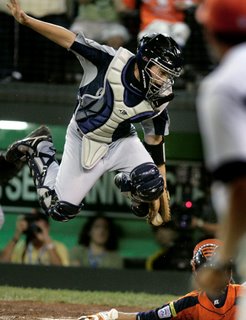 Apparently, the team with the mouths that roar also had the bats that roar … at least when it counted the most.
South Richmond (Va.), which made quite a spectacle of itself last Saturday night at the conclusion of its Mid-Atlantic Regional winners bracket final win over Boyertown, capped a nonetheless impressive run to the title Monday night with a 20-12 rout of Edison (N.J.) here at Shepherd Stadium.
The Virginia state champions bounced back from a humbling 15-4 loss to Edison earlier Monday. And they bounced back in quite an impressive manner.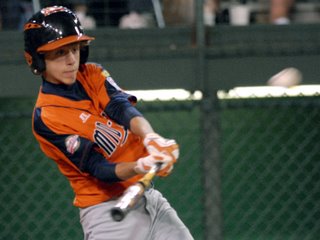 Edison led 8-0 after its first turn at the plate, but watched South Richmond use three big innings – a five-run first of its own and three-run rallies in both the fourth and sixth – to get within 12-11. A single run in the seventh tied it, then South Richmond used two hit-batsmen, one walk and five hits to push across eight runs in the eighth and turn the final into a romp. Blake Hauser's three-run triple and Ryan Parker's two-run homer were the big blows in the burst that came against four of the seven pitchers Edison used in the game. Hauser, the fourth and final pitcher South Richmond sent to the mound, picked up the decision with 2-1/3 innings of scoreless relief.
South Richmond improved to 32-5 and advanced to this week's World Series in Shelby, N.C.
South Richmond's late-game heroics overshadowed a monster regional for Edison's Stephen Nappe, who had four home runs – two in Sunday's elimination game against Boyertown – and a regional-high 16 RBI. … Boyertown's Cody Kulp and Nole Saylor tied Nappe for the long-ball lead with four homers themselves. … South Richmond, which got through the first two rounds with a pair of one-run wins and only outscored its six opponents by a 61-52 margin, had the second-highest team earned run average (8.01) among the final four teams at the regional, topped only by the Anaconda, N.Y. staff's woeful 9.25 mark. … Boyertown, led by Kulp (.474), Shayne Houck (.471) and Ryan Zakszeski (.467), hit only .290 as a team, well below its season-ending average of .382. The Bears' 5.91 ERA at the regional was also double that of their season-ending mark of 2.80. … Next year's Mid-Atlantic Regional shifts west to Morgantown, W.Va.
NORTHEAST
Bristol (Ct.) wasn't such a nice host after defeating Portsmouth (N.H.), 5-4, for its third Northeast Regional title – and first since that last-inning comeback over Spring City in the 1997 showdown in nearby Middletown, Ct.
The Connecticut power, which saw state champion Waterford go out in two straight, got a big week from the R&R Boys – Marco Ross, who hit .522 with 11 RBI, and Mitch Rossi, who was 3-0 and made five appearances on the mound while compiling a 1.06 ERA.
Bristol (35-9), which made its previous World Series appearances in 1984 and 1974, is 2-6 overall in series games.
SOUTHEAST
Sumter (S.C.) denied host Shelby (S.C.) a spot in its own World Series with a come-from-behind 4-3 win over its state rival in Monday's final.
Sumter, the South Carolina state champions, trailed 3-0 after two innings, but got even after five and scored the winning run – an unearned run thanks to the seventh and final Shelby error of the game – in the bottom of the ninth. Matt Talley threw 7-1/3 innings of two-hit, scoreless relief to pick up the decision for Sumter.
Sumter (31-4), with just one previous trip to the World Series, split its four games in 2006.
MID-SOUTH
Jonesboro (Ark.) will make its World Series debut later this week thanks to a very impressive run to the Mid-South Regional title.
Coming off its first state title in six years, Jonesboro recovered from a 13-4 opening-round loss to League City (Tex.) with five straight wins. The last two were on Monday – 7-6 over Tupelo (Miss.) and a 4-1 over League City in the final.
Cade Lynch threw two complete games and allowed just one run for Jonesboro (42-10), which was led offensively by a fella by the name of Ross Smith (.417).
GREAT LAKES
Midland (Mich.) opened with an 8-6 win over Eden Prairie (Minn.) and closed with an identical 8-6 win over DePere (Wisc.) to capture its third Great Lakes Regional championship.
One of the nation's hottest programs with six state titles since 2000, Midland put together 15-1 (over Pennsylvania state runner-up Bradford), 11-1 and 11-2 routs in between those first and last wins en route to outscoring their five opponents by a 53-16 spread. Six starters hit well over .400 for Midland, which finished with a .403 team batting average and 2.51 team earned run average. And if those figures aren't enough, the team committed just one error the entire tournament.
Midland (55-10), which won the 1990 and 1996 Great Lakes Regional titles, is 4-4 overall in its two World Series appearances.
CENTRAL PLAINS
Omaha (Neb.) had been represented in a dozen World Series, and now Post 374 will make it 13 after running the table in the Central Plains Regional.
The Nebraska representatives, with five state titles but no regional championships until Monday's 11-8 victory over Blue Springs (Mo.), put up double figures in the runs scored column five straight days, hit a collective .474, and compiled a 1.62 earned run average in their sweep. Brandon Bass (.667), Steve Jensen (.609) and two teammates were well over the .500 mark, while state-tournament MVP Tyler Niederklein led the pitching staff with a 2-0 mark.
Post 374 (40-16) will attempt to match Nebraska's only other World Series championship – achieved by Omaha Post 1 way, way, way back in 1939.
NORTHWEST
Kennewick (Wash.) recovered from an opening-round loss to Boise (Id.) with five straight wins – the last a 6-3 thriller over the Idaho state champions – to capture third Northwest Regional championship.
The Washington power, which outscored four opponents between the first and last games of the regional by a 54-11 margin, got monster weeks from Eric Yardley (.625) and Max Garrett (.520, 12 RBI) on the offensive end. The five wins were split between five pitchers on a staff that compiled a collective 2.39 ERA.
Kennewick (48-18) has appeared in two previous World Series and had to settle for runner-up honors in both – losing to New Brighton, 11-5, in 1999, and getting blanked by Portland (Me.), 2-0, in 2004.
WESTERN
Las Vegas (Nev.) went into national play with more wins than anyone in the nation, and will take that distinction to the World Series after capping a five-game sweep of the Western Regional with a 7-3 decision of Honolulu (Hi.).
Post 76 committed just five errors, had four regulars hit over .400, and got strong starting pitching as well as four scoreless appearances and three saves from Jeff Malm in the sweep.
Las Vegas has been represented in eight previous World Series, but this will be the first for Post 76 and its eye-opening 70-7 overall record.
SERIES NOTES
Three states - Arkansas, Connecticut and Washington - will be represented in the World Series for the second straight year, but none of the eight teams in Bartlesville (Okla.) last year are back. … Only four teams have won back-to-back series championships – Oakland (Calif.) in 1949-50; Cincinnati (1957-58); West Covina (Calif.) in 1970-71; and Rio Piedras (PR) in 1973-74. … Four other states – Alaska, New Mexico, Vermont and Wyoming – have yet to send a team to the World Series. … This week's showdown in Shelby is the 82nd renewal of the series. It began in 1926 in Philadelphia's Sesquicentennial Stadium (and later renamed John F. Kennedy Stadium). The series wasn't held the following summer because the American Legion National Convention, scheduled in conjunction with the series at the time, was held in Paris, France. There have been no interruptions since. … Friday's opening-round matchups feature Omaha against Las Vegas and Midland against South Richmond in the 10 a.m. doubleheader, and Kennewick against Jonesboro and Sumter against Bistol in the 5 p.m. doubleheader. … Next year's regionals (Aug. 6-10) and series (Aug. 14-18) are both being moved up a week.
Labels: American Legion baseball