Defense lets Bulldogs down in end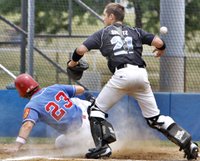 Published in the Aug. 9 edition of The Mercury
BOYERTOWN — NorChester had the emotional umph before a single pitch was thrown, a 5-0 lead and all the momentum imaginable after three innings, and what seemed to be one foot in this afternoon's semifinal of the Pennsylvania American Legion State Tournament.
That's one foot.
Not two.
And that didn't get it done.
There isn't any baseball team anywhere that can hop its way into the final day of a postseason tournament, especially against Boyertown.
So despite a mid-game skip and jump that got them the lead back — if only momentarily — the Bulldogs saw an otherwise superb season end with 12-9 loss to the Bears.
A disheartening setback that left them two mere wins shy of a third straight trip to the national regionals.
"You just can't do what we did, not against Boyertown," said NorChester manager Corbin Stoltzfus. "That was the worst defensive game we've played all year, and unfortunately we picked Boyertown to do it again."
What the Bulldogs did, or didn't do, as Stoltzfus painfully said - was execute in the field.
Six errors, as well as a couple of bobbles that led to extra bases and a couple of misplayed balls in the outfield, helped erase the Bulldogs' 5-0 lead in a hurry. Boyertown would put up at least two runs in five straight innings, from the fourth through the eighth, negating NorChester's 5-0 and 9-8 leads.
And don't think all those mistakes didn't play into the turnaround, either. Of the Bears' 12 runs, only five were earned.
"It just got to be too much," Stoltzfus added. "You are lucky to get away doing the things we did once. But when you do it three or four innings in a row … you just can't do that.
"Boyertown lives on other teams' mistakes. You can't give that team extra outs. You give them opportunities and they will capitalize. Make the mistakes we did and they come back to bite you."
They did at a most inopportune time, of course.
This wasn't supposed to be another summer of playing baseball into August, not with the loss of six players who were pretty much the backbone of the previous two teams that won back-to-back Region Three titles and finished second to Boyertown in the last two state tournaments - here in 2006 and at Spring City a year ago.
"A lot of people questioned us this year," Stoltzfus said. "But these kids battled all year, worked their butts all year. Unfortunately, we didn't play well tonight, but they gave Boyertown everything they had."
The Bears were well aware of what was ahead of them Friday night, too.
Already guaranteed a spot in today's championship after a 4-0 shutout of Plum in Thursday evening's winners bracket final, they were a bit slow getting out of the gate. But once NorChester started to bobble the ball…
"That's Boyertown baseball, how we play baseball," said shortstop Brandon Sullivan, who led the hosts' 14-hit offensive with three singles. "We put pressure on the other team, try to create errors, then capitalize on them.
"Early on I think we were a little lackadaisical. But when (NorChester) starting making those mistakes, well, everyone kind of turns it up a notch and gets the job done."
Boyertown certainly did Friday night.
"Our kids gave me everything they had this season, and they'll be walking out of here with their heads up," Stoltzfus said.
* * *
Overshadowed in the season-ending loss was a perfect 5-for-5 at the plate by the Bulldogs' Tyler Setzler, who also drove in three runs. … Teammate Brandon Engelhardt was 3-for-5 and scored three times. …Stoltzfus wasn't exaggerating when he said his ballclub didn't quit - the Bulldogs managed to load the bases in the bottom of the ninth and had the go-ahead run at the plate with one down, but Bears reliever Cody Kulp got out of it with an infield fly and strikeout.
Labels: baseball, Boyertown Legion, NorChester Legion