One Small wonder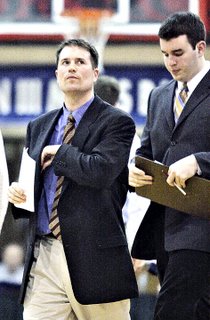 Kevin Small passed on having the spotlight all to himself Tuesday night.
Instead of dressing up in a coat and tie and attending the Philadelphia Area Small College Coaches Association's annual dinner at the University of the Sciences – where he was to receive the Sam Cozen Coach of the Year award – Small stepped into his sweats and retreated to Helfferich Hall to run his Ursinus basketball team through one more two-hour practice.
"Of all the honors, well, this one matters the most because it comes from my friends in the (coaching) profession, my colleagues," Small said. "It carries a very special meaning to me."
But…
"We have some work to do here, though," Small added, pointing toward the nearby Ursinus gym.
Tuesday evening's practice was the Bears' last one at home. They'll get together for another workout soon after arriving at the Salem Civic Center in Salem Va., to prepare for the NCAA Division III semifinal showdown against defending champion Amherst, Mass.
"We can't wait to get down, work on some things, and get ready for Amherst," Small said.
Small was excited.
But no more than he was for the season's first practice back in October. And no more than he was for his very first practice at Ursinus eight years ago.
An assistant for nine years – three seasons each at Haverford (1991-94), Ursinus (1994-97) and Swarthmore (1997-99) – Small was finally a head coach … and just a flip or two of the desk calendar past his 30th birthday.
Ursinus never saw anyone bring as much energy and enthusiasm into its basketball program as Small did, never had anyone as committed to the game and the young men who played it as Small was.
It became evident that first season.
And it's been oh so evident this season.
"We had the youngest staff in the (Centennial Conference) when we first came here," Small said. "I wasn't awestruck, but I knew what I was up against, and I knew it wasn't going to be easy."
Small was referring, of course, to conference coaching legends like Glenn Robinson of Franklin & Marshall, Bill Nelson of Johns Hopkins, Dave Madera of Muhlenberg, and George Petrie of Gettysburg – who he got the best of four times this winter.
"Those guys aren't just good coaches, they are some of the pillars of Division III basketball," Small said.
Perhaps, but it didn't take Small long before he was matching wits – and wins – with the hierarchy.
That first season (2000-01), the Bears won the Centennial Conference's Eastern Division title and advanced to the playoffs for the first time … and they haven't missed the playoffs in any season since.
During the remarkable run, two of Small's teams have posted unbeaten CC seasons. And as good as any may have been, none have rivaled this year's team, which has strung together a school-record 23 straight wins, put together a school-record 29 wins overall, and advanced to the NCAA Division III Championships' Final Four for the first time in 27 years.
And Small, as always, deflects the credit to his players.
"We've just been fortunate to have remarkable kids," Small said. "We prioritize. We recruit kids of good character because we want kids of good character. We want kids who'll put their basketball family first, kids who want to be part of something bigger than themselves."
Those early Ursinus recruits bought into Small's approach.
Those who followed have been an easy sell, too.
"When we first started here we thought we were looking at a five-year rebuilding project," Small recalled. "But in our third year (2002-03), we went undefeated in the Centennial Conference. That was fun … a great year. But it caught us off-guard, to be honest.
"That's when we realized we were fortunate to be getting the kids we were getting here. They all worked incredibly hard. They were selfless. They wanted something."
So did Small. And he's gotten it.
"We're committed to what's in front of us, to improving every day," he said. "We're not about winning, winning, winning.
"If you come here, we want you to be a great student, an engaged student, not someone merely going through the motions. And as a basketball player, we want you to be committed to execution, committed to getting better. If everyone does that, winning takes care of itself."
Few can criticize Small's approach.
Even though he's already the winningest coach in the 92-year history of the Ursinus men's basketball program (145-72), Small again likes to emphasize the achievements of those who play the game – like the 21 who have been named All-Centennial Conference; the six who have been named the CC's Player of the Year; the four who have been named All-Americans; and the two Josten's Trophy finalists (Division III Player of the Year). And he's even more proud of the many players who have been selected to the conference's Academic Honor Roll.
Small is a class act himself while courtside. Three times he has been presented regional sportsmanship awards, and two years ago was presented the College Basketball Officials Association's National Sportsmanship Award.
"But I do this because I have a passion for basketball and I get the opportunity to work with kids," Small said. "I am not employed to go to the Final Four … I am here to work with and mentor kids every day, to inspire them to become better people. That's what is important."
Labels: basketball, Centennial Conference, college, Don Seeley, Kevin Small, March Madness, NCAA, Ursinus, Ursinus basketball