Invitation helps area wrestler step up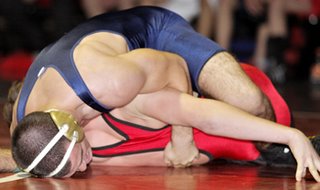 Fifteen area wrestlers had gold medals draped around their necks and bracket posters in their hands last Saturday night. But no one, with the possible exception of Baby Huey look-alike Justin Franiak of Spring-Ford, was beaming more than teammate Matt Patterson.
Even though he's a senior, arguably one of head coach Tim Seislove's most improved Rams since stepping into the practice room three years ago, and one of the anchors in the upper end of the team's lineup the past two seasons, Patterson had never been invited to step up and onto the top rung of any awards podium.
Not once.
Never.
"This is the first time in my life I've won a (wrestling) tournament," Patterson said after sweeping the 160-pound weight class in the District 1-Class AAA Section 4 Tournament at Great Valley High School.
Fourth as a sophomore and third a year ago, Patterson went the direct route this time around with a pair of pins against Downingtown East's Zack Shiner and highly touted Boyertown freshman Zach Heffner to get into the final. And while a narrow 6-5 decision of Kennett's Josh Trykowski may indicate otherwise, Patterson pretty much had his way in the nightcap.
"My friends have these hanging all over the place," said Patterson, holding out his gold medal and bracket poster. "Believe me, I've wanted one for myself for a long time.
"I think back to midgets and remember I'd always get seconds. In junior high school, it seemed like I always finished second behind (Boyertown graduate) Jamie Soupik. Then in high school … well, I finally did it. This feels real good."
About a half-hour later, Patterson was leading the cheers for Franiak, perhaps the unlikeliest champion at the sectional considering he was 0-1 last season and only the fifth seed at 285 for Saturday's affair.
But Patterson, albeit a bit longer, knew how Franiak was feeling after his first tournament win, too.
"I'm just excited," Patterson admitted. "Never winning before has been eating at me since I was 12 years old. This is a personal victory. I finally achieved something I wanted to achieve. It's great."
STRONG SHOWING
The seven area teams at sectionals last week – Pottsgrove and Upper Perkiomen at Section Two; Methacton and Perkiomen Valley at Section Three; Boyertown, Owen J. Roberts and Spring-Ford at Section Four; and Daniel Boone up in District 3's Section Four – combined for the aforementioned 15 individual champions. A more impressive number, though, was their 61 district qualifiers.
Upper Perkiomen and its virtual no-name lineup continued its overachieving late-season run by advancing an area-high 10. Methacton, Boyertown and Spring-Ford each have eight alive, while Pottsgrove, Perkiomen Valley and Owen J. Roberts each have seven, and Daniel Boone has six.
TRIPLE-TREAT
Not three-peat … but triple-treat is what Pottsgrove, Perkiomen Valley and Daniel Boone provided area fans last weekend.
Traditionally, those programs aren't necessarily the most productive at this part of the season. But that sure changed last weekend, and could be an indication of things to come in the near future.
Pottsgrove has never – repeat – never advanced seven to a Class AAA district tournament. Its 12 entries last weekend combined for an 18-18 overall mark, the first time they had a collective non-losing mark in a postseason tournament.
Moreover, 119-pound Zach Robinson became Pottsgrove's first sectional champion in 15 years, or since Brian Shallcross accomplished the feat back in 1993. He also became the school's first freshman to pin down a sectional title and first freshman to win 30 matches in a season. If that isn't enough, Robinson has five teammates – Mike Noto (29), Justin Miklich (28), Matt Michaels (25), Eric Dubree (25) and T.J. Demetrio (23) – still with a mathematical chance of reaching 30 wins, and no Pottsgrove team has had more than one in any season. And, believe it or not, Robinson has three more years to become only the third two-time sectional champion in the program's history, joining Mike Meko (1973-74) and Chris Beasley (1990-91).
Perkiomen Valley, under first-year coach Tim Walsh, is advancing seven to districts for just the second time in its long history. Of those seven, five are underclassmen, which bodes well for the Vikings' future.
REAL WARRIORS
Thanks in part to an OW effort from 140-pound Jonathan Hammond and additional golden finishes by Kevin Boegly and freshman Brandan Clark, Methacton nearly pulled off the big "team surprise" last weekend. Despite dropping three of their last four dual meets – two of which cost them the Suburban One American Conference title – the Warriors bounced back and came within a mere four points of overtaking Hatboro-Horsham in the Section Three scoring.
BOONE BOOMING
The area was well-represented up in District 3 last weekend when Daniel Boone head coach Matt Palmer advanced his six Blazers out of the Section 4 Tournament.
Tyler Swartz (35-3) continued his outstanding season with a gold medal at 285, while Eddie Lockowitz (28-10), Francis Healy (35-7) and Josh Sheriff (33-4) all settled for runner-up honors at 103, 145 and 189, respectively. Tim Hessels (7-4) and Jared Martz (17-14) also medaled by finishing third and fourth, respectively, at 171 and 160.
The six will be at this weekend's AAA Southcentral Regional at the Hersheypark Arena, with the top three in each bracket earning a week of rest and then a spot in the PIAA Championships.
GOLDEN REVIEW
There were 31 returning champions on the District 1-AAA sectional cards Saturday morning, but by Saturday night only 20 duplicated their feats of a year ago. Of the 11 who failed to repeat, six settled for runner-up honors; three more battled back from earlier losses to take thirds; and two others saw their seasons end – one on the mat, the other off because he chose not to remain with his team.
*
Council Rock South (Section One) and Springfield-Delco (Section Five) had the most sectional champions last weekend – five each. The two teams will be part of the District 1-AAA South setting this Saturday.
*
There will be 14 defending champions in the three district tournaments this weekend. Six will be in the Central showdown at Spring-Ford; five will be in the South at Council Rock North; and the remaining three will be in the North gathering at Central Bucks South.
ON THE MARK
Brandywine Heights' 119-pound Matt Yocco strung together three pins – in a total time of 2 minutes and 41 seconds – during last weekend's District 3-Class AA Section 3 Tournament to tie Upper Perkiomen graduate Mark Smith's state record for career falls (124). Yocco will, in all likelihood, break the mark this weekend during the AA Southcentral Regional at Hersheypark Arena.
MOVING UP
Kemmerer (125), a junior, and Hammond (123), Swartz (111) and Owen J. Roberts' Connor McCormick (104), all seniors, head to districts as the area's active career win leaders. … Kemmerer could move into The Mercury's all-time Top 25 with another three wins this weekend. … Hammond moved past John Pagnotta into fourth place on Methacton's career chart and is now tied for third with 2007 graduate Brad Clark, older brother of current teammate Brandan Clark, a 215-pound freshman. Hammond will finish third, as both Jeff Albano's (137) and Dan Covatta's (145) totals are out of reach. … Kemmerer and Hammond were both named the OWs of their respective sectionals on Saturday. … OJR's Will Bentley (96), Spring-Ford's Alan Gauger (93) and Daniel Boone's Josh Sheriff (92), all seniors, are still within reach of the 100-win milestone as well. … Pottstown's Seth Ecker (122), a senior and the only area wrestler over the 100-win plateau, makes his postseason debut Saturday in the District 1-Class AA Tournament at Springfield-Montco.