Baseball loses one of its best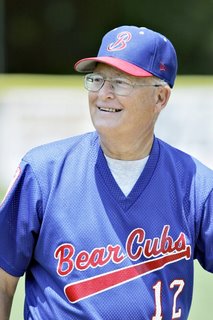 Baseball lost one of its big hitters last week with the passing of Barry Trate.
The kids who play the game lost a great coach, an even greater role model … one of their most loyal fans.
The entire area lost a genuine gentleman.
Yes, Jane Trate did lose her devoted husband of 52 years, and Laurie, Cherie, Marcie and Chris did lose their beloved father. The emptiness, and the heartbreak his passing has created in the family, was oh so evident the past week, as it will be throughout this morning's memorial services.
Time, as so many know, doesn't heal all wounds.
But as Jane and Laurie, Cherie, Marcie and Chris have already heard – and will continue to hear – Barry Trate inspired and influenced so many lives beyond his immediate family. They've heard the stories, some over and over again and, aside of a new one here and there, will continue to hear them for quite some time.
And if they haven't already, will soon realize just how Barry Trate's love of baseball impacted so many youngsters' lives.
"He loved baseball and he loved kids," said Ross "Squiggles" Smith, chairman of the Boyertown American Legion Baseball Committee. "And he loved teaching baseball to kids."
*
Barry Trate fell in love with baseball growing up in Reading and played it as passionately as anyone every spring in high school and every summer for the Gregg Post's American Legion organization. It didn't change while serving with the U.S. Marine Corps – and playing for his unit in Quantico, Va. – either. Then, nearly 50 years ago, Trate brought his knowledge of the game and his uncanny ability to teach it to the Pottstown area.
It would be easy to point a finger toward an entire dugout full of men responsible for revitalizing the game in this area. But Barry Trate would definitely be in there among them.
He got involved with both of Pottstown's Junior and Senior American Legion programs, and no one was more grateful – or expressed their appreciation for what Trate brought to their organizations – than the late Pat Sundstrom and his son Carl Sundstrom.
Trate had to take a few summers off, from baseball that is, because of extensive work-related travel. "I couldn't stand it," he told me years ago.
It wasn't long before his itinerary changed … for good, too.
In 1988, he teamed up with Bob Houck on the Boyertown Bear-Cubs' coaching staff. The following season, after Houck left, he teamed up with Lee Mecherly, and the two were together through last season. In his 19 years with Houck and Mecherly, the Bear-Cubs won more than a dozen Berks County League championships and six Pennsylvania state titles.
Trate was also an assistant under Boyertown High School coach Todd Moyer for six seasons. Most forget he served as an area, district and regional administrator for Pennsylvania Junior Legion, too.
But it didn't matter if he was coaching or administrating, or when and where he was coaching or administrating, Trate didn't miss many games – spring or summer.
"Barry had a great understanding of the game, a real passion for the game," Smith said. "I don't know many people who knew the history of game like Barry did, either.
"He loved the game. He loved to share his knowledge of the game with kids. He taught you to respect the game, too."
Mecherly saw how quickly Trate earned the respect of his players, just 13-15 years of age.
"He was so good, so very good, with the younger kids," Mecherly said. "They liked him, too, and that's important.
"Barry was just a great guy. He's going to be tough to replace. I'll miss him big-time, like a lot of people will."
Among them, Moyer.
"Barry Trate definitely had a passion for the game, but he also understood the game," Moyer said. "It was his passion for the game that drew kids to him and to the game. Barry always had time for them. Whether it was before or after a practice, before or after a game, he'd always be willing to stick around with a kid and work with them individually."
Trate didn't just see baseball as a game with nine-on and nine-off, basepaths, fences and the like…
"It was more than just a game to him," Moyer added. "What upset Barry more than anything was seeing a talented player who didn't spend time practicing or working hard to get better.
"But what he enjoyed more than anything was seeing those other kids … the ones, regardless of how good they were, who wanted to learn, who wanted to play. He loved that. He loved helping them."
Don't think those "kids" didn't learn to appreciate him, either. Every summer, they thanked him.
And there were even a few thirtysome-year-old kids thanking him in their prayers this past week.
*
Barry Trate was inducted into the Pennsylvania American Legion Sports Hall of Fame in 1997, and the Berks County Sports Hall of Fame in 2000 … honors he more than earned.
What Barry Trate didn't earn, or deserve, was cancer.
First diagnosed with prostate cancer 12 years ago, he battled back until being diagnosed with bone cancer last July. Radiation and chemotherapy treatments weakened him, but not enough to keep him away from the ballpark.
He was barely able to get to his seat at last summer's American Legion state tournament at Spring-Ford High School. When asked if he needed anything… well, let's just say all he wanted was a Boyertown win, another Boyertown state championship. A couple of months ago, while lying in his bed in the hospital and asked if he needed anything … well, let's just say all he was interested in was what teams were going to be good this spring in the Pioneer Athletic Conference.
You know, it's a shame the cancer, which he fought so courageously for so long, didn't show up with a bat and ball … because Barry Trate would've beaten it, and not into remission but submission.
Labels: American Legion baseball, Barry Trate, cancer, Pottstown