Wrestling season's biggest challenge awaits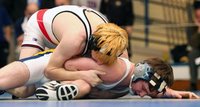 No one had an eye on the clock and an ear glued to their cell phone, but as the four medalists in each weight class stepped up and onto the awards podium during the final hours of the Southeast Regional on Saturday night, four others stepped up and onto their own awards podium at about the same time during the final hours of the Northeast, Southwest and Northwest regionals (just as they did a week earlier at the Southcentral Regional).
The winner was hailed, the runner-up and those other two fortunate enough to survive the grind of the consolation bracket, were acknowledged by a rousing round of applause.
The goal of getting to the PIAA Championships – qualifying for arguably the most physically and mentally demanding tournament of its kind in all of high school sports – was reached.
It was, without question, a memorable moment. And not just for the 14 individual champions, but for the other 42 medalists.
A good time.
But before any of those 56 wrestlers rolled into bed and under the covers for the night, they were well aware that the most imposing challenge of their entire season, if not their career, lied ahead … the state tournament.
So, after sleeping on their victories, their accomplishments of a weekend past, and getting a day to soothe the aches and pains and the bumps and bruises, it was one of those back-to-work-Mondays, or a return to the practice room.
And if the weekday routine seemed a bit difficult from November through February, they discovered it was never quite as intense as it is now, in the three days leading up to that first bout at the Giant Center in Hershey.
Pick it up now or, sometime Thursday, pack it up and head back home.
You see, there are four particular things about the PIAA Championships that, year in and year out, never change. Won-loss records are worthless; reputations are of no value; previous match-ups are meaningless; and, most important, whoever did whatever in the past carries absolutely no weight.
The area's 12 qualifiers will have to deal with and digest those four realities before their openers.
And if you don't think they exist…
At 130 pounds, if Boyertown's Alex Pellicciotti can get past West Allegheny's Zach Kelly, he'll be rewarded with a quarterfinal date against two-time defending state champion and Oklahoma State-bound Jordan Oliver of Easton.
At 135, if Spring-Ford's Ryan Kemmerer can get past Jason Kane of Lower Dauphin, he'll be rewarded a quarterfinal date with returning bronze medalist and the No. 1 or No. 2 ranked (depending on your poll of choice) Dylan Alton of Central Mountain.
At 140, Methacton's Jonathan Hammond opens against returning state runner-up Marshall Peppelman of Central Dauphin, who was upset in the Southcentral Regional final last week.
At 145, Owen J. Roberts' Nick Fuschino makes his PIAA debut against defending state champion Walter Peppelman of Central Dauphin (yep, older brother of Marshall), who had to settle for third place in his regional that featured – and will send to Hershey – undefeated James English, who took down Peppelman in the semifinals and Cumberland Valley's Joe Napoli in the final (and Napoli owns the only other two wins over Peppelman).
At 152, Boyertown's Tim Feroe opens with returning bronze medalist and Southcentral Region champion Mallie Shuster. At 171, Upper Perkiomen's Nick Edmonson takes on two-time state qualifier and Northeast Regional champion Joe Laffredo of Jersey Shore. And at 189, Owen J. Roberts' Scott Syrek – the area's first freshman to qualify at such a high weight – happens to get unbeaten and returning bronze medalist Mike Salopek of Norwin.
At 215, Spring-Ford's Alex Kanakis opens against Northwest Regional champion Glenn Barnes of Central Mountain. And the big boys, 285-pounders Jared Bennett of Upper Perkiomen and Tyler Swartz of Daniel Boone, get just as big as tests. Bennett goes against Mike Horton of Phillipsburg-Osceola, and Swartz opens with returning seventh-place medalist Eric Kush of Chartiers Valley.
That's just in AAA.
It isn't any easier for Pottstown teammates Seth Ecker and Fred Holly in the Class AA bracket, either.
But getting to Hershey is no easy task to begin with. Ask any of those "can't miss wrestlers" – a lot with just as good credentials as those heading there – who are sitting at home this week.
LUCKY 13TH
District 1 has won at least one individual state title the past 12 years. Whether this weekend is the Lucky 13th or Unlucky 13th remains to be seen.
Since 1981, or when the district quietly broke out of its woeful ways in Hershey, it has been blanked in the gold-medal count just four times – in 1985, 1986, 1990 and 1995. In the current 12-year streak, the district has had 24 state champions.
SPEAKING OF STREAKING
Edmonson and Bennett helped Upper Perkiomen extend its area-high streak of consecutive years with at least one state qualifier to 11. Spring-Ford is next at seven straight years, while Boyertown is third at six (as a member of District 1). Methacton and Owen J. Roberts each have qualifiers for the four straight year, while Pottstown's streak in Class AA is now at three.
Bennett also gave Upper Perkiomen a regional champion for the ninth straight year. Head coach Tom Hontz has had 16 overall in that nine-year span.
REGIONAL RECAP
In AAA, the area's 25 regional qualifiers combined for three individual championships, nine state-qualifying berths, and a collective 47-41 record.
In AA, the area's 12 regional qualifiers combined for two runner-up finishes and state-qualifying berths, and a collective 6-22 record.
*
District 1-Central – which includes Boyertown, Owen J. Roberts and Spring-Ford – had the best winning percentage (.521, 101-93) of the three sub-district alignments and tied with the South for the most state qualifiers (20) during last weekend's AAA Southeast Regional.
PREMATURE
Once again, way too many coaches were jotting down their Outstanding Wrestler votes before the AAA Southeast Regional was over. While it would be difficult to go against the selection of Hatboro-Horsham's Robert Gribschaw, one has to wonder how many votes Bennett would have received had everyone waited until the 285-pound final was over.
Bennett did something no one else did the entire tournament by dealing two undefeated opponents their first losses of the season. He beat Marple-Newtown's Pete Massaro, a prized Penn State football recruit, and Abington's David Osei, who was ranked No. 1 in the district the entire season.
The rush to get the ballots in brought back memories of the fiasco at the 2004 PIAA Championships. A lot of writers were asked to get their votes in for the OW award before the 171-pound final had even started. About a half-hour later, Boyertown's Mike Spaid punched up his 12th pin in 13 postseason bouts (the other never started because of a medical forfeit) to complete his run to the 285-pound state title.
MOVING UP
Kemmerer (131) is now tied for 21st place with Owen J. Roberts' Robert Hoffman and Spring-Ford's Matt Moley on The Mercury's all-time win chart. Four wins at states this week would push him past six former standouts and into a tie for 14th place with Upper Perkiomen's Shane Smith. … Hammond (128), who will finish as Methacton's third winningest wrestler, and Ecker (126), who will finish as Pottstown's second winningest wrestler, are 26th and 29th, respectively. … The remaining state qualifiers and their career totals going into Thursday's opening rounds are: Swartz (114), Kanakis (91), Fuschino (a junior with 90), Holly (82) and Bennett (junior with 78), Feroe (junior with 75), Pellicciotti (sophomore with 74), Edmonson (sophomore with 58) and Syrek (freshman with 39).
Labels: Boyertown, Don Seeley, PIAA Championships, Southeast Regional, The Mercury, wrestling