A voice for all time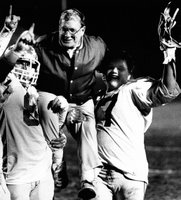 The sideline swagger never changed, nor did the bark.
Before and after every play, from the opening kickoff until the final snap, throughout every win and loss during his 40 years with the Owen J. Roberts' football program, Joe Edwards' intensity never wavered. He'd bend over, a hand on each knee and both eyes focused on the stance of the unsung grunts – the linemen – as well as the stance and positioning of all those linebackers, cornerbacks and safeties behind them … his defense.
From the moment a play unfolded until the whistle blew to end it, Edwards had the knack – or what many felt was a gift – of detecting all who executed and who didn't. And his growl, that hooting and hollering, separated those who did and those who didn't, too.
Edwards wasn't the perfectionist, just a coach with an unselfish objective to make each and every of his players a little bit better than they were, or a little bit better than they themselves thought they could be.
He was no different, though a bit quieter, in his social studies classroom at the high school.
So it was no surprise that Edwards' energy, his undeniable love for the game of football and those who played it, and his passion to teach, are what so many coaches as well as former players and students alike remembered most about him after learning of his death Thursday morning.
"Mr. Edwards was like 5-foot-6 or so … a man of small stature, but a man with such large presence," said Rudy Glocker, a former linebacker-tight end during the Wildcats' incredible run in the 1980s who later played at Penn State. "The one thing about Mr. Edwards was how great he was to kids, kids on the football field and in the classroom.
"He always expected you to do better. He didn't let you settle for a good job because he wanted you to do a great job. He wanted you to do better than even you thought you could do. He didn't let you perform down. He wanted your best, and he was the same in that regard in football and in class."
Tom Barr is one of the very few who played under as well as coached under and alongside Edwards at Owen J. Roberts.
A standout running back with the Wildcats from 1976-78 and later at Penn State, Barr served as OJR's ninth grade coach when Edwards became the head coach in 1991. He later became one of Edwards' assistants for three seasons. Then, when Barr was named the head coach in 1997, Edwards remained on the staff as a volunteer assistant for three seasons.
"Joe's insight and guidance made my transition (to head coach) a lot easier," Barr said. "He really helped me when it came to learning more about opponents, when it came to relating to players as a head coach, and when it came to delegating responsibilities to assistant
coaches. He always wanted to help in some way.
"But the big thing about Joe was how hard he worked to get a player, every player, to reach their potential. He cared about you, about everyone … and that's why he wanted you to become the best player and the best student you could. He worked hard at that because it was important to him."
* * *
Joe Edwards knew a thing or two about hard work, about commitment.
Despite the contention he was too short and too light to play football, he became a standout two-way starter for three seasons (1950-52) at the former Spring City High School. Through the years, former teammates often recalled his intensity, and how his aggressiveness more often than not leveled the playing field against much taller and much heavier opponents.
"Joe was scrappy as nails," said Bob Stipa, two years behind Edwards at Spring City. "He was a good, good football player."
Edwards brought that vim-and-vigor approach with him to his first year of teaching in the Warwick School, which was part of the new Owen J. Roberts jointure, and with him to the football field, where he became a volunteer assistant to Lou Buckwalter.
A few years later, Edwards and the rest of the faculty moved into OJR's new school on Route 23. And when Henry "Hank" Bernat was named the new football coach for the 1960 season, Edwards moved onto the Wildcats' staff.
"When I was named the head coach, believe it or not, Joe was the first person I told," recalled Henry "Hank" Bernat. "I wanted him as an assistant."
Bernat got him and, along with Al Alutius, the three were literally inseparable for the next 31 years, or until Bernat stepped down following the 1990 season.
"We were more than just coaches," Bernat said. "I saw Joe's kids grow up and he saw my kids grown up. We were more than coaches, more than friends … we were more like brothers."
"I still remember our first day of practice, walking down the hill to the (practice) field," Alutius added. "It was just Henry and I because Joe was taking (graduate) classes and couldn't be there. But we met a couple of days later, and ever since did practically everything together, the whole bit.
"We all got along well. It was more than a good friendship, too, because we never ever seemed to have bothered each other at all."
It would be hard to imagine the three not getting a long. For many years, even last fall, they shared a seat next to one another at most of Owen J. Roberts' home games.
"We still enjoyed being together, sitting there watching the games," Alutius said.
The outgoing and oh-so-personable Edwards may have provided the glue that helped keep the friendship intact, too.
Much like his knowledge of the game and his ability to relate to and teach the youngsters who played it helped the Wildcats to so many wins and so many Ches-Mont League championships under Bernat … not to mention the two Pioneer Athletic Conference titles of his own in 1991 and 1993.
"I've told people for years that if you look up the definition of a coach in the dictionary you'll find Joe Edwards," said Rick Pennypacker, who played against Edwards as a standout lineman at Spring-Ford and coached against him as the head coach at Pottsgrove. "In all the years I knew Joe, almost 40 years, I never once heard a person say one bad thing about him.
"Joe epitomized what a coach is, or should be. He was tough, hard-nosed, dedicated. And the most important thing about him was that he was loyal to his coaches and to his school. That was his trademark."
Pennypacker remembered how he first met Edwards, albeit informally. It happened in his sophomore season during the Rams' game against the Wildcats, when Edwards and Stipa – then an assistant at Spring-Ford – exchanged a few words.
"I think back to that now and realize how amazing it is because both of them are two of the five coaches I've known in my life who I grew to love and respect more than any other," Pennypacker said.
Pennypacker, as well as coaches throughout the Ches-Mont and PAC-10, never had a negative word to say about Edwards. For years, they applauded his work ethic and his devotion to the athletes and game … and his knowledge of defense.
"Joe put his time in, and it was all because of his love for the game and all those kids out there," said Bernat.
"And, yes, defense was his forte. He worked at it. He read books, went to clinics, came up with some ideas of his own. He incorporated all of that, and that's why we did as well as we did at times on defense."
Pennypacker recognized that first as a player, then as a coach. Either way, he never found an easy matchup.
"When you played or coached against Joe you knew you didn't have to worry about anything fancy," Pennypacker explained. "But you knew you were going to get hit, and get hit hard from beginning to end. He always had his kids prepared to play."
"I remember telling some of my teammates at Penn State one year that there was only one coach who yelled and screamed more than Joe (Paterno), that he was one of my high school coaches – Mr. Edwards," Glocker said. "They were shocked, but Mr. Edwards did it to motivate you, to make you a better football player. There was never any vindictiveness … only that desire to make you better."
"I always said, and will continue to say, that if there was any coach I would have wanted my kids to play for it would have been Joe Edwards," added Pennypacker. "Believe me, he was the coach every father would have wanted their kids to play for, too."
* * *
After retiring from teaching and coaching, Edwards took over as president of the PAC-10 Football Coaches Association and served as the master of ceremonies of the organization's annual awards banquet until becoming ill last winter.
"Joe just wanted to stay involved with football and with the kids," Pennyypacker said. "He volunteered for everything, did everything, and did everything well. He had a heart of gold. He was a class man, a man we all respected immensely. He touched a lot of lives, and we're all going to miss him."
"Joe was sick, and (his passing) was inevitable," Bernat added. "But it still hurts … really hurts."
Labels: football, Joe Edwards, Owen J. Roberts