Latest crown means more for Speilman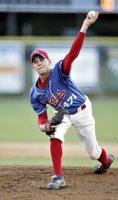 Todd Speilman could've made Boyertown High School's track team Saturday afternoon.
Shame the lil' fella is already in college.
There was no question who was first on the field racing to the mob-like celebration just beyond the second base bag after the Bears won their third straight Pennsylvania American Legion State Tournament championship with a 16-0 rout of Bradford.
This time last year, Speilman missed the last 2-1/2 games of the state tournament in Royersford when he tore his hamstring stretching for a throw at first base. He hobbled out to share in the celebration when that was over. He was also sidelined the following week, and again hobbled out to share in the celebration when the Bears won the Mid-Atlantic Regional in West Lawn. And he was still sidelined and limping when the Bears battled through four games at the World Series in Bartlesville, Okla.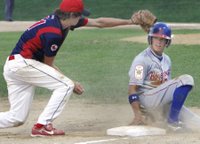 "That just wore on me and wore on me ever since," Speilman said Saturday. "Even when I was up at Alvernia (College) this year, I wanted to be part of that team real bad. But this is where I wanted to be.
"I wanted a state championship, and I wanted to be on the field for it this time. And I wanted to be on that pile out there."
Speilman did his part in helping Boyertown to its third straight state title, fourth in the last five years, and record 21st overall. He had five hits, scored seven times, and knocked across four runs at the plate; pulled in the throws and played errorless ball at first base; and the southpaw walked just one, fanned 10 and had a 2.89 earned run average in 9-1/3 innings of work on the mound.
"Todd is one of the reasons we were able to get through this and win it," manager Rick Moatz said. "Shayne (Houck), Todd, and Nate (Schnell) just threw so well. They were all a big plus for us."
Speilman was having a great tournament a year ago, at least until he tore a hamstring in his left leg while fully extended grabbing a low throw. It occurred in the eighth inning of the winners bracket final against State College.
Sitting out the remainder of the postseason, well …
"I can't even begin to explain how hard that was," Speilman said of being sidelined. "I don't know what to say.
"I know we came out here wanting this. But I don't know if anyone wanted it more than me. I wanted this one real bad."
Trying to inject some sense into Shayne Houck's season isn't easy.
"I guess it is ridiculous," Houck said following Saturday's rout of Bradford and after receiving the tournament's Outstanding Hitting, Pitching, and MVP awards.
Actually, ridiculous may not cover it.
There were a lot of oohs and aahs during last week's Region Two Tournament up in Coplay when Houck hit .625 with five home runs. But jaws were dropping in disbelief this week when he hit an absolutely "ridiculous" .833 (15-for-18) that included four walks, eight runs, four stolen bases, eight RBI, and a 1.111 slugging percentage.
And that doesn't even include his 2-0 record (and one save) and 0.00 earned run average in two starts and 13 innings of work overall on the mound.
"I'm just feeling really relaxed up there," Houck said. "I just have a lot of confidence that whoever is out there (pitching) and whatever they throw I'm going to hit it. I just feel as though I'm going to get a hit."
What Houck has been doing the past two weeks isn't exactly a fluke, mind you. The 18-year-old standout came into the state tournament with a .535 average through 49 games. Saturday, he picked up his 100th hit of the season — that's season, not his career.
"Shayne is just on fire," said manager Rick Moatz. "He's doing just a fantastic job. Sometimes you have to ride the shoulders of a guy who is on hot like this."
Hot?
Has Moatz ever seen anyone so hot?
"Probably not," he deadpanned, breaking into a smile.
Boyertown's 41-game winning streak is believed to be a record for the organization. The team's 53-1 overall mark is believed to be the best of any previous Boyertown team, bettering the 47-1 mark the 2004 Bears ballclub took into the Mid-Atlantic Regional (and the team that finished 54-4 after a fourth-place effort in the World Series).
Ford "Skip" Carnes, Pennsylvania American Legion's state activities director, announced Saturday the state tournament will return to Bear Stadium in 2010. Next year's affair will shift to the western part of the state in St. Mary's.
Labels: American Legion baseball, Boyertown Bears, Todd Speilman