Challenging times ahead for contenders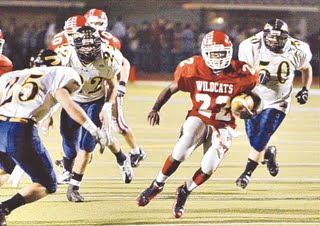 This column originally ran in the Oct. 27 edition of The Mercury.
No one could ever guess the number of times they've heard "when the going gets tough, the tough get going" in their lifetime. It's one of the oldest clichés, if not most unoriginal lines, endlessly quoted by everyone from motivational speakers to sales managers and, yes, even football coaches.
The late Joe Kennedy reportedly preached it to his sons long before they began their political careers; Billy Ocean wore it out the already worn-out phrase as the theme sound for The Jewel of the Nile in 1985; and the line appeared in the popular Hagar the Horrible comic strip a few years back. Heck, even millionaire Baron Marcel Bich gave us a French version of it ("Quand le chemin devient dur, les durs se cheminent") one time.
No one knows for sure if Owen J. Roberts' Tom Barr, Pottsgrove's Rick Pennypacker or Upper Perkiomen's Keith Leamer will be uttering it this week (or next) in their respective locker rooms or not … but they may.
All three of their teams are situated right smack in the middle of a tight Pioneer Athletic Conference championship race, not to mention right smack in the middle of an even tighter District 1-Class AAA playoff chase.
Depending on who does what, of course, the PAC-10 title may not be officially decided until Thanksgiving morning. But who gets into one of those eight
postseason spots will officially be decided this weekend, if not next weekend.
First things first … especially for Barr and his Wildcats.
Owen J. Roberts (5-1, 7-1) travels to Boyertown on Friday, then entertains Perkiomen Valley the following weekend. A win over the Bears would clinch a second straight playoff berth and, in all likelihood, a first-round game on the home turf. And if there are any questions that do remain after that, they'll get answered with a win over the Vikings.
Hey, the Wildcats can tackle a lot of bonus points in these two games – both Boyertown and Perkiomen Valley are Class AAAA rivals with a combined nine wins on their cards. But don't forget OJR has only won three of seven PAC-10 meetings with the Bears, who'll likely be snarling a bit after the stunning setback to Spring-Ford last Saturday. And last season, remember, it wasn't until the final seconds ticked off the clock with Perkiomen Valley inside OJR's 10-yard line that the Wildcats were able to hang on for a 27-26 win and end a three-year skid against the Vikings.
It's just as interesting – or dare we say tough – for both Upper Perkiomen and Pottsgrove.
Leamer and his Indians (4-2, 6-2) haven't come close to beating Pottsgrove the last two times they've met, but they need a win this time around to mathematically remain in the PAC-10 race (and pick up a lot of new friends from OJR), and to hold onto or improve on its No. 6 spot in the district playoff points standings. And next week's visit from St. Pius X won't necessarily be a pleasant one considering the improved Lions have an issue with giving up an average of 42 points in their five straight losses to the Indians.
Pennypacker, of course, is aware that two wins – over Upper Perkiomen and then Phoenixville – will assure his unbeaten Falcons (6-0, 8-0) will clinch no worse than a share of a second straight PAC-10 title as well as the so-called home field advantage for the playoffs. He already knows enough about the Indians, and remembers how Phoenixville, currently as healthy as its been all season, gave up three big plays – and only three big plays – in last year's 21-7 loss to the Falcons.
Neither Barr, Leamer nor Pennypacker ever struggle finding the right words to keep their respective teams on their toes. But they may slip in the old "when the going gets tough" approach sometime this week or next.
At least they'd be telling the truth.
HOME SWEET HOME
There was a time not so awfully long ago when Spring-Ford was hard to beat at home. Even though that has changed a bit over the years, one thing hasn't – the Rams haven't lost a Saturday afternoon Homecoming game (at least since 1990), and it hasn't mattered if they were the top-dog or the underdog.
And have they ever entertained the alumni in the eight games. In 1990 (against Pottstown), 1991 (against Upper Perkiomen) and 2004 (against Boyertown), they came from behind in the fourth quarter of each of those games to pull out a win. Then in 2005, they pulled out an overtime win over Perkiomen Valley. The next three were a little easier to sit through, with winning spreads of three touchdowns or more. But the Rams made up for lost time last Saturday – and had their fans back on the edge of their seats again – by putting together another fourth-quarter comeback (not to mention last-minute defensive stand) to edge the Boyertown, 17-14.
GETTING A KICK
Bernie Roell may be more concerned about Daniel Boone's postseason soccer fortunes right now, but for the first time since the second week of last season he isn't The Mercury's leading kick scorer in football. Don't be too alarmed, he's just a point behind Upper Perkiomen's Matt Kirkpatrick.
It's definitely one of the better seasons for area kickers, though.
Kirkpatrick, who earlier this month set PAC-10 records for the longest punt and best punting average in a game, has given the Indians a big boost on special teams. Roell is still one of the strongest and most accurate placekickers and could well end up on top the scoring board when all is said and done this season. And don't overlook Boyertown junior Aaron Sassaman, who shares the area-high in field goals this fall with three.
But an injury or other setbacks have cost the area two valuable kickers – Methacton's Nick LaPerche and Phoenixville's John McInally. One of the area's best kickers the past two seasons and only a junior, McInally tore his ACL during a soccer game four weeks ago, has been sidelined since, and is scheduled to undergo surgery.
And down at Perkiomen Valley, Justin Morgan continues to boot point after point ever so quietly and, by season's end, may erase the PAC-10 record for career placements.
BIG PLAYS
Pottsgrove quarterback Terrell Chestnut and backs Maika Polamalu, Kayvon Greene and Preston Hamlette have lugged the football a combined 232 times for 2,119 yards and 34 touchdowns. Now that may not sound all that impressive, but it breaks down to this – 9.1 yards per running attempt, and a touchdown every seven carries. That is impressive.
*
Perkiomen School's O.C. Hightower fits in with the big-play crew, too. His last seven carries have covered 218 yards and ended in six touchdowns, and his last eight receptions have covered 220 yards and ended in four touchdowns. In other words, in Hightower's last 15 touches on offense alone, he's generated 438 yards – or 29.2 yards per play – and 10 touchdowns. That certainly qualifies as a "Wow."
Labels: Owen J. Roberts