College coach impacted Bulldogs' early exit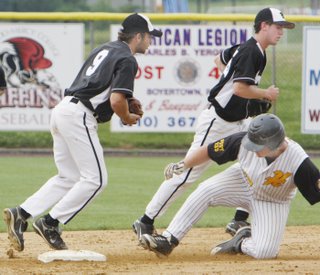 Sixty-four American Legion baseball teams are still playing today and, yes, Boyertown is one of them.
What's new, eh?
Well, NorChester should be one of those 64, too. Problem is the Bulldogs ran into one of the best pitchers in Pennsylvania in the opening round of last week's state tournament, then stumbled through their worst game of the entire summer at the absolute worst time — when they faced off against Boyertown in the next-to-last game of the tournament.
With all due respect to Bradford — which battled all the way through the losers bracket to get into that final game and advance into today's opening round of the Great Lakes Regional — there is no question NorChester was over and above the best team behind Boyertown in the field.
What cost the Bulldogs dearly, or ended their season prematurely, wasn't any error in the field or any error in judgment by manager Cobin Stoltzfus.
Not at all.
What cost the Bullodgs was not having their ace throw one pitch the entire tournament, or the entire postseason, for that matter. He wasn't overworked. He wasn't ailing. He wasn't off on a family vacation, either.
Nope, he was in the dugout with the rest of the NorChester team for the entire Region Three and state tournaments.
The Bulldogs ace was told not to pitch by his college coach (who he has yet to throw even a fastball for). And Stoltzfus was told not to use his ace by that same college coach.
Yet another pathetic example of our "me-me" society today.
And does the selfishness ever get magnified tenfold in the dizzying circle of sports today, too.
Not so awfully long ago, a youngster by the name of Mike Mussina and his Montoursville teammates stolled into Bear Stadium for the state tournament. He had already committed to Stanford University, before he was a first-round draft choice of the Baltimore Orioles. But Mussina had the support of both the Cardinal staff and the Orioles ... and finished his American Legion season with Montoursville.
It was pretty much the same story for a couple of other Stanford standouts Rob Wassenaar of Edina, Minn., and Stan Spencer of Vancouver, Wash. Wassenaar pitched Edina all the way to two American Legion World Series, winning the 1983 national title (over Boyertown) after already committing to Stanford. Spencer pitched Vancouver into the 1987 World Series, even threw in the final (and lost to Boyertown) after already committing to Stanford. Neither was told to shut their arms down those summer. Come to think of it, two of Wassenaar's teammates — Greg Olson and Mike Halloran — were playing after committing to the University of Minnesota.
There were others, too.
One that comes to mind is Brooklawn's Brett Laxton, who pitched the New Jersey power to the 1991 World Series championship in Boyertown and to the final day of the 1992 World Series in Fargo, N.D. ... after having already committed to LSU (where he would become the National Freshman of the Year and later help the Tigers to the College World Series title).
New a few more names, perhaps familiar names?
How about Boyertown's Ivan Snyder (pitching after committing to Alabama), John Ludy (pitching after committing to St. Joseph's), and Greg Gilbert (playing after committing to West Virginia)? And Spring City's Craig Clark (pitching after committing to Penn State) warrants mention, too.
In all fairness (despite hating to admit it), the NorChester ace did pitch in about a half-dozen games early this summer before leaving to complete a class or two at the college. But he returned in time for the postseason ... and was denied the opportunity to pitch.
If the college coach feared his prized recruit was going to get hurt, well, that's part of the game. Heck, getting through each and every day of the week away from any ballpark without getting hurt, sick or whatever is part of life, too. And if being overworked by Stoltzfus was a concern, it shouldn't have been. The Bulldogs manager wouldn't jeopardize any of his ballplayers' health let alone their careers, especially a pitcher who was getting a scholarship to the Division I school and a pitcher who was selected in the Major League Draft. The college coach could've easily put restrictions on the amount of pitches or innings he worked, too, if it was a concern.
Nope ... forget it.
Instead, one of the best pitcher to throw a baseball in this area in a long, long time spent most of his summer watching games instead of pitching in them.
That wasn't fair to him or to his teammates, who battled gallantly and came within one win of playing this week.
But a young man was denied a valuable baseball experience — pitching in big games against good hitters in front of a lot of people — the kind of experience he could've taken to the mound next spring in college.
He was also denied what every devoted youngsters works for, perhaps even dreams of - playing for a state title, or even a national title (don't forget this season's NorChester ball club may have been even better than the previous two that advanced to the Great Lakes national regional).
He was denied that chance.
He was denied memories (and, incidentally, the "denied memories" was an off-the-record comment made by not one or two college coaches, but three college coaches who sat in on last week's state tournament in Boyertown).
Which leads some to wonder what will happen in two, three or four years if the same young man is part of his college's starting rotation or bullpen and gets drafted again ... just as his team is headed for the NCAA playoffs? Will that same coach begrudge the young man if he packs up his gear and heads off to the minor leagues?
Well, here's hoping the young man — as well as his team — experiences all the success imaginable in the ensuing years. It will truly be interesting to see if that aforementioned scenario develops ... to see how that college coach reacts if one of his pitchers is told to shut it down and get to his first professional baseball assignment.
Labels: American Legion baseball, Boyertown, bulldogs, NorChester Legion