Usual suspects lead PAC-10 wrestling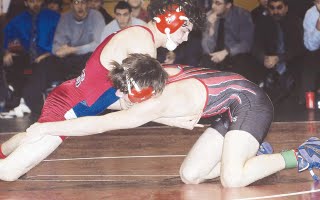 Two full weeks into another wrestling season and, well, it doesn't appear as though much may change locally – in the Pioneer Athletic Conference, that is – or throughout District 1 this winter.
Hopefully it will, because no one would enjoy being wrong more than you know who.
But for now, after a slew of individual and team tournaments, even a handful of dual meets here and there, the cast of contenders seems to be the same ol' gang.
In the PAC-10, there's no doubt Boyertown, Spring-Ford and Upper Perkiomen – three teams that have won or shared the last 15 titles, and 19 of the league's 23 championships overall – are the frontrunners once again. If Methacton and Owen J. Roberts can fill some holes in their respective lineups before the ball drops in Times Square, they could create some congestion among the contenders when they all start wrestling for real, or against one another, in January.
And in District 1, despite the noticeable rise (or actual resurrection) of a few programs in the early going, there doesn't seem to be anyone other than Boyertown or
Council Rock North ready to present a legitimate challenge to Council Rock South or Quakertown – who have accounted for the last three AAA team duals titles. Council Rock South, without Josh Dziewa on the mat, performed rather admirably at the Ironman and King of the Mountain tournaments, unquestionably two of the top high school features in the entire country, and beat Council Rock North in last week's Suburban One National showdown. A move here or a move there was all that separated Boyertown and Council Rock North during the season-opening Brian Bealer Memorial Bear Duals two weeks ago, and there was little that separated those two and Quakertown during this past weekend's Beast of the East. It's hard to imagine anyone in the district faring any better at the Ironman, King of the Mountain, or Beast of the East.
That's for now.
Things can change, and change in a hurry … and, if only for the sake of firing up the competitive juices and creating a bit more drama, here's hoping they do.
*
Individual match-ups, which don't really carry any substantial weight until the postseason, nonetheless could be quite entertaining over the next month and a half.
For starters, there isn't a weight class anywhere – perhaps in any district in Pennsylvania – near as loaded as the 189 bracket. Go pound-for-pound, up and down the docket, and none packs a punch like Council Rock North's Jamie Callender, Springfield-Delco's Andre Petroski, Oxford's Nick Ruggear and Council Rock South's Bobby Lavelle. Callender, Petroski and Ruggear were second, third and fifth, respectively, at the Beast, and Lavelle collected two medals at the Ironman and King of the Mountain.
The district should also get a boost from a solid group of freshmen. Plymouth-Whitemarsh may have the best in Justin Staudenmayer. Among the many others to keep an eye on throughout the regular season are Norristown's Brett Harner, Downingtown East's Alex Wait, Quakertown's Tyler Seislove, and Upper Perkiomen's Wolfgang McStravick.
BEAST NOTES
Boyertown had just one medalist – 135-pound senior Alex Pellicciotti (fourth) – at the Beast. Both of Pellicciotti's setbacks – 5-3 in the quarterfinals and 11-2 in the third-place final – were to No. 5 seed Scott Festejo of Long Branch (N.J.). Matt Malfaro (119) and Zach Heffner (189) both came within a win of the medal rounds for the Bears, who were 30-26 overall in individual bouts. If it's any consolation to head coach Pete Ventresca, 18 of those 26 losses were to seeded opponents. … The Hill School had three entries – Colin Saunders (2-2 at 135), Karl Wiszumerski (1-2 at 140) and Jay Knighton (3-2 at 285) – who combined for a 6-6 mark.
*
District 1 had nine medalists overall at the Beast, led by the aforementioned threesome at 189. District rivals went up against each other in the seventh-place final at both 125 and 145.
*
Blair Academy won its 11th straight Beast of the East team title on Sunday. The Bucs had five individual champions. Blair's Chris Villalonga (140) and Central Dauphin's Marshall Peppelman (160), both of whom have already committed to Cornell, won their third straight gold medals at the Beast. … Wyoming Seminary heavyweight Mike McMullan was named the Outstanding Wrestler, an honor that could've (if not should've) easily gone to Garnet Valley's 215-pound Matt Idelson. McMullan was seeded second, so his effort wasn't all that surprising. Idelson, on the other hand, wasn't seeded. But the junior put up three pins and a pair of shutout decisions to get to his final, where he knocked off No. 1 seed and nationally ranked Nate Gaffney of Connellsville, 6-4.
BERKS BATTLE
The Daniel Boone-Conrad Weiser match has decided the Berks Conference Section Two title the last two years. Their match on Jan. 23 is expected to decide this year's championship, even though the Blazers may have the upper-hand for now considering they crushed the Scouts, 69-9, at the Ephrata Duals two weeks ago.
This past weekend, Daniel Boone was sixth among 17 teams at the Thundering Herd Tournament in Carlisle. Colin Martucci (145), son of former St. Pius X head coach John Martucci, was second, while Sam Batchelor (215) was third. Eddie Lockowitz (103), Liam Gibbons (119) and Nick McGlauflin (171) were all fifth, and Zach Mitchell (125) contributed a sixth for rookie head coach Matt Shutt.
SPECIAL GUEST
Andy Kaul, a 1951 graduate of The Hill School and one of its most successful wrestlers, watched the Blues during the Mercersburg Duals two weeks ago. A three-time national prep champion while at the Hill, Kaul went on to Michigan and led the Wolverines to two Big 10 Conference championships and a 29-6-1 overall record in his four seasons in the program. He was a two-time NCAA All-American, placing four at 137 pounds in 1954 and second at the same weight in 1955.
Labels: wrestling