State berths up for grabs in deep field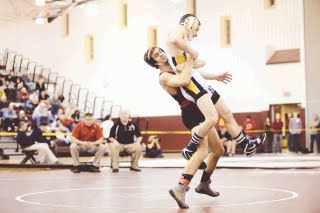 This column was originally published in the March 5, 2010 edition of The Mercury.
NEWTOWN — It's hard not to notice all those big brutes at 215, like Pennsbury's Kevin Bree, Phoenixville's Ken Cenci, Methacton's Brandan Clark, Conestoga's Greg Gruschow, Oxford's Nick Ruggear, Souderton's Joe Stolfi, and Owen J. Roberts' Scott Syrek (listed alphabetically to not only be politically correct but to be out of harm's way).
It's hard not to notice all those mighty mites at 112, like Pennsbury's Josh DiSanto, Tennent's Kevin Flack, Haverford's Joe Jones, Boyertown's Adam Kolb, C.B. South's Mike Mathis, Upper Perkiomen's Wolfgang McStravick, and LaSalle's Bryan Pflanz (listed alphabetically to not only be politically correct but to be out of harm's way).
Actually it's hard not to notice just how loaded up each and every one of the other 12 brackets are for tonight's opening round of the AAA Southeast Regional here at Council Rock North High School.
Many of the 182 qualifiers have seen enough of each other in the past — during the off-season and regular season, as well as in the postseason — to know how one another's minds and moves. In many instances, some of which may unfold this weekend, the only difference between them is who's hot and who's not.
There's been no better example of that than the energized rivalry between Boyertown's Matt Malfaro and Unionville's Joe Bonaduce.
They met five times officially, and Malfaro owns what could easily be tagged as a misleading 4-1 advantage. Malfaro won their first meeting three years ago — 7-2 in the Section Four final — when both were 103-pound freshmen. Malfaro grew a wee bit and Bonaduce grew a whole lot the following year, so they never met. Then last year, Malfaro was in a whole heap of trouble before turning Bonaduce, who was hurt in the flurry and had to default their Section Four final at 119 pounds. The following week, Malfaro confirmed his win was no fluke, although it was by a narrow 10-9 margin in the District 1-South final.
This year? Well, a whole lot of people were itching to see the two go at it again. They did, two weeks ago in the Section Four final.
This time Bonaduce ended his frustration with a no-doubt-about-it, 10-5 decision — costing Malfaro a third section title and, perhaps, some confidence. Or so some would've thought, at least up until Malfaro responded with an equally no-doubt-about-it, 9-1 major in last Saturday night's District 1-South final.
The big question this week has been whether Malfaro (35-5) and Bonaduce (28-6) will get it on for a sixth time in their respective careers … in the regional final, that is.
Of course, neither has an easy route to the final.
Especially Bonaduce. He opens with Upper Moreland's Jake Ellis (28-8), absolutely no slouch. If he passes that test, then there's Bonner's Nick Bongard, who happens to be unbeaten with 20 pins among his 32 straight wins. And should he endure that challenge, Bonaduce would likely see Hatboro-Horsham's Matt Harkins (33-4), the District 1-North champion, in the semifinals.
Malfaro, meanwhile, will wait to see who survives the pigtail and ensuing encounter with Council Rock North's Shane Longstreth (30-11). In all likelihood, Malfaro should get Longstreth, and he'll have an idea how to wrestle him because Boyertown teammate Jeremy Minich is a perfect 5-0 against the Council Rock North junior. That assures him nothing, of course, but a victory would likely earn him a semifinal showdown with C.B. West's Bubba McGinley (33-3), who like Bonaduce, has something Malfaro doesn't – a state medal.
* * *
Malfaro is tied with former teammate Jesse DeWan for second on Boyertown's career win chart with 143 apiece. Alex Pellicciotti is the Bears' all-time leader with 164, a total he hopes to add to this weekend. … Another interesting statistic in the Malfaro-Bonaduce rivalry reveals they have had 15 common opponents during their careers. Malfaro is 20-3 against them, while Bonaduce is 14-3.
FAMILIAR FACES
Qualifiers from the Pioneer Athletic Conference will go head-to-head in three of tonight's pigtail round matches – Methacton's Rob D'Annunzio and Spring-Ford's Chase Brown at 103; Pottsgrove's Denny Gibbons and Boyertown's Peter Jones at 130; and Upper Perkiomen's Dalton Fleming and Owen J. Roberts' Jordan Moser at 152. None have previously met in their careers. Winners advance against their respective bracket's top seed, while the losers' seasons end.
There's also one first-round match-up between PAC-10 qualifiers Tyler Mauger of Boyertown and Brandan Clark of Methacton. The two 215-pounders have never met before, either.
PAC PUNCH
The Pioneer Athletic Conference will have a total of 30 on the mats tonight. Boyertown accounts for exactly one-third of that total, with Pellicciotti (135), Jon Neiman (140), Adam Benfield (145), Brock Hallman (171) and Zach Heffner (189) joining Kolb, Malfaro, Minich, Jones and Mauger.
Upper Perkiomen and Spring-Ford have four each, with the Indians represented by freshmen Dylan Steffenino (103) and Wolfgang McStravick (112), Dan Rodenberger (125) and Fleming, and the Rams represented by Brown, Tom Boring (130), Kyle Duffy (145) and Matt Krueger (160). Methacton and Pottsgrove are next with three each, with D'Annunzio, Dan Cox (189) and Clark accounting for the Warriors' threesome and Gibbons, Zach Robinson (140) and T.J. Demetrio (145) making up the Falcons' threesome.
The remainder of the PAC-10 entourage includes Moser and Syrek from Owen J. Roberts; Gavin Milligan (135) and Lou Fioravanti (285) from Perkiomen Valley; Cenci from Phoenixville; and Will Carter (285) from Pottstown.
FAMILY TIES
Yes, there are still two more Rappos – junior Matt and sophomore Billy – rolling around on the Council Rock South mats. Combined with older brothers Mark (sophomore at University of Pennsylvania), Mike (junior at North Carolina) and Rick (graduate of Penn), the Rappos have combined for 567 wins (including 206 pins) and four state titles. Matt will be going for his 100th career win tonight against either Rodenberger or Conestoga's Ben Hartshorn.at 125 pounds.
The Rappos' four state titles matches the District 1 "family record" set by North Penn brothers Jim and Chris Kwortnik back in the late 1980s.
FINAL APPEARANCE
Jared Robbins, Conor Myers, John Cherneski and Josh Rogers will represent St. Pius X in tonight's opening round of the AA Southeast Regional at Wilson (West Lawn) High School. It will be the final appearance for Pius, which joins up with Kennedy-Kenrick next year at the new Pope John Paul High School.
Robbins (10-9) opens against Hamburg's Jackson Stabile (39-3) at 145; Myers (25-3) gets either Northern Lehigh's Craemer Hedash (26-6) or Boiling Springs' John Riddle (29-15) at 152; Cherneskie (13-17) opens against Eastern York's Robert Aaron Mackley (26-5) at 171; and Rogers (24-5) takes on either Panther Valley's John Schaeffer (24-12) or Schuylkill Valley's Mitch Moll (37-14) at 215.
Pius has never had a regional champion and, since starting its program in the early 1980s, has had just six regional medalists, or state qualifiers – Sean Prawecky (1985), Chris Elphick (1999), Mike Trahey (2000), Zach McCann (2002 and 2004), and Greg Care (2005).
HALL OF FAME
Seven men will be inducted into the District 1 Wrestling Coaches Association's Hall of Fame prior to Saturday night's AAA finals.
They are Lou Delmuto, a Pottsgrove graduate and former assistant coach to current Pottsgrove head coach Jeff Madden when the two teamed up for 17 years at Wissahickon; Tony DeMeno, an outstanding wrestler at Norristown who served 10 years as the junior high school head coach and another 17 as a high school assistant at Methacton; Rich Hahn, who coached at Hatboro-Horsham; Alray Johnson, a Pottstown graduate and longtime head coach at Downingtown; Jermaine Jones, a two-time state champion at Henderson; Joe Krammer, an assistant for 31 years under Chuck Grassano at Sun Valley; and John Lute, former longtime coach at Upper Merion.
No one will likely enjoy the festivities more than Downingtown graduate and 1997 inductee Glenn Koser, either.
Johnson coached Koser when was a state runner-up in 1980 and state champion in 1981. And Koser, shortly after taking over the Henderson program, coached Jones to his back-to-back state titles in 2000 and 2001.