Boyertown to face series of tough tests in Hershey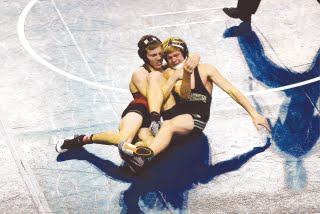 Originally published in the Feb. 12 edition of The Mercury.
HERSHEY — It was mentioned, and it doesn't really matter by whom or how many (or where they said it), that Boyertown was on the "easy side of the bracket" for this weekend's PIAA-Class AAA Team Duals Championships.
Right…
Just like there haven't been any measurable snowstorms this winter.
The mighty matheads must have drifted off for a moment, or gotten stuck in a drift long enough to suffer a brief brain-freeze. Either way, they forgot this is Pennsylvania, where there are absolutely no easy sides in any bracket if you're wrestling here at the Giant Center in February or March.
Yes, the Bears will see either Parkland or Connellsville in this afternoon's quarterfinals. Yes, should they survive whoever provides that challenge, they'll likely get Canon-McMillan in Saturday morning's semifinals. Yes, those three teams don't exactly carry the statewide weight or power appeal as a few situated in the other half of the bracket (namely Central Dauphin, Central Mountain and Easton). But Parkland — which beat Boyertown last month — as well as Connellsville and Canon-McMillan, are all ranked among the Top 25 this season.
That may be one reason why Bears head coach Pete Ventresca changed gears a bit moments after the dramatic, come-from-behind win over Council Rock South in the district duals final last Monday night.
"Our kids worked hard for this (district title), and they know they're going to have to keep working hard with what's ahead," Ventresca said.
What's ahead is being part of arguably the most talented collection of teams ever to assemble in the state duals since they began back in 1999.
Two-time defending champion Central Dauphin is ranked No. 1 in Pennsylvania, No. 6 in the nation. Central Mountain is ranked No. 2 in Pennsylvania, No. 7 in the nation. And you best believe both are every bit as good as those polls indicate. So are the others, like Parkland; Easton — owner of a Class AAA record four state duals titles; Canon-McMillan, Kiski Area and Connellsville, the top three teams out of District 7 with only a daring move or two separating them on any given night; as well as Erie Cathedral Prep; and don't forget District 1 neighbors Council Rock South and Council Rock North, who finished right behind Boyertown earlier this week.
In other words, the Bears are one of a dozen teams loaded for bear.
Boyertown is making its third appearance in the state duals since returning to District 1. Their avid fans would rather forget the first one back in 2005, a one-and-done show following a 37-15 loss to Nazareth. Those same fans, along with a good number of Bears in this afternoon's lineup, wouldn't mind improving a bit on the second one — last year, that is — when they went 3-2, just missed getting into the third-place final and settled for a Top Six finish.
Wrestling their way into the Final Four — whether through the championship or consolation final portion of the bracket — will be difficult even though the Bears are a significantly better team than they were a year ago.
Ventresca has very few noticeable holes in his lineup. The Bears (22-5 overall) pack a punch in the lightweights with Adam Kolb, Matt Malfaro, Jeremy Minich and Peter Jones going from 112 through 130, respectively. Alex Pellicciotti is far and away one of the best 135-pounders in the state, not only capable of going with nearly everyone but producing bonus points as well. Jon Neiman, who has ironed out the football kinks the past month, Adam Benfield, and an improving Luke Hoffman add strength through the middle. And up top, Ventresca has a lot of flexibility with Brock Hallman and Tyler Mauger at either 171 or 189, and with Zach Heffner and Ryan Schwager at either 215 or 285.
Problem is, neither Parkland nor Connellsville have many noticeable holes in their lineups, either.
Parkland (21-2) proved that up close with its 32-30 decision of Boyertown during the Cedar Cliff Duals back on Jan. 2. Mike Fake, who outlasted Malfaro in overtime to provide the decisive points in the last bout, is down at 112; Brandon Davis, who gave Minich a tussle, is down at 119; and teammates Justin Heller, Mike Kistler, Mike Ottinger, Andrew Moore and Wade Rivera – who accounted for five of six straight wins through the belly of the Bears' lineup – are all down a weight class, too.
Connellsville (18-1) thumped unbeaten Hempfield for its section team title and dropped its only match this year, 33-27 to Kiski Area, in the district semifinals. The Falcons boast an outstanding 103-pound freshman in Ethan Kenny; two solid middleweights in returning state qualifier Jesse Swink at 140 and Ethan Saylor at 160; and a very formidable one-two closing punch in defending state champion Nate Gaffney (27-1) and Travis Miller at 215 and 285, respectively.
"Everyone needed to step up," Pellicciotti during Monday night's celebration. "We'll need everyone to step up again this weekend. Every team point is crucial."
* * *
Boyertown has the winner of the Parkland-Connellsville brawl in one quarterfinal, while Canon-McMillan has the winner of the Erie Cathedral Prep-Shikellamy match in another.
The top-half of the bracket is a little more interesting. The opening-round bout between Perry and Kiski Area was snowed out twice and scheduled to take place Thursday afternoon at Fox Chapel High School. The winner will then motor here to take on Council Rock North, and whoever survives that gets the honor of taking on Central Dauphin, heavily favored to capture its third straight team title. Meanwhile, Council Rock South has to deal with Central Mountain – and those Alton fellas – with the winner getting Easton in the remaining quarterfinal.
The second round gets under way at 11 this morning, followed by the quarterfinals at 3 p.m. Wrestle-backs are set for 7 p.m., and pick up again 9 a.m. Saturday. The championship semifinals and final in the AAA bracket are 11 a.m. and 3 p.m., respectively, on Saturday.
NOTES
Connellsville is the only team in WPIAL history to qualify for every District 7 team duals tournament since the event began back in 1979 – that's an amazing 32 straight years. … Gaffney blanked Owen J. Roberts' Scott Syrek, 4-0, during last year's 215-pound state semifinals. … Council Rock South's opening-round rout of La Salle on Tuesday night was its 10th win in state duals competition, tying Upper Perkiomen's total-win mark for District 1 schools. The Golden Hawks are 10-5, Council Rock North is 4-7, and Boyertown is 3-3 overall since the state duals began in 1999.
Labels: Boyertown wrestling