The century's first decade ends with a wild year in local sports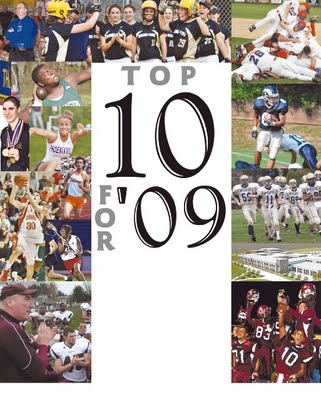 It would've been easy to write the top local sports stories of 2009 were basically a replay of 2008, or any previous year, for that matter. Yes, big plays were made, championships were won, and so on and so on.
Not necessarily.
So, if you wouldn't mind, stop the clock.
Hopefully, before you turned on the television to see all those oblivious-to-winter-weather whacks cuddle up in Times Square just so they could watch that oversized, million-dollar light bulb trickle down the pole and sing Auld Lang Syne; before you hoisted that Diet Coke on the rocks to toast the end of a very, very gloomy year (thanks to the implosion of our economy, all those White House bailouts and the media catching one particular Tiger by the tail); and before you began banging those pots and pans out on the lawn or set off some firecrackers in the backyard to celebrate the arrival of the new year (and refresh our annual financial fantasies of lower taxes, higher salaries and better health care)…
Before all that, we hope you took a moment to reflect on a year of local sports that provided us more than our share of athletes who had everyone sitting on the edge of their collective seats one moment and up hooting and hollering the next with their game-winning shots, their golden splashes in the pool, their sprints to the finish lines, their clutch basehits and game-ending strikeouts, their long runs and perfect spirals into the end zones. And hopefully you took a moment to remember – and thank – those individuals who devoted most if not their entire adult lives enriching our sports community and its history before leaving us in 2009.
Remember last winter … when the Owen J. Roberts boys basketball team defeated Methacton in the Pioneer Athletic Conference's Final Four championship – the program's first title since they put that building up in Bucktown way back in the 50s; when the St. Pius X girls basketball team shot its way to the school's seventh straight district title; when St. Pius' John Hauser swam his way to a gold medal at the PIAA Championships; when Owen J. Roberts' wrestling team defeated Spring-Ford for the first time in 10 years.
Remember last spring … when Spring-Ford's softball team regrouped after the regular season and swung past everyone en route to the district title; when Owen J. Roberts' baseball team knocked Boyertown off its perch for the PAC-10 championship; when Methacton's Wesley Lavong, Perkiomen Valley's Jimmy Tarsnane and Phoenixville's Courtney Kedra strolled into the state's track and field spotlight with golden performances at the PIAA Championships; when it became official the new Pope John Paul II High School – which will bring together students and athletes alike from Pius and Kennedy-Kenrick in 2010 – was approved as a new member of the Pioneer Athletic Conference.
Remember last summer … when Pottstown graduate Regina Oliver helped the U.S. Women's Lacrosse Team win the World Cup; when Boyertown American Legion manager Rick Moatz passed the 1,000-win career mark and his Bears did what no one thought was possible by winning the organization's record 22nd Pennsylvania state title.
Remember this past fall … when Owen J. Roberts' field hockey team held off its Pioneer Athletic Conference rivals for its first title in 14 years; when The Hill School became just the second area football program to reach the 500-win mark, which helped spark the Rams to their very first Mid-Atlantic Prep League championship; when Daniel Boone's football team, finally, after 19 years, beat Muhlenberg; when the St. Pius X football team turned its final season into a most memorable one by winning the District 1/12-Class A sub-regional title and closing with eight wins overall; when Owen J. Roberts' Ryan Brumfield nearly rewrote the area's entire single-season rushing and scoring record books; when Pottsgrove put together a second straight unbeaten season in the PAC-10, beat as well as humbled a rival no one in their right football mind thought they could, and used big play after big play after big play to outlast another in overtime for the program's first District 1-AAA championship.
And remember – among the many who passed away this past year – Ron Nettles, Nick Pergine, Ray Kodish and Bob Eppehimer, four very special souls whose love of sports and devotion to the little fellas and student-athletes who played them (and even to the coaches who guided them) was unwavering.
* * *
The Mercury sports department's Top 10 Stories of the Year:
1. Pottsgrove football: The Falcons won their second straight Pioneer Athletic Conference championship, then went on a dramatic postseason run few will soon forget. They defeated Upper Moreland, 21-14; humbled unbeaten defending district champion Bayard Rustin by the same score; then outlasted Interboro in a 28-21 overtime thriller for the program's first District 1-Class AAA title. Their season ended the following week with a last-minute 30-28 setback to Archbishop Wood in the PIAA Eastern semifinals. Head coach Rick Pennypacker and the Falcons finished with an all-time area record 14 wins.
2. Pope John Paul II High School: They haven't opened the doors yet. That won't happen until next September. But when the official application to join the Pioneer Athletic Conference was accepted, it ended all speculation that the new school – which will combine the current St. Pius X and Kennedy-Kenrick schools – would join the Philadelphia Catholic League.
3. St. Pius X football: Head coach George Parkinson and the Lions made the final football season at Pius a memorable one. The Lions matched their win total of the previous five seasons – six – to get into the postseason. They then proceeded to thump both Del Val Charter (26-14) and Calvary Christian (34-0) for the District 1/12-Class A sub-regional title before coming up short against Tri-Valley in the opening round of the state playoffs.
4. Oliver helps USA to World Cup title: Pottstown graduate Regina Oliver helped the U.S. Women's Lacrosse Team to the World Cup title in Prague, Czech Republic. Oliver, a defender, was named the Player of the Game in a second round rout of Canada, and contributed in the U.S. team's 8-7 thriller over Australia in the championship.
5. OJR boys basketball: Seth McNaughton tossed in 23 points and David Vining added 20 as Owen J. Roberts defeated Methacton, 61-50, in the Pioneer Athletic Conference's Final Four championship – the first boys basketball title in the school's history.
6. Hill School football: The Hill kicked off the season by defeating Germantown Academy for the 500th win in the long and storied history of the school's football program. Head coach Marty Vollmuth's team later swept all five of its Mid-Atlantic Prep League opponents for its first league championship and finish 8-1 overall – the best record in 22 years.
7. State champions: St. Pius' John Hauser is golden in the 500-yard freestyle during the PIAA Swimming Championships at Penn State. A few months later, during the PIAA Track and Field Championships at Shippensburg University, Phoenixville's Courtney Kedra captures the gold in the long jump; Perkiomen Valley's Jimmy Tarsnane sets the pace in winning the 3,200 meters; and Methacton's Wesley Lavong takes the gold in the shot put with a throw of 64 1-1/2 inches, shattering The Mecury area's all-time record.
8. Boyertown Legion baseball: Boyertown may have won the previous three Pennsylvania American Legion state titles, but no one thought a fourth straight championship was possible – not even Rick Moatz, who earlier in the summer won his 1,000th game as the Bears' manager. But Boyertown fans became believers when the Bears bounced favorite Nor-Gwyn, 2-0, behind the combined shutout pitching of state tournament MVP Ethan Moser, Taras Letnaunchyn and Bryer Eshbach. It was the organization's 22nd state title overall.
9. Spring-Ford softball: The Rams did what no team before them did by winning the District 1-Class AAAA title with a 4-2 win over Central Bucks South. Head coach Tim Hughes' team advanced to the state quarterfinals before a narrow loss to Parkland ended their record 22-3 season.
10. Phoenixville boys basketball: The Phantoms were able to keep their District 1-Class AAA championship, but later lost their entire coaching staff. Nearly seven months after their title run, school officials released the head coach and two assistants for recruiting violations. The PIAA suspended all three from coaching anywhere for one year and placed Phoenixville on probation.
Labels: 2009 sports