Honors keep rolling in for OJR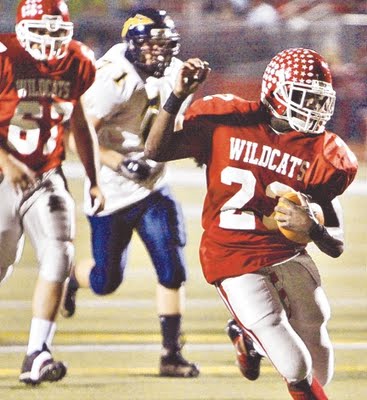 The recently completed high school football season was, in many area fans' minds, one of the best in recent memory.
Five teams qualified for the postseason – Daniel Boone nearly knocked off the team no one dared think could be beaten in the second round of the District 3-AAA playoffs; Upper Perkiomen made an appearance in the District 1-AAA playoffs; Owen J. Roberts ran its way into the District 1-AAA semifinals for the second straight year; Pottsgrove beat a team most picked to win the state title en route to its first District 1-AAA championship; and St. Pius X had a storybook final season by capturing the District 1/12 Sub-Regional title.
If that wasn't enough, two all-state teams – one compiled by sports writers from around the state and the other by the Pennsylvania Football News – featured a combined 14 area players, far and above the most ever recognized in any single season.
And even though the season ended well over a month ago, the credits continue to roll.
This past week, Owen J. Roberts running back Ryan Brumfield was one of 50 players across the nation to earn Old Spice Red Zone Player of the Year honors, and Pottsgrove's Rick Pennypacker was named District 1's Coach of the Year.
Not bad … not bad at all.
The Old Spice Red Zone Player of the Year pro
gram was designed to recognize varsity high school football players who show outstanding athletic performance, strong leadership, and the will to win.
"Ryan's very deserving of the Old Spice honor," said OJR head coach Tom Barr. "He definitely was a big key to our success last season. But he was much more than just the guy who ran for all those yards and touchdowns. I think if you look at the criteria (Old Spice) uses for selecting its players of the year, you get an idea of how valuable Ryan is to our football program."
The Old Spice checklist includes performance in the red zone; leadership that motivates teammates; courage to overcome adversity, determination to persevere; endurance to outplay, outlast and outscore; and tenacity that never quits.
No one could question the 5-foot-8, 180-pound junior's performances, and that was outside as well inside the red zones. He didn't miss a game despite a few nagging injuries, and it wasn't until a few weeks ago – following surgery – that Barr and everyone else discovered he had played in all 13 games last fall with a fracture in his wrist.
Brumfield may have led the area and the entire state in rushing attempts (354), rushing yards (2,717), touchdowns rushing (41), total touchdowns (43) and overall scoring (260 points). Thanks in part to the offensive line in front of him, he set a slew of school, Pioneer Athletic Conference and area records, too.
But it was his drive to get those extra yards and all those touchdowns, and his courage to overcome the nagging injuries and persevere week in and week out, that helped motivate the Wildcats. And his resolve, that tenacity, was revealed in all those carries as well as in his contributions on the defensive side of the ball, all of which helped OJR get into the postseason for the second straight year, and finish with double-digit wins for the second straight year and just the ninth time overall in the history of its storied program.
"I know Ryan, like all of us, realizes a football team is more than just one, two or three players," Barr said. "But he sure was a big part of our success and, like I had said before, is very deserving of the (Old Spice) honor."
Brumfield was one of four Pennsylvania players recognized as Old Spiace Red Zone Players of the Year. The others were Wallenpaupack's Joe Defebo; Dunmore's Michael Perry; and Bishop McCort's Josh Seidel.
* * *
Pennypacker was notified a little over a week ago he was named the Pennsylvania State Football Coaches Association's District 1 Coach of the Year. It was the second such honor for Pennypacker, who previously won the award in 2000.
A 1972 graduate of Spring-Ford High School, where he was a three-time All Ches-Mont League lineman and linebacker, as well as a graduate of West Virginia University, Pennypacker downplayed the recognition.
"To me it's an award for our team and for my coaching staff," Pennypacker said. "It's an award based on the performance of a lot of people.
"I'm humbled, and proud to get (the award), of course. But I'm proud to receive it on behalf of our kids and our coaches."
Last fall, Pennypacker guided the Falcons to their second straight unbeaten run through the PAC-10. In the postseason, they defeated Upper Moreland as well as heavily favored and defending district champion Bayard Rustin, then outlasted Interboro in an overtime thriller for the school's first District 1-Class AAA championship. A narrow loss the following week to Archbishop Wood in the opening round of the PIAA playoffs ended the Falcons' season, but not before they set school and area single-season records for wins (14) and points scored (497).
In his 21 seasons, the Falcons have won or shared a record seven Pioneer Athletic Conference titles and compiled a 127-58-4 mark against league rivals. He is 162-74-4 overall at Pottsgrove and, combined with previous coaching stops in Virginia and West Virginia, owns more than 200 career wins.
NOTES
North Penn's Dick Beck has been named as the head coach for the Big 33 Classic. Beck's staff will include Souderton's Ed Gallagher. The 53rd renewal of the summer all-star event, which features selected graduating seniors from Pennsylvania against their rivals from Ohio, kicks off 7 p.m. Saturday, June 19 at Hersheypark Stadium. … The annual Pennsylvania East-West All-Star Game is held the night before. The East head coach will be led by Downingtown West's Mike Milano, whose staff includes Penncrest's Tom Durant as well as Archbishop Wood's Steve Devlin and Bishop McDevitt's Jeff Weachter.
Labels: OJR, Owen J. Roberts