Storm's a-brewin' one way or other
This column was originally published in the Feb. 5 edition of The Mercury.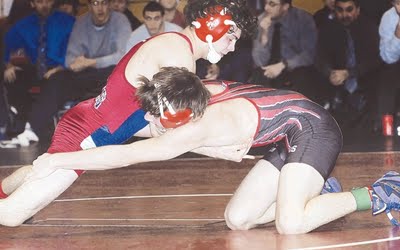 POTTSTOWN — First up is Upper Moreland. Then, of course, either Council Rock North or Henderson.
Boyertown absolutely has an imposing challenge (or two) when the 17th annual District 1-Class AAA Team Duals Tournament resumes tonight at Strom Gymnasium.
Then again, Mother Nature may weigh in with her own lineup of snow — and a lot of it — sometime today and bury the Bears, Owen J. Roberts, as well as everyone else in the field. And that may force district officials to dig out (or dig up) an amended schedule that could possibly lead to the elimination of all wrestle-backs.
A decision will be made 2 p.m. today to proceed with or postpone tonight's card of quarterfinals, semifinals and first-round consolations. If officials are forced to postpone, which they'll likely have to do again on Saturday if the white stuff piles up as forecasted, the entire schedule will be condensed – no wrestle-backs at all – and pushed back to Monday.
In other words, if there is no wrestling tonight or over the weekend at all, Monday's competition will get under way with quarterfinals at 4 p.m., semifinals at 5:30 p.m., and the championship final as well as consolation final (between the semifinal losers) at 7 p.m. Along side those mats will be the Class AA semifinals and final.
And the reason for the hurry-up?
It's called district deadlines. The PIAA state duals begin Tuesday.
Now, if all those fearless forecasters are wrong, Mother Nature takes a twist or turn here and there and only burps instead of blasts the area with another version of winter wonder, they're going to wrestle … and it should be great wrestling.
Boyertown has to be concerned about its quarterfinal meeting with Upper Moreland – a team the Bears defeated 43-25 during the Brian Bealer Memorial Bear Duals on Dec. 12, the opening day of the season — and not look ahead for yet another possible showdown with Council Rock North (which has to deal with Henderson first).
Upper Moreland, seeded 11th, stormed through the first two rounds by defeating Pottsgrove and surprising No. 6 seed Spring-Ford. The Golden Bears are 19-7 overall and the earlier
loss to Boyertown is their only setback to a District 1 opponent this season. They have well-balanced lineup, with seven — Bob Harmon (20-8), Jake Ellis (23-6) and Tim Santry (27-2) down low, Will Dill (22-5) and Max Agasar (21-4) in the middle, and John Bolich (28-1) and James Nicholson (26-2) up top — capable of beating anyone, and putting up big points in the process.
Ellis and Dill were kept in check by Boyertown's Jeremy Minich and Alex Pellicciotti, respectively, during the first meeting, which saw the hosts sweep five of the first six bouts. Upper Moreland would get back in it behind Agasar and both Dan and John Bolich, but Boyertown took three of the final five to secure the win.
"(Upper Moreland) was a good team the first time we saw them, and they're a whole lot better now," Boyertown head coach Pete Ventresca said after last week's first-round rout of Neshaminy.
What Ventresca is hoping for, of course (actually what most district fans are hoping for), is yet another Boyertown-Council Rock North match. Since 2005, when the duals went to a double-elimination format, the Bears and Indians have gone up against each other eight times. Boyertown won the first seven, including a pair in the 2007 and 2009 duals, before Council Rock North ended the frustration with a 34-33 thriller in this season's Bear Duals.
Despite the Bears' domination in the won-loss column against Council Rock North, the average margin of victory in the eight-match series is only six points – a mere move or two.
Owen J. Roberts, meanwhile, will have an even mightier task in its quarterfinal against top-seeded Council Rock South.
The Golden Hawks are 5-2, losing only to District 11's twin towers of power Easton and Northampton. They kept busy in between competing in four very tough tournaments – the Ironman, King of the Mountain, Bethlehem Holiday Classic and their own Escape the Rock. When healthy, head coach Brad Silemperi's lineup has very few weak spots. It features two more Rappos – Billy and Matt – down low; Iowa-bound Josh Dziewa and Matt Martoccio in the middle; and Bobby Lavelle up top.
OJR head coach Steve DeRafelo and the Wildcats got a first-hand look at the Golden Hawks during the Escape the Rock Tournament back on Jan. 8-9.
DeRafelo could only smile when asked how good Council Rock South is … but neither he nor anyone else will be throwing in the towel tonight. The Wildcats (12-6) have their share of headliners in Jonathan Dempsey (112) and Scott Syrek (215). But a large segment of the very young lineup has not only matured of late but shown considerable improvement, notably down low with Peter Fratantoni, Kyle Shronk and Andrew Kinney, in the middle with Adam Moser, Mike Lenge and Jordan Moser, and up top with Sam Funk.
Like DeRafelo said following Wednesday night's win over Pottstown, "This team has exceeded my expectations."
Tonight's other quarterfinals include No. 5 Rustin (8-0), arguably the surprise team of the season, against No. 13 Norristown (12-2), unquestionably the surprise team of the duals, as well as No. 7 Henderson (10-6) against No. 2 Council Rock North (8-2).
Rustin, in just its fourth year of wrestling, is coming off a huge 36-27 decision of Octorara, which opens the District 1-AA semifinals Saturday morning against St. Pius X. The Knights also defeated Henderson, 31-23, two weeks ago. Norristown, under head coach Mark Harner – whose brother Steve led the Eagles to back-to-back AAA duals titles in the late 90s – held off Plymouth-Whitemarsh in its opener and upset No. 4 Quakertown in the second round.
Henderson debuted with a 33-28 win over Ches-Mont League rival Downingtown East, that coming 24 hours after a edge-of-your-seat 29-28 win over the Cougars in their regular-season dual. And Council Rock North, remember, has lost only to nationally ranked St. Mark's (Del.) and its crosstown rival Council Rock South and had very respectable showings in the Powerade, Beast of the East and Escape The Rock tournaments.
Now, if only Mother Nature whimps out, and slips and slides south or out to the Atlantic…
DUAL NOTES
The only two teams remaining in the District 1-AAA field with previous titles are Council Rock South (2007-08) and Norristown (1996-97). … Since the double-elimination format was adopted in 2005, of this year's remaining teams Council Rock South (17-5), Council Rock North (16-6) and Boyertown (13-6) own the best overall records in duals competition.
STATE DUALS
Methacton High School will host two PIAA duals on Tuesday. District 12-AAA champion La Salle, led by ageless head coach Vic Stanley, meets the District 1 runner-up in one, while the District 1-AA champion takes on the District 3 runner-up in the other. Both bouts begin at 7 p.m. … The District 1-AAA champion gets a bye into the state quarterfinals, set for 3 p.m. Friday at the Giant Center in Hershey.
Labels: Pottstown wrestling, wrestling