A weekend to be pleased with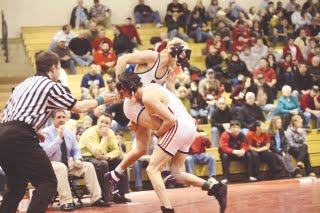 The Pioneer Athletic Conference had a pretty darn good weekend of wrestling. Not bad at all when considering nine of the league's teams – three each in three different sectionals, to be exact – accounted for exactly one-third of the individual titles. Heck, in one section, they went one-two-three in the final team standings. And the one big number that had to hit even the most optimistic fan like an unexpected cross-face was 56, the number of qualifiers the PAC-10 will send into this week's district tournaments.
And if area wrestling needed an additional stamp of satisfaction, it got as much with Daniel Boone up in District 3 and The Hill School at the state prep tournament.
The PAC-10 provided more than its share of surprises.
Individually, none bigger perhaps than Owen J. Roberts sophomore Andrew Kinney's golden effort at 125 pounds in Section Four. Team-wise, it was Upper Perkiomen – lacking its usual punch throughout the regular season because of a wave of injuries that at one point left head coach Tom Hontz with just over a dozen bodies in the practice room – putting out as close to a healthy lineup as it had all winter, finishing second behind Quakertown in Section Two, and advancing 10 to districts – which matched the best anyone did in any of the sections.
There were many inspiring efforts as well.
Like the climb up to the top rung of the postseason awards podium for the first time in their high school careers by Upper Perkiomen's Dylan Steffenino, Pottsgrove's Denny Gibbons and Pottstown's Will Carter in Section Two; by Perkiomen Valley's Gavin Milligan and Methacton's Dan Cox in Section Three; and by Boyertown's Adam Kolb, Kinney and Spring-Ford's Matt Krueger in Section Four.
And while inspiration came from a slew of others, none perhaps as much as from the undersized Tyler Mauger of Boyertown and Lou Fioravanti of Perkiomen Valley – both of whom moved up, not down, in their lineups, went toe-to-toe with heavily favored opponents, and came within a move or two of a gold medal, too. And if there was a David vs. Goliath (without David's heroics, though), it was Spring-Ford's Jason Dombrosky, winless in just two bouts all season, working his way through the 135-pound bracket to the Section Four final, and not backing down against Boyertown's Alex Pellicciotti before getting caught by the four-time champion and becoming his 29th victim via the pin this year.
Fifteen area wrestlers, to be exact, battled their way to the final rounds only to come up short. But they, along with everyone else who survived Week One of Mat Madness, have an opportunity to redeem themselves this weekend at the district's North and South showdowns.
* * *
Daniel Boone may not have gotten the number of District 3-AAA entries head coach Matt Shutt was looking for, but some of his five qualifiers came a long, long way from a year ago to earn a trip to Hershey this week.
Justin Williams, a junior transfer from Conrad Weiser, finished second to Wilson's rugged Jordan Rosa (38-3) at 152; Ken Bock, just 17-16 as a sophomore last season, is 23-9 heading into districts at 189; and junior Sam Batchelor bowed out of sections in a hurry a year ago and finished 8-23, but has more than tripled his win total (26) since his runner-up finish last Saturday.
* * *
Hill School had five medalists in the state prep tournament down at Westtown. Head coach Jesse Young didn't get a champion, but seventh place among more than 20 teams was a step in the right direction for the Blues.
At 130, Jack Sullivan lost to highly-regarded Shawn Amato of Germantown Academy; and at 135, Colin Saunders lost an 8-4 final to Beast of the East champion Simon Kitzis from nationally ranked Wyoming Seminary. Heavyweight Jay Knighton got knocked into the consolations by another of Wyoming Seminary's big boys – eventual champion Mike McMullan (who had two second-period technical falls and an 11-second pin) – and settled for fourth.
But what had Young beaming was a fourth at 140 by Karl Wiszumerski, who was slowed significantly by a nagging injury; and a sixth at 171 by unsung Bob Dougherty, who Young said, "Wrestled the best tournament of his career."
Perkiomen School's Zach Sell, literally the only member of his team with any experience on the mat, came within a win of the medal rounds at 140.
SECTION NOTES
Section Two: Zach Robinson became Pottsgrove's first three-time section champion after his run through the 140-pound bracket. Gibbons, meanwhile, atoned for a pair of 1-2 showings as a sophomore and junior with his golden performance at 130, capped by an overtime decision of defending champion Steve Ferrara of C.B. West. Robinson and Gibbons will be accompanied to districts by T.J. Demetrio (145) and Chris Nester (215)… Carter became Pottstown's first AAA section champion in 21 years, and he'll be joined at districts by Zane Bechtel, who sure got rid of that 0-2 nightmare of a year ago with his third-place effort in the loaded 112-pound bracket. … Upper Perkiomen may not pack the punch it did a few years back, but… of the Indians' 10 district qualifiers only two are seniors, and of the remaining eight exactly half are freshmen.
Section Three: Think anyone should be happier than Perkiomen Valley head coach Tim Walsh? The Vikings, behind the first place from Milligan and two seconds by Vaughn Gehman and Fioravanti, will have eight representatives at districts this week. … Methacton is advancing its lowest number of district qualifiers (three) in 37 years, but all three – unbeaten Rob D'Annunzio, Dan Cox and Brandan Clark – were section champions. D'Annunzio is unbeaten through 30 bouts. The 189-pound Cox, who was at 285 for the postseason a year ago, has won 14 of his last 15 bouts. Clark won his third straight title that, combined with older brother Brad's three, gives his family six consecutive section titles. … Phoenixville's Matt Cermanski has bounced back from a three-bout skid late last month. The junior 140-pounder was second to Norristown's top-seeded Brett Harner on Saturday, and teammate Ken Cenci had to settle for runner-up honors – again, and again by an identical 5-2 score – to Clark at 215.
Section Four: Boyertown may have had 10 medalists and another section team title, but there was a little disappointment in the Bears' den. The day began with senior Ryan Schwager, a legitimate 215-pounder, missing weight at 285 by a mere tenth-of-a-pound. In the finals, Matt Malfaro was denied his third title when Unionville's Joe Bonaduce avenged three setbacks to the Boyertown 119-pounder with a rough-and-tumble 10-5 decision in the most exciting final of the section. Jeremy Minich was also denied a third section title when Kinney avenged last year's two postseason losses to the Boyertown junior with an impressive 7-2 decision at 125. Jon Neiman was denied a chance for gold at 140 when he became ill Saturday afternoon and had to forfeit his final. Pellicciotti is Boyertown's first four-time section medalist in District 1. … OJR is taking nine to districts, the most Wildcats to make that trip in recent memory, and eight of them are underclassmen. … Spring-Ford, which finished third behind OJR and Boyertown in the team standings, also has a young look. Of the Rams' seven district qualifiers, five are underclassmen.
JUNIOR HIGH BASH
Pioneer Athletic Conference schools Spring-Ford, Owen J. Roberts and Upper Perkiomen finished first through third, respectively, at the annual District 1 Junior High/Middle School Tournament last weekend at Quakertown. Pottsgrove (9th) and Perkiomen Valley (12th) also had strong showings in the 26-team field.
Spring-Ford (311.5 points) had three individual champions – Tyler McGuigan (147), Trevor Conover (157) and Mason Romano (252) – and four runners-up and 12 medalists overall. The Rams also had at least two wins each from its remaining four entries. Owen J. Roberts (302) had three individual champions in Derrick Gulotta (102), Colby Frank (117) and Demetri D'Orsaneo (124), with Matt Lenge (140) adding a second among the Wildcats' 14 medalists. Upper Perkiomen's lone champion was Eric Miller (82), but the Indians had eight medalists and got wins from all but two of its wrestlers.
Other area champions were Pottsgrove's Patrick Finn (167) and Perkiomen Valley's Luke DiElsi (187).
BY THE NUMBERS
Pellicciotti's three-bout sweep – all by pins – moved him up to into a tie for fifth place on The Mercury's career win chart with Upper Perkiomen graduate Mark Smith. Both have 161 wins. Malfaro is currently 15th with 139. … Syrek needs three wins this weekend to reach the 100-win milestone.
Labels: wrestling