Finally time for season's third period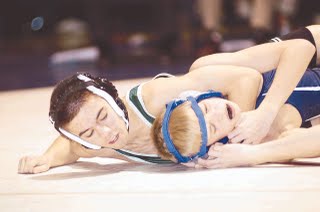 This column was originally published in the Feb. 20 edition of The Mercury.
Wrestling is unique in that it has three seasons. Yep, three … count 'm. Better yet, they're all crammed into a little over three months.
First there's the regular season, when everyone competes as a team in hopes of pinning down a league championship. Then there are the team duals, when the elite go head to head as they shoot for district and state titles.
Then there's the postseason. The real postseason, that is.
Individual sport at its very best.
Mat Madness, if you will.
It's a four-week grind – sections, districts, regionals and states. Four successive weekends that, slowly but surely, separates the best from the rest.
And it all gets under way this morning when 134 area wrestlers representing 10 schools step on the mats to compete in three of District 1-AAA's six sections and one of District 3-AAA's five sections.
Actually, the postseason drama began unfolding Thursday night, soon after the seedings for all the sections were compiled and released to the media. As expected, a few (or more) of the 14 individual weight classes are loaded. So packed, as a matter of fact, a number of high-profile wrestlers – with their collection of medals from here and there and those hundredsome career wins – could conceivably see their seasons end prematurely, if not today perhaps next weekend.
Truth is, nothing comes easy at this point in the season (oops, postseason). There are no shortcuts.
No one discovered that more this past week than Boyertown's Brock Hallman, Tyler Mauger, Zach Heffner and Ryan Schwager, who shared their team's upperweight responsibilities throughout the regular season.
But surprise, surprise – perhaps even more than Lou Fioravanti's big surprise down at Perkiomen Valley – the Bears' fearless foursome are settled in for the postseason.
Hallman, unquestionably the most underrated of the group, will be at 171; Heffner will be at 189; Mauger will shoot all the way up to 215; and Schwager will do his thing at 285.
A senior, the versatile Hallman is 20-14 after competing anywhere from 171 up to 215 this season. Eleven of those losses were against either state and/or nationally ranked opponents – among them defending state champion Marshall Peppelman of Central Dauphin; returning state-runnerup Clint Morrison of Cedar Cliff; state bronze medalist Andre Petroski of Springfield-Delco; returning state qualifiers Tristan Warner of Cumberland Valley and Wade Rivera (twice) of Parkland; a couple of out-of-state studly types like Wayne Young of Camden Catholic and Scott Patrick of McDonough; and Council Rock South's Bobby Lavelle, Plymouth-Whitemarsh's John Staudenmayer and Upper Moreland's John Bolich, three state-ranked rivals from around the District 1 neighborhood.
Mauger (24-9), who has been on a roll since the calendar rolled over in January, was reportedly going to drop to 171. However, he fell to Hallman in wrestle-offs and, with the rugged Heffner (26-7) locked at 189, he had to move up to 215. Needless to say, the junior won't be watching his diet the rest of the winter. Neither will Schwager, who missed a good part of the season because of an injury and could have squeezed into the 215-pound slot but opted to stay up at heavyweight.
But no matter how the foursome lines up, they complement a Boyertown lineup that features 112-pound Adam Kolb; 119-pound Matt Malfaro (30-4) and 125-pound Jeremy Minich (22-4), both of whom are after their third section titles; 130-pound Peter Jones, situated where he should be after being bumped up three weight classes a year ago; 135-pound Alex Pellicciotti (33-3), who should cruise to his fourth straight sectional title; and the overlooked tandem of Jon Neiman and Adam Benfield at 140 and 145, respectively.
Fioravanti, meanwhile, spent his entire sophomore year at 215 and was there again for 22 of his 28 bouts this year. But with 215 literally bursting at the seams with proven talent this winter – like returning state-medalist Scott Syrek of Owen J. Roberts and highly regarded Brandan Clark of Methacton, both of whom dealt Fioravanti losses this season – the junior opted to move up to 285.
Some other local notes of interest heading into this morning's opening rounds:
SECTION TWO
Pottsgrove picked up two top seeds in Zach Robinson, who is trying to become the school's first three-time section champion, and Danny Michaels, both juniors at 140 and 160, respectively. Robinson (25-3) is currently tied with Mike Meko (1973-74) and Chris Beasley (1991-92) as the only Falcons with two section gold medals. Gold has eluded Michaels, who has battled back to be a two-time regional qualifier. … Teammates Denny Gibbons (19-5) and T.J. Demetrio (19-4) are both second seeds at 130 and 145.
Pottstown's Will Carter (22-3) is the second seed at 285. Among the other Trojan hopefuls are fourth seeds Zane Bechtel at 112, Trent Clifford at 125, and Dan Yauger at 171. Ricardo Gonzalez, one of the area's most improved wrestlers from a year ago, is seeded fifth at 160, as is James McKinney at 140. … Pottstown, which spent more than 15 years in Class AA, hasn't had an AAA section champion since 1989, when Chris Ruyak, Larry Wallace, Frank Stebman, Tom Medvetz, Brian Campbell and Job Price were golden in leading the Trojans to the Section Four team title.
Host Upper Perkiomen is the healthiest it's been all year, according to head coach Tom Hontz. The Indians have a formidable foursome of their own from 103 through 125 with freshmen Dylan Steffenino (23-5), Wolfgang McStravick (25-4) and a fresh Avery Scripture (3-2), along with junior Dan Rodenberger (16-5) – the team's lone No. 1 seed today. Martin McStravick (4-2) has also returned to the lineup at 135, and Nick Hale, who was fourth as a freshman and sophomore, is determined to add to that total after missing last year's postseason.
SECTION THREE
Host Methacton is bottom and top heavy, its only No. 1 seeds coming from unbeaten Rob D'Annunzio (27-0) at 103 and Clark (25-3) up at 215. Two others, Pat Carr (24-7) and Eliot Reisz (22-8), drew the second seeds at 145 and 171, while Dan Cox (22-6) is third at 189. … The Warriors will go without a heavyweight.
Perkiomen Valley's lone top seed is 135-pound Gavin Milligan (18-5), who finished second at both sections and districts a year ago and came oh so close to qualifying for states before splitting his four regional bouts. Fioravanti is a second seed, while Vaughn Gehman (22-8), another section runner-up a year ago, is third at 145. … Sophomore Justin Beitler (8-5), who was hurt in the semifinals of the season-opening Southeast Classic and didn't return until Jan. 22, is a very dangerous fifth seed at 112.
Phoenixville's Matt Cermanski (140) and Ken Cenci (215) are both looking to settle a score after finishing second at least year's sectional. Cenci eventually worked his way to regionals. … The Phantoms, with no one at 160, feature five freshmen, three sophomores and five juniors in their lineup.
SECTION FOUR
Boyertown had eight medalists last season, but for the second straight year finished second in the sectional team standings. Prior to that, the Bears had won an incredible eight straight section titles – the previous five in Section Four, and the three before them in District 3 (Section 3).
Owen J. Roberts, coming off its best regular season in recent memory, have six of last year's medalists back – runners-up Jonathan Dempsey (at 112) and Andrew Kinney (125); third-place finishers Sam Funk (189) and Syrek (215); and fourth-place finishers Jacob Schell (135) and Jordan Moser (152). Syrek was second and Moser fourth as freshmen two years ago. … OJR will be without a heavyweight today.
Spring-Ford's Matt Krueger (22-6) dropped to 160 and picked up the No. 1 seed. Krueger was third a year ago, matching the finishes of teammates Tom Boring and Kyle Duffy, who drew the second and third seeds, respectively, at 130 and 145. … The Rams will be without a 119-pounder today.
DISTRICT 3, SECTION FOUR
Daniel Boone will have its collective hands full at Governor Mifflin today. The Blazers, in a field highlighted by District 3-AAA Team Duals qualifiers Cocalico and Wilson, should also get a challenge from a few of the host Mustangs.
The Blazers' hopefuls include No. 1 seed Sam Batchelor (24-10) at 215, as well as second seeds Eddie Lockowitz (23-7) at 103 and Colin Martucci (25-3) at 145, and third seed Kenny Bock (23-10) at 189. … Martucci is the son of former St. Pius X head coach John Martucci.
BLAST FROM PAST
Fifty years ago, or back in 1960, North Penn's Pat Frederick, Pennsbury's Roger Sanders and Upper Darby's Dick Hamilton became District 1's first three-time section champions. … Frederick actually never made it to states. Sanders didn't qualify for states, either, but was an NCAA Division II national champion at 157 pounds for then West Chester State Teachers College in 1964. Hamilton won three district and two regional titles and was the state runner-up in 1960.
SECTION HISTORY
District 1's section format began in 1957 and ran through 1960 as a two-section (Suburban and Lower Bucks) alignment. Upper Darby and Lower Merion, with 11 and seven gold medalists, respectively, dominated the Suburban Section during that period. Pennsbury had 16 as the power in the Lower Bucks Section. … Upper Darby and Pennsbury, along with Lansdowne-Aldan, were the only schools to have at least one section champion in each of those first four sectionals. … From 1961-1970, the district had four sections, expanded to eight sections from 1971-1973, then adopted the current six-section format in 1974. … District 1 actually had to go to two sections in Class AA on eight occasions (1974-77, 1980-82, and 1991). Pottstown (six), Pottsgrove, Perkiomen Valley and St. Pius X accounted for all but two of the gold medals in one 1991 sectional, while Oxford (10), Avon Grove (two) and Octorara (one) grabbed all the gold to themselves in the other 1991 sectional. … The Top Five schools with the most sectional champions in District 1 are Upper Darby (145), Springfield-Delco (140), Ridley (130), and Conestoga and Pennsbury with 127 each. Neshaminy actually has had 139, but 36 of them were split between Maple Point (22) and Langhorne (14).
Labels: wrestling