Exemplary quartet continue Pius' farewell tour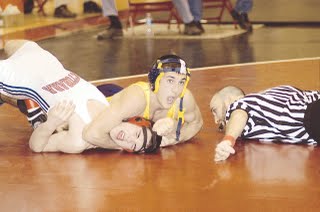 This column originally ran in the March 3, 2010 edition of The Mercury.
LOWER POTTSGROVE -- The last-this and last-that stories at St. Pius X may be getting a little old to folks not associated with any of the Lions' athletic programs. But for the senior student-athletes and their coaches, as well as for so many of the school's loyal alumni, it's been difficult counting down the final weeks of the various teams' seasons.
It was last fall.
It certainly is right now.
And, without a doubt, it will be even more difficult this spring, when the final log in Pius' long and storied sports history is entered into the books and the doors close for good.
Tuesday night, Randy Reber and his boys' basketball team took their first shot at yet another district title, which Joe Masleh and his girls' basketball team sure hope to do tonight … keep that ball bouncing, play for another day, add a few more plaques to the trophy case, enrich the tradition. And fortunately for Reber, Masleh and their respective teams, the "Pius Pack" – that earsplitting posse of Lions fans – was and will be behind them as always.
Friday night, Mark Houseal and his four wrestlers – Jared Robbins, Conor Myers, John Cherneskie and Josh Rogers – unfortunately won't hear much of anything other than an occasional howl or encouraging word from mom and dad when they're on the mats during the AA Southeastern Regional up at Wilson in West Lawn.
But it's OK. The foursome, like most before them, have wrestled in, accepted and endured the relative obscurity.
It's pretty much been that way since Vince Leskusky Sr. rolled out the first mats for a band of inexperienced but interested wrestlers 27 years ago. Others, like Bill Furlong, Anthony Ciarello, Harry Bloom and John Martucci gave the program their all, as Houseal has the last two seasons. But without a youth program, a legitimate and consistent feeder program, wins have been the exception rather than the rule.
There have been no Ches-Mont League or Pioneer Athletic Conference titles to speak of, but that District 1-AA Team Duals championship banner hanging in Father Doyne Hall is hard not to notice. The list of individual postseason honors is noticeably short, with only 23 district champions – seven of which are owned by three Pius graduates.
But it's OK.
At Pius they continue to wrestle … and wrestle with pride.
Like Robbins, Myers, Cherneskie and Rogers – arguably the most extraordinary group of postseason hopefuls Pius has ever sent onto the mats.
Robbins is in just his second year of wrestling. He's missed a good part of both regular seasons with a knee injury, which he aggravated again during last week's district semifinals. He came all the way back to take third, thanks in part to a five-point move that erased a three-point deficit with less than 12 seconds remaining in one of those consolation bouts.
Cherneskie never wrestled before … ever. Houseal calls him a "sponge" because he absorbs everything he's taught. That was evident last weekend when he upset the No. 1 seed in his 171-pound bracket and bounced back from a narrow two-point loss in the semifinals to take third.
Myers has made as big a turnaround as anyone – perhaps in all of District 1, too. He broke a team rule last year, which Houseal noted he took full responsibility for, and didn't participate in the postseason. But he came back this season focused, and considerably quicker and stronger. He's lost just once since last December and is 25-3 and a district champion now, hard to believe when considering he was just 3-19 as a freshman and 16-16 a year ago.
Rogers may epitomize Pius wrestling. The 215-pound senior has an unwavering work ethic, on and off the mat, just as he does during the fall with football and during the spring with track. The determination and the drive to get better is why Rogers has gone from 6-23 and 13-16 during his freshman and sophomore seasons to back-to-back 25-bout win seasons, the latter of which includes last weekend's district title. He's 25-5 right now, and all five of those losses were to either district- or state-ranked opponents.
So Robbins, Cherneskie, Myers and Rogers don't really need to hear how the wrestling deck is stacked against them this week. They've heard it all year.
They may or may not have heard that Pius has never had a regional champion. They may or may not have heard that Pius has had only six state qualifiers. They may or may not have heard that none of those six ever won a single bout out in Hershey.
But they sure would like to change all of that … extend the season at least one more week.
"This year has been special already, and I couldn't be more proud of our team," Houseal said. "I'm only 25 (years old), and having two district champions and two other medalists up on that podium last week was a special feeling. I felt like a proud father.
"We celebrated. But then we went back to work Monday. We'd like to keep this going."
And make the last year of wrestling at St. Pius X a little more special.
*
Robbins will open against Hamburg's Jackson Stabile (38-3) at 145. Myers gets a bye, then either Northern Lehigh's Craemer Hedash (26-6) or Boiling Springs' John Riddle (29-15) at 152; Cherneskie debuts against Eastern York's Robert Aaron Mackley (26-5) at 171; and Rogers, who also gets a bye, takes on either Panther Valley's John Schaeffer (24-12) or Schuylkill Valley's Mitch Moll (37-14).
*
Schuylkill Valley is the favorite to defend its AA regional title. The Panthers' punch is led by Nate Giorgio (40-4) at 112; Mike Giorgio (38-10) at 125; unbeaten defending state champion Colin Shober (46-0) at 140; Noah Horst (37-10) at 145; and Dylan Scheidt (38-3) at 189.
AAA NOTES
District 1's North and South tournaments wrapped up Monday with the conclusion of the consolation bouts that couldn't be held last Saturday evening due to certain wrestlers already reaching the maximum of five bouts in one day. Officially, Council Rock South (140.5) and North (110.5) finished one-two, with Upper Perkiomen closing a strong sixth (67) up North. Boyertown, which will advance all 10 of its district qualifiers into this week's regional, nearly doubled its nearest rival in the South. The Bears piled up 164.5 points, while runner-up Haverford – in its strongest showing in recent memory – was a distant second with 89 points. Spring-Ford finished fifth (68).
Labels: St. Piux X wrestling