Quartet must survive brutal test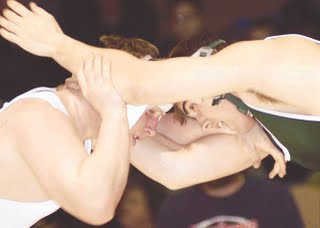 This column was originally posted in the Feb. 26 edition of The Mercury.
Nowhere to run, nowhere to hide…
Odds are neither Methacton teammates Dan Cox or Brandan Clark, Boyertown's Zach Heffner, nor Owen J. Roberts' Scott Syrek ever heard Martha and the Vandellas' lasting line from their signature song back in 1965. Heck, their own parents may not even be old enough to remember the classic.
But the four fellas sure could've hummed a few bars this week as they prepared for their respective District 1-AAA North and South tournaments on Saturday.
Cox and Heffner are two very good 189-pounders in stacked brackets on both the North and South dockets. Clark and Syrek are two very good 215-pounders in stacked brackets on both the North and South dockets.
In other words, or as ol' Martha and the gals crooned, there's nowhere to run, nowhere to hide … not if any of them hope to finish among the top five in their weight classes this weekend to strut into next weekend's Southeast Regional.
"In a lot of your matches during the season, you can afford to make a mistake here and there and still manage to win," Syrek explained. "Now, everyone is pretty tough. You can't make even one mistake against these guys."
Especially the guys Cox, Heffner, Clark and Syrek are going to go toe to toe with Saturday.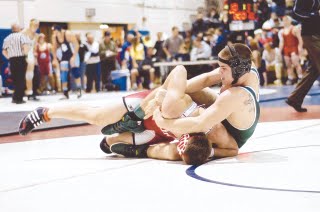 Cox (26-6) has, most notably, nationally ranked Jamie Callender (32-1) of Council Rock
North to deal with up North. And then there are, among others, Souderton's Robert Smothers (27-3) and Plymouth-Whitemarsh's Sam Morrison (29-4), who would like nothing than to avenge last week's setback to Cox in the Section Three final.
"I'm right where I want to be, but I want to finish strong, too," said Cox, who is 18-3 – with all three losses by a combined four points – since Jan. 1. "I'm not really intimidated (by the big names in his bracket). I just have to go out and do what I need to do. When everyone is this good it comes down to who wants it more, who is willing to go harder, who is going to wrestle all six minutes.
"I try to look at everything as a positive. I don't look at everyone else and think I'm in a stacked weight class. I look at it as a great opportunity for me."
Heffner (29-7) may not have to deal with as many distinguished dudes down South, but there is Springfield-Delco's Andre Petroski (30-1), nationally ranked as well whose only loss was to Mike Evans, the brute from Blair.
"I'm just taking one match at a time," said Heffner, who has swept 15 of his last 16 bouts. "I'm kind of looking ahead because it's hard not to. But you really can't do that."
And if Heffner needed a late-season wake-up call to remind him of that he sure got one back on Jan. 27 … in a 6-5 loss to Clark during their teams' Pioneer Athletic Conference dual.
"After that loss I came home, sat down at my computer and came up with a motivational thing (or two) for myself," Heffner explained. "I look at it every morning and use it to motivate me, to remind me I have to finish every match; that I have to go the full six minutes every match."
But even as good as most are at 189, the cast is even more distinguished at 215.
Up North, Clark (28-3) will have to contend with Souderton's Joe Stolfi (28-2), Pennsbury's undefeated Kevin Bree (25-0), and PAC-10 rival Ken Cenci (24-8) of Phoenixville, among others.
"Stolfi, Bree and everyone else are tough opponents," said Clark, whose three losses have all come in overtime – two to Syrek and the other to state-ranked Brook Gosch of Blue Mountain. "It's definitely more of a challenge. But I just have to take it one match at a time and wrestle my match.
"I've never seen Bree (wrestle). Stolfi is a quick 215-pounder. And Syrek is one of the best 215-pounders, so he's been great preparation for this. But I'm not intimidated at all. I'm confident that as long as I don't get ahead of myself, as long as I wrestle my match, I'm going to be very competitive and contend for a medal."
Syrek (28-2) has every right to be confident when he steps onto the mats down South. The junior's only losses this season have been to Callender (6-4 on opening day of the wrestling season) and state-ranked Zach Greenwald of Paulsboro, N.J., where he recently accepted a scholarship to play football at Sacred Heart University.
The Owen J. Roberts junior may have the most difficult crew to deal with, though. His bracket features Oxford's Nick Ruggear (30-2) and Conestoga's Greg Gruschow (30-3), both of whom are ranked in the state, and Garnet Valley's Matt Idelson (23-2), who bolted into the Pennsylvania spotlight back in December when he defeated defending state champion Nate Gaffney of Connellsville during the finals of the Beast of the East Classic. He is also aware of once-beaten Renald Pierce (12-1) of Upper Darby and the undersized but truly energized Tyler Mauger (25-10) of Boyertown.
"It makes it all the more fun," Syrek said of the all-star bracket. "But you can't start off slow against anyone. There's absolutely no room to start slow.
"(The talent) makes is better for everyone. You know you have to step it up right away, get that mentality (to win) going right from the start. No question all these guys are good wrestlers, but I'm confident. There's no question I'm confident I can win."
* * *
Cox is the lone senior among the foursome. Heffner, Clark and Syrek are all juniors. … Syrek needs two victories to reach the 100-win career mark. Clark is seven from the milestone. … Petroski (147) and Calender (146) are second and third behind Boyertown's Alex Pellicciotti (161) in career wins among active wrestlers in District 1. Ruggear (110) and Gruschow (101) also topped the 100-win mark earlier this season. … Twenty-seven area wrestlers will be in the North tournament, while 26 will compete in the South showdown.
SPOTLESS
Only five unbeaten wrestlers remain in the district – Interboro's Vince Knowles (31-0 with 24 pins) at 140; Methacton's Rob D'Annunzio (30-0) at 103; Haverford's Luke Bilyeu (26-0) at 130; and Bree along with Pennsbury teammate Josh DiSanto (25-0) at 112.
HERSHEY TIME
Daniel Boone will have five wrestlers on the mats for tonight's opening round of the District 3-AAA championships in the hallowed Hersheypark Arena. The Blazer hopefuls are Eddie Lockowitz (24-8) at 103; Colin Martucci (27-4) at 145; Justin Williams (20-11) at 152; Ken Bock (26-11) at 189; and Sam Batchelor (26-11) at 215.
The top three finishers in each weight class not only advance to states, but get next week off to freshen up for the PIAA Championships (Mar. 11-13) back out in Hershey in the Giant Center.
NATIONAL PREPS
Hill School head coach Jesse Young will accompany five of his wrestlers to the National Prep Championships, which get under way this afternoon at Lehigh University. Representing the Blues, who had a turnaround regular season before finishing seventh at states last week, will be Jack Sullivan (15-5) at 130; Colin Saunders (20-5) at 135; Karl Wiszumerski (14-8) at 140; Bob Dougherty (13-9) at 171; and Jay Knighton (14-7) at 285.
* * *
Saunders, a sophomore, is the lone Hill entry with a Top 12 seeding, going in at No. 7. … More than 140 schools will be represented at tournament, which began in 1935. … Hill won 11 consecutive national prep team titles (1949-1959) and owns 17 overall, its last coming in 1971. … Blair Academy is seeking its 30th straight team championship.
CLASS AA OPENS
The District 1-AA postseason opens Saturday as well with the annual individual championships at Harriton. St. Pius X is the only local team in the 12-team field, which is headlined by Octorara.
Seedings were not available at press time Thursday. However, the Lions will be led by returning runner-up Josh Rogers at 215. Teammate A.J. Ebersole is the only returning medalist – third a year ago – for the Lions.
Labels: wrestling